In contemporary home design, the kitchen island has transitioned from a luxury to a sought-after staple, symbolising the transition of modern kitchens into entertainment spaces. One of the primary reasons for its prominence is the multi-functionality it offers.
Beyond just providing additional counter space for meal preparations, the kitchen island often doubles as a breakfast bar, a makeshift office desk, a storage solution, and even a showcase for aesthetically pleasing cookware or decor. Its central location makes it a natural gathering point, encouraging interaction and connection. With open floor plans becoming increasingly popular, the kitchen island seamlessly bridges the kitchen with adjacent living areas, fostering an integrated living space. In essence, the modern kitchen island isn't merely a functional element; it's a statement piece, a testament to the evolving role of kitchens in our homes and lives.
The materiality of kitchen islands has evolved significantly, reflecting both functionality and the aesthetic tastes of homeowners. Traditionally, hardwood timbers have been popular choices for their enduring strength and timeless appeal. However, with the push towards modern design, materials such as polished concrete, marble, and even commercial kitchen materials like stainless steel have become sought after for their sleek appearance and durability.
By investing in such a centrepiece for your kitchen renovation, homeowners can not only enhance the aesthetic appeal of their kitchen space but also the overall residential experience of their home.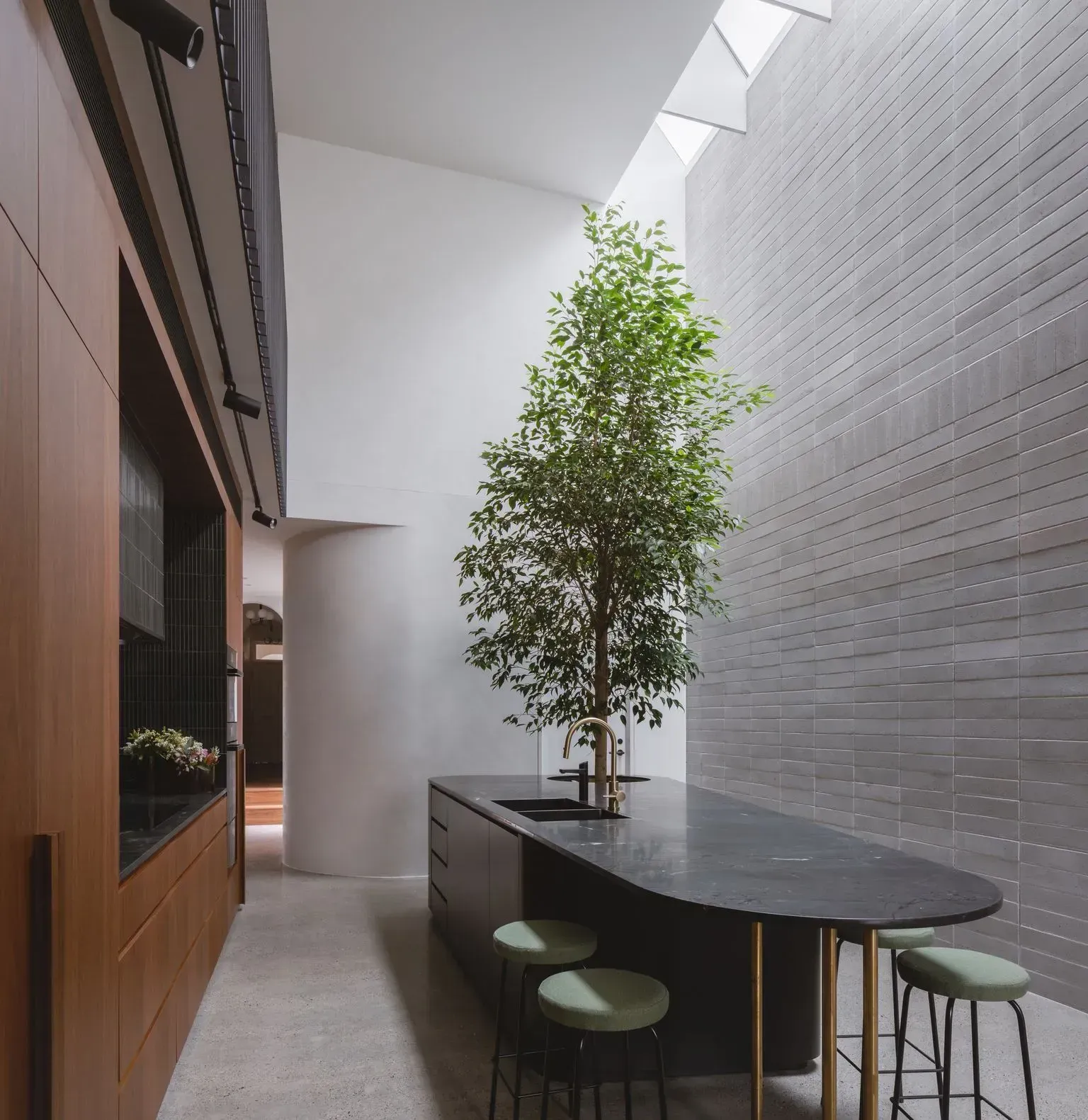 Tree Island by Carter Williamson Architects
In this innovative kitchen design, the striking dark marble benchtop serves as more than just a functional surface; it becomes an artful display as it is seamlessly punctured by a built-in planter. This integrated design element allows for a substantial indoor tree to take root, blurring the lines between the indoor and outdoor environments. The vertical nature of the tree is further accentuated by the room's impressive double-height space, creating a breathtaking focal point. Not stopping at aesthetics alone, the benchtop extends and is supported by slender brass columns at its tail end. This extension forms a versatile area ideal for casual dining or relaxed drinks, enhancing both the functionality and the ambiance of the space.
Find out more about Tree Island
---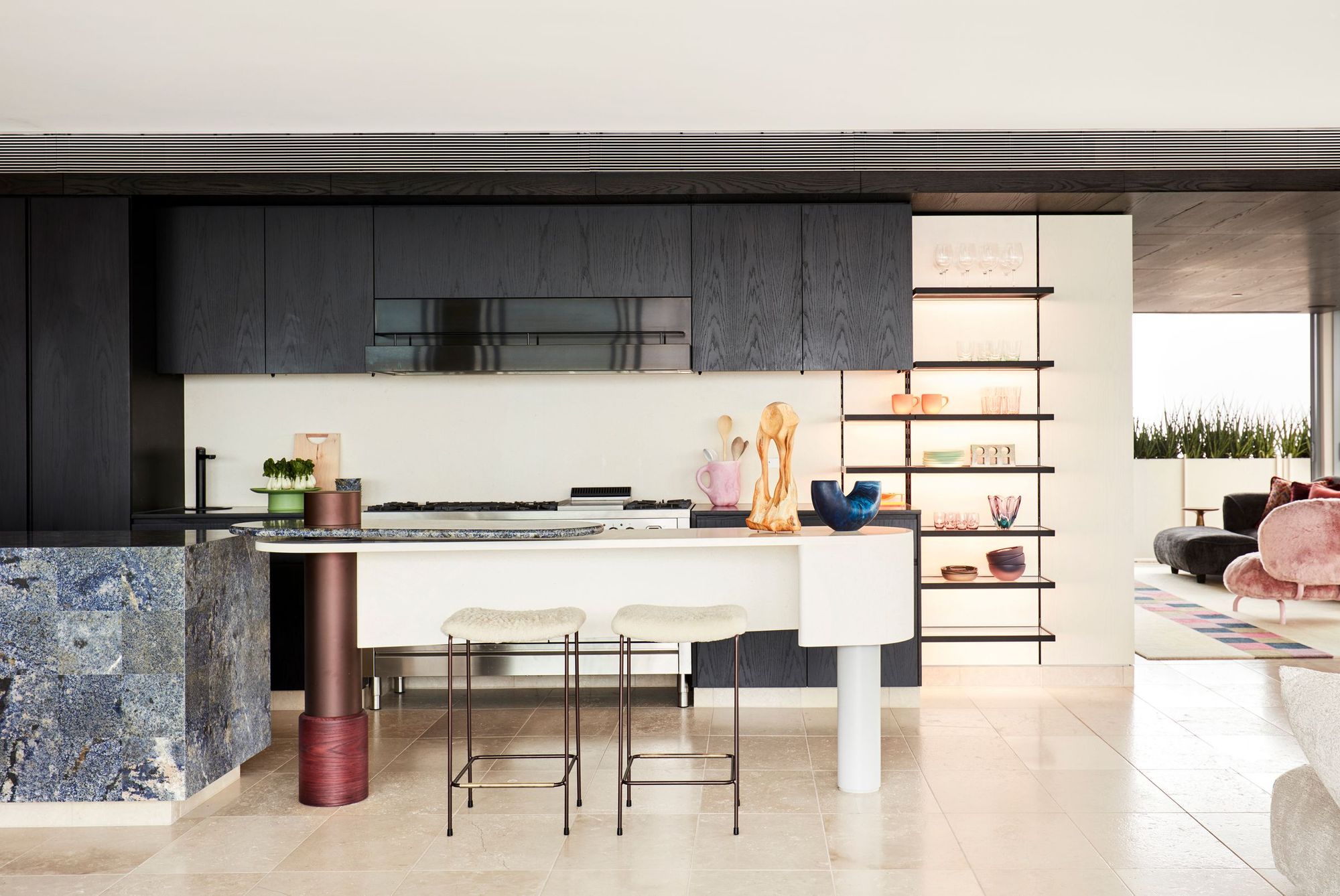 Dream Weaver by YSG Studio
Within the confines of this sophisticated designer penthouse apartment, the kitchen island transcends its traditional functionality to stand as a captivating work of art. YSG Studio, showcasing their mastery over materials and forms, have intricately woven together an eclectic mix of marble tiles, timber, and steel to craft this island. The deliberate juxtaposition of solid and open forms isn't just aesthetic; it cleverly demarcates distinct zones within the space. Each material and form is not just a visual treat but a tactile experience, inviting occupants to interact and engage with the space.
Find out more about Dream Weaver
---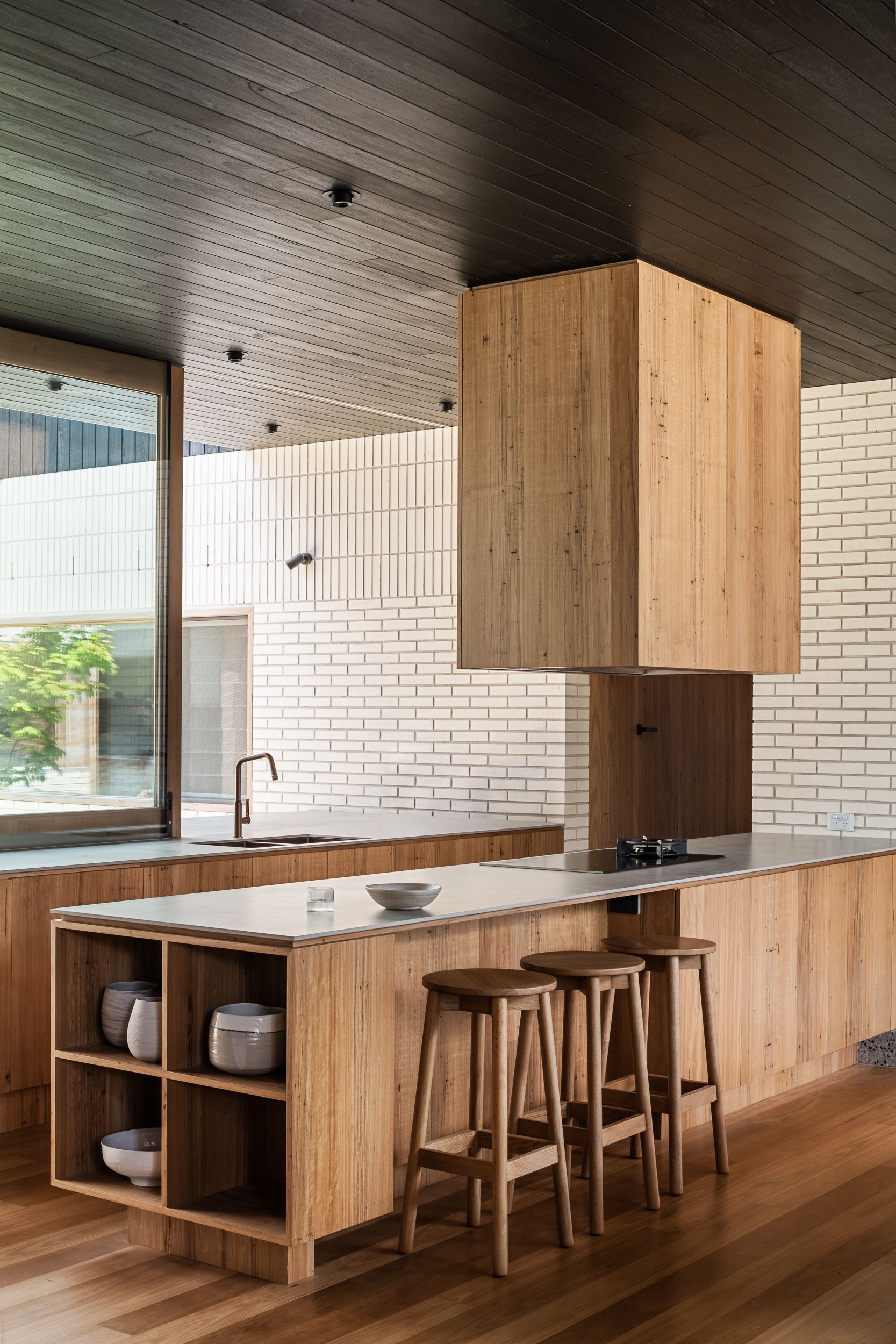 Ha Ha Haus by FIGR Architecture
Timber takes center stage in the island bench designed by FIGR Architecture, showcasing its versatility and natural beauty. At first glance, the island appears reminiscent of an expansive butcher block, intricately carved to make room for shelving, appliances, and seating spaces. Moreover, the sizeable timber veneer rangehood box complements the kitchen island, reflecting its form and establishing a cohesive design language throughout the space.
Find out more about Ha Ha Haus
---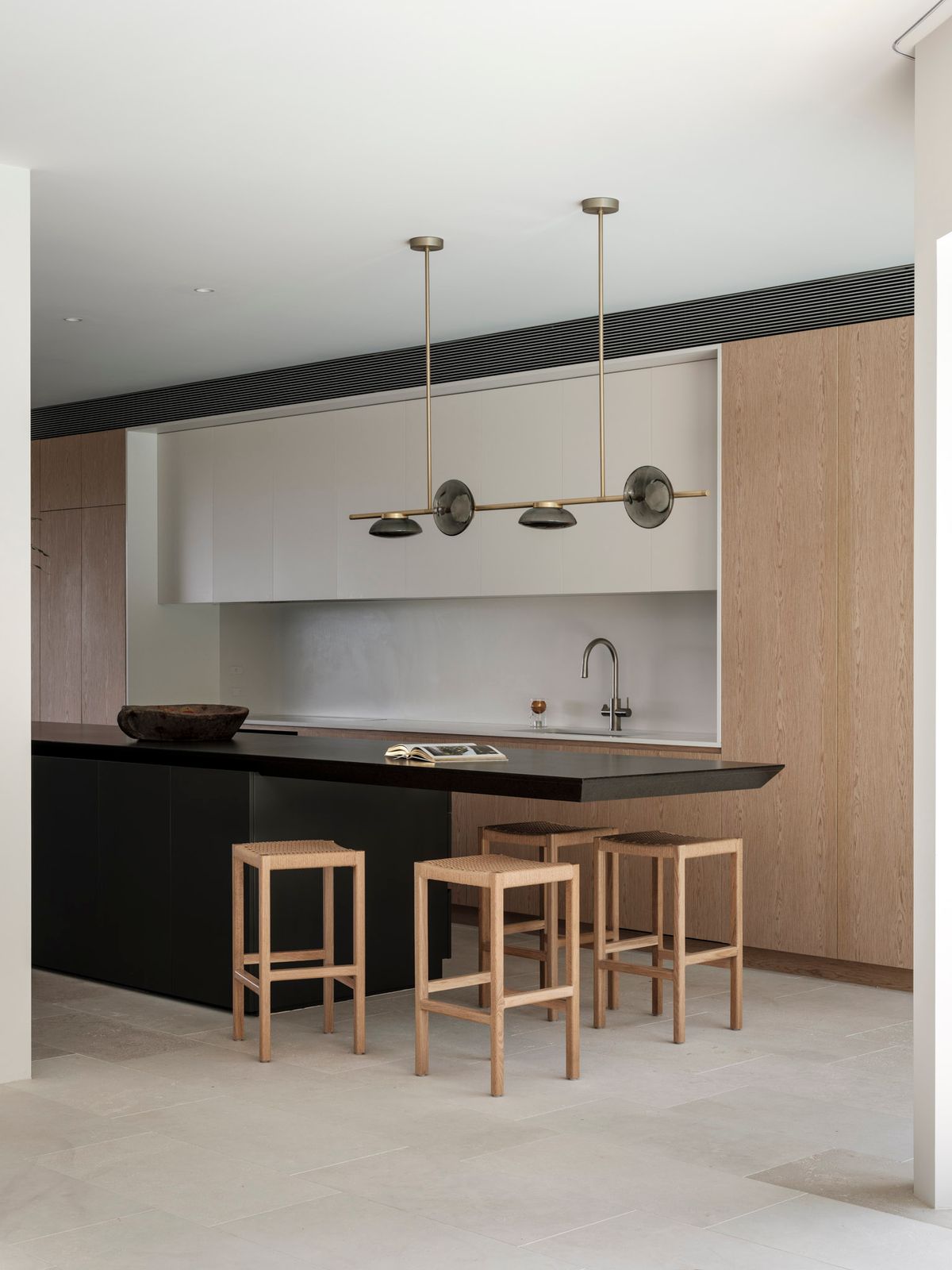 Minnarmurra Road House II by Corben Architects
In this sophisticated kitchen design crafted by Corben Architects, the black island bench top isn't just a functional component; it's a design statement. The bench top features a gracefully tapered and cantilevered design, which not only serves as a striking visual element but also provides an inviting area for guests and the homeowners to congregate and socialise. Complementing this is the black joinery beneath, which not only anchors the design but also elevates the island as a focal point within the open living space.
Find out more about Minnamuurra Road House II
---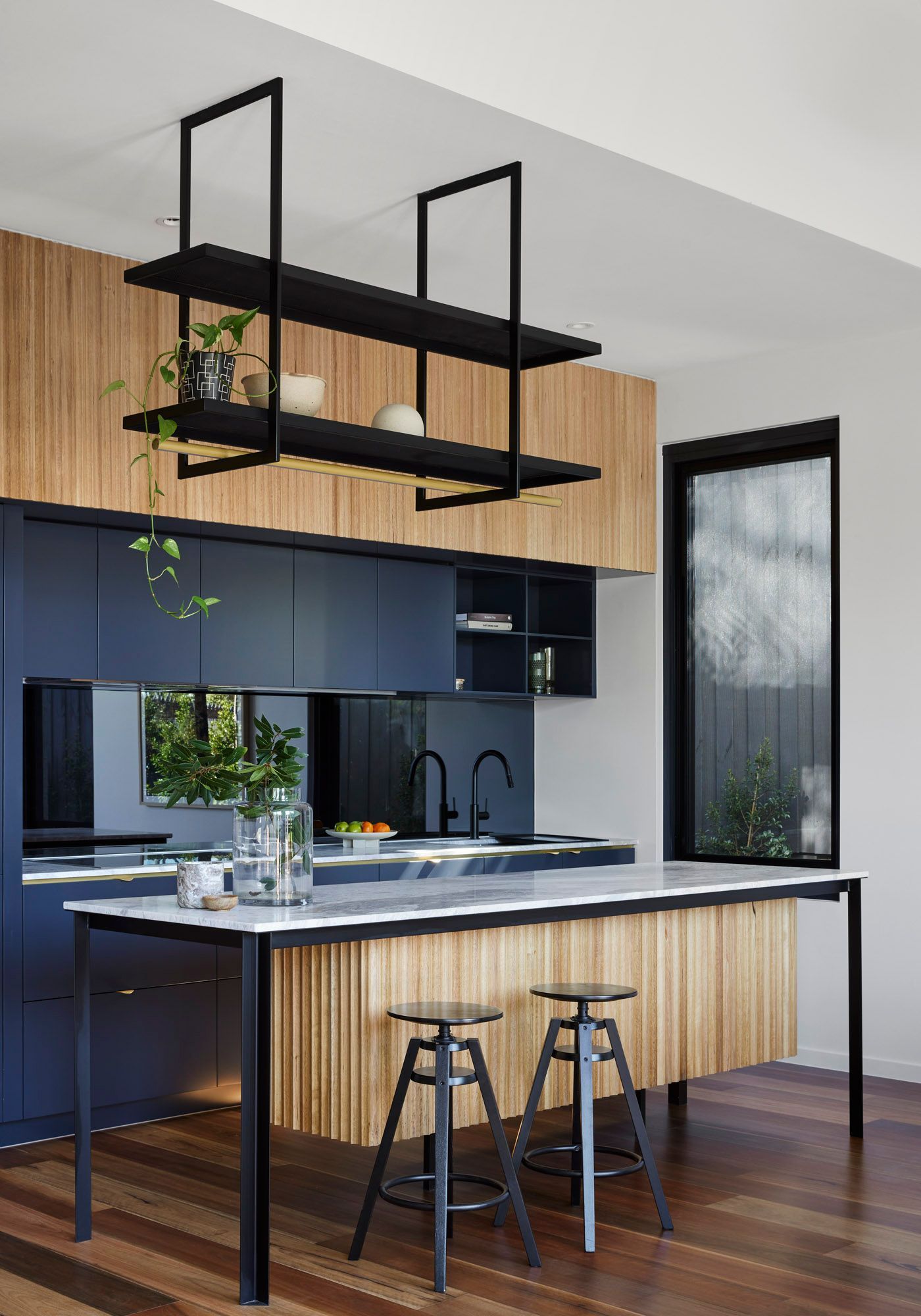 Slate House by Austin Maynard Architects
Breaking free from the stereotype that sustainable design in mutli-residential development sacrifices luxury, Austin Maynard Architects curated spaces in Slate House that showcase handcrafted architecture, rich colours, and textural finishes. In the kitchen, custom joinery of dark navy, fluted Tasmanian oak cladding, and brass accents create an atmosphere of understated elegance. The island bench is a stand out and versatile addition to the space, detailed with a mixture of fluted Tasmanian oak, robust black steel, and a pristine white stone countertop. Its design deliberately distinguishes it from the surrounding dark navy cabinetry, lending it a standalone, prominent design piece. The absence of fixed utilities on this island not only makes it a perfect workspace or social gathering spot but also offers unparalleled flexibility, as it can be repositioned with ease to suit various needs or layouts.
Find out more about Slate House
---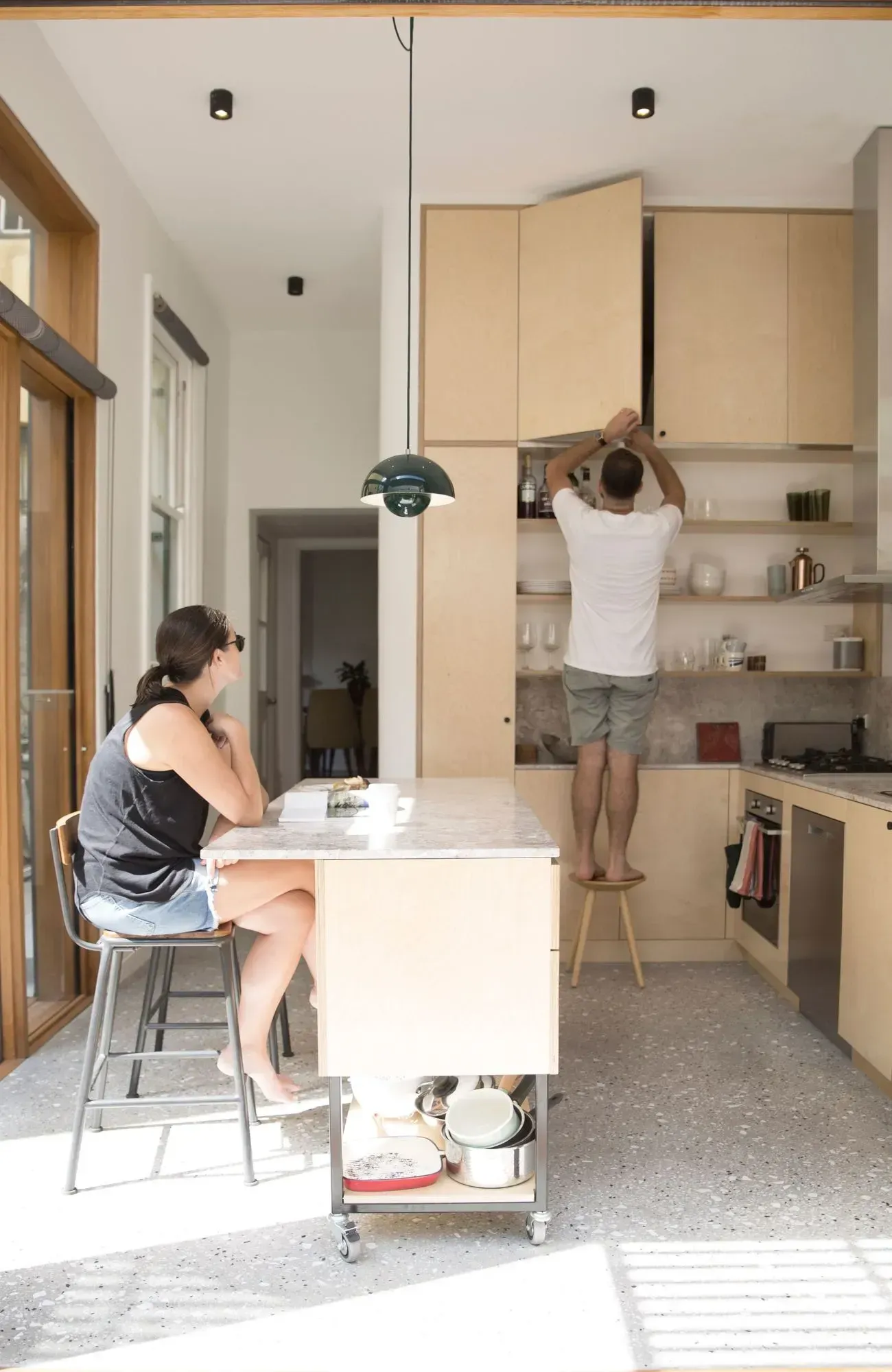 OTC Terrace House by Marker Architecture & Design
In the kitchen island design conceptualised by Marker Architecture & Design, the overarching principles were adaptability and economic resourcefulness. Plywood, a versatile and cost-effective material, was chosen to meet these objectives, enhancing the aesthetic appeal without compromising on quality. Moreover, the integration of caster wheels at the base of the island amplifies its flexibility, allowing homeowners to reposition it effortlessly as per their convenience or to adapt to different occasions and spatial needs. This thoughtful combination not only offers functionality but also embodies a modern and innovative approach to interior design.
Find out more about OTC Terrace House
Need helping finding a professional for your kitchen renovation?
CO-architecture is your gateway to finding the perfect professional for your kitchen renovation! Our Find a Designer service offers a complimentary and seamless connection between homeowners and talented local professionals near you. Do you require help or don't know where to start? Contact us via the form below.