Given the challenge to optimise a pre-existing layout, many would assume starting from scratch would be the easiest route. Yet, OGE Group Architects recognised the intrinsic value of the home's foundation. Despite rising construction costs and an initial design that favoured external deck spaces over the internal, the vision for the house was reimagined through the fresh perspective of the new owners.
Amid the bustling city life, the owners yearned for an expansive, luxurious sanctuary that embodied the spirit of both urban and coastal living. Their desire for vast entertaining spaces, echoing the ambiance of upscale restaurants and bars, needed to be seamlessly integrated within the existing structure. Compounding the design intricacies was an unnavigable steep stairwell, necessitating consultations with neighbours and local authorities.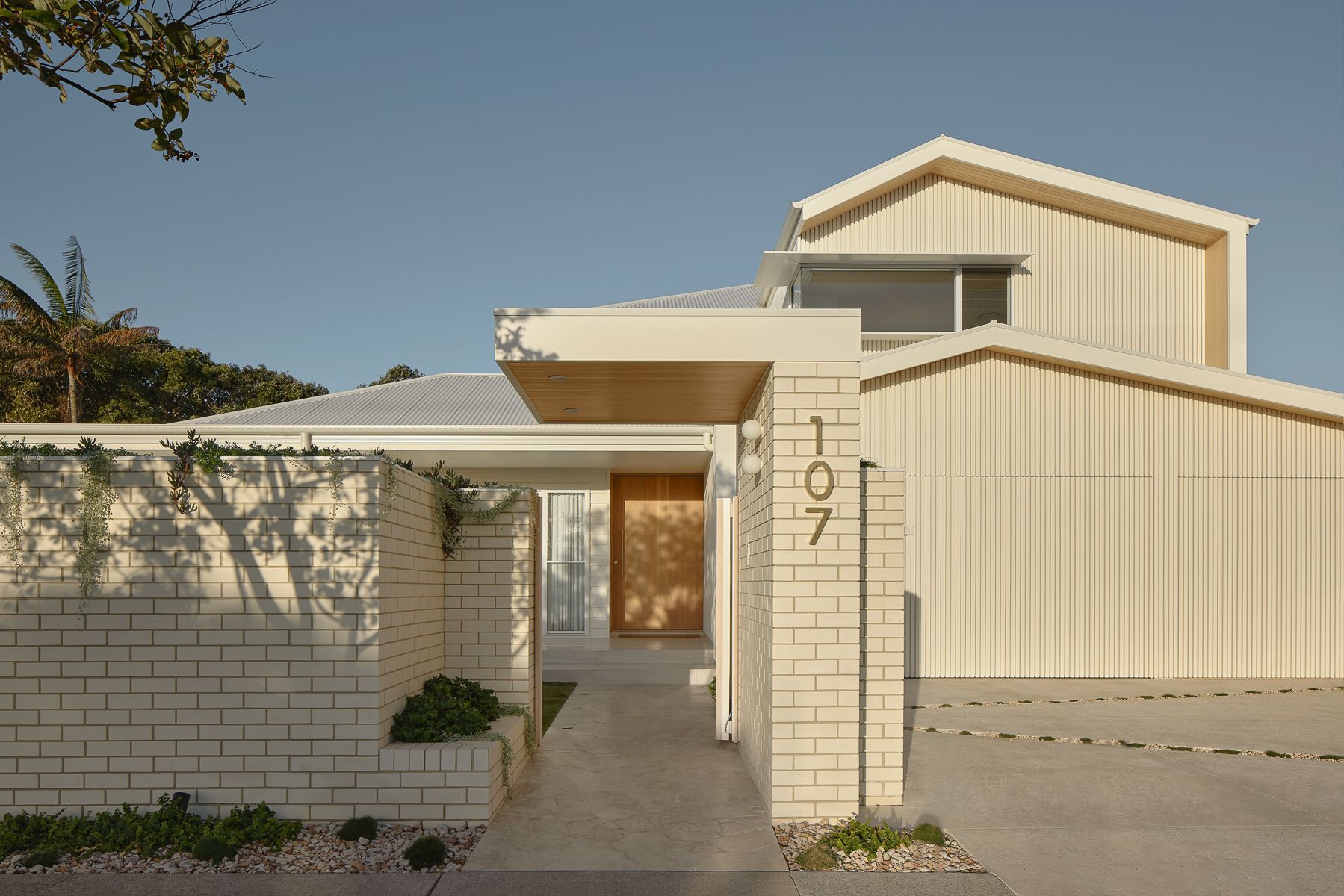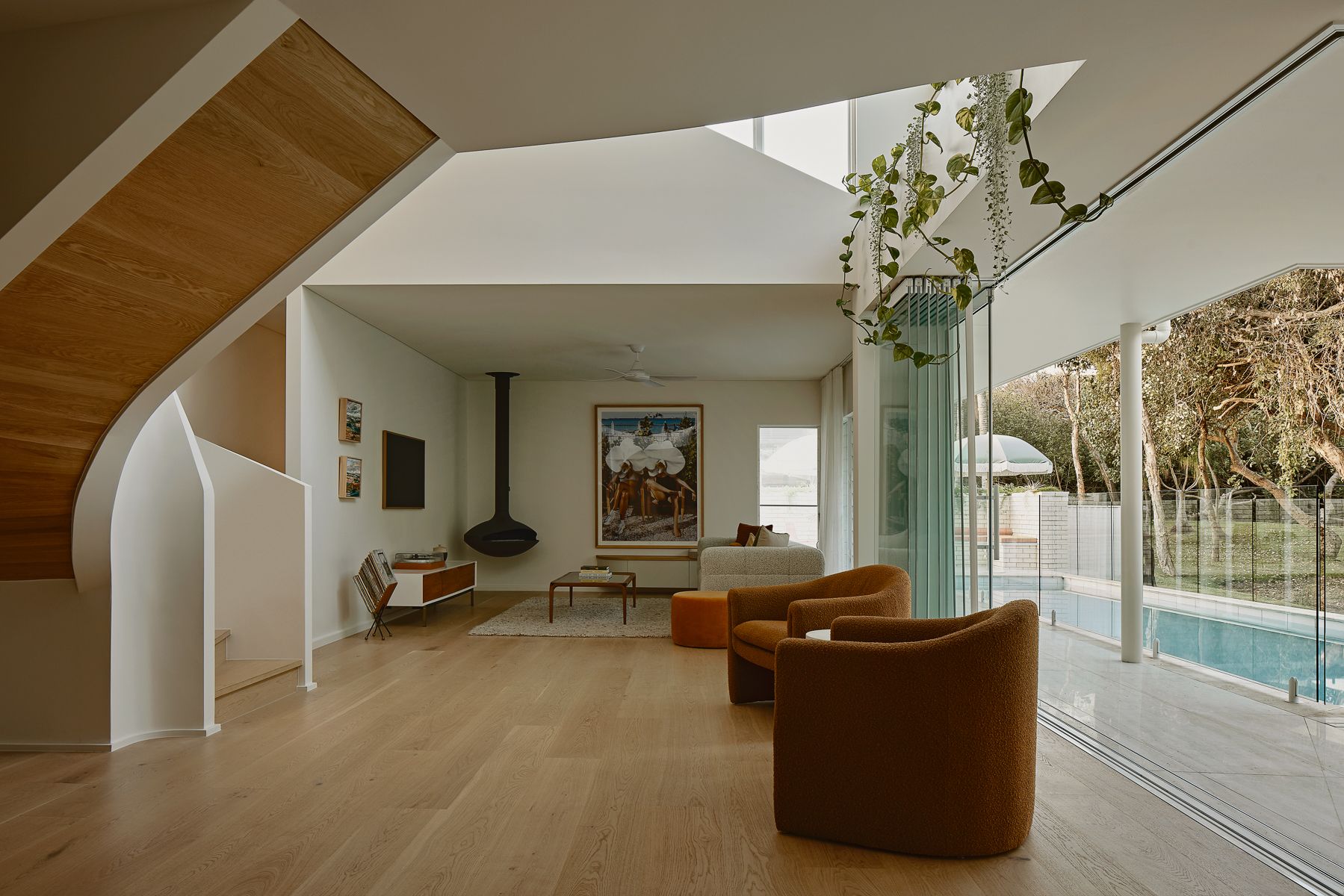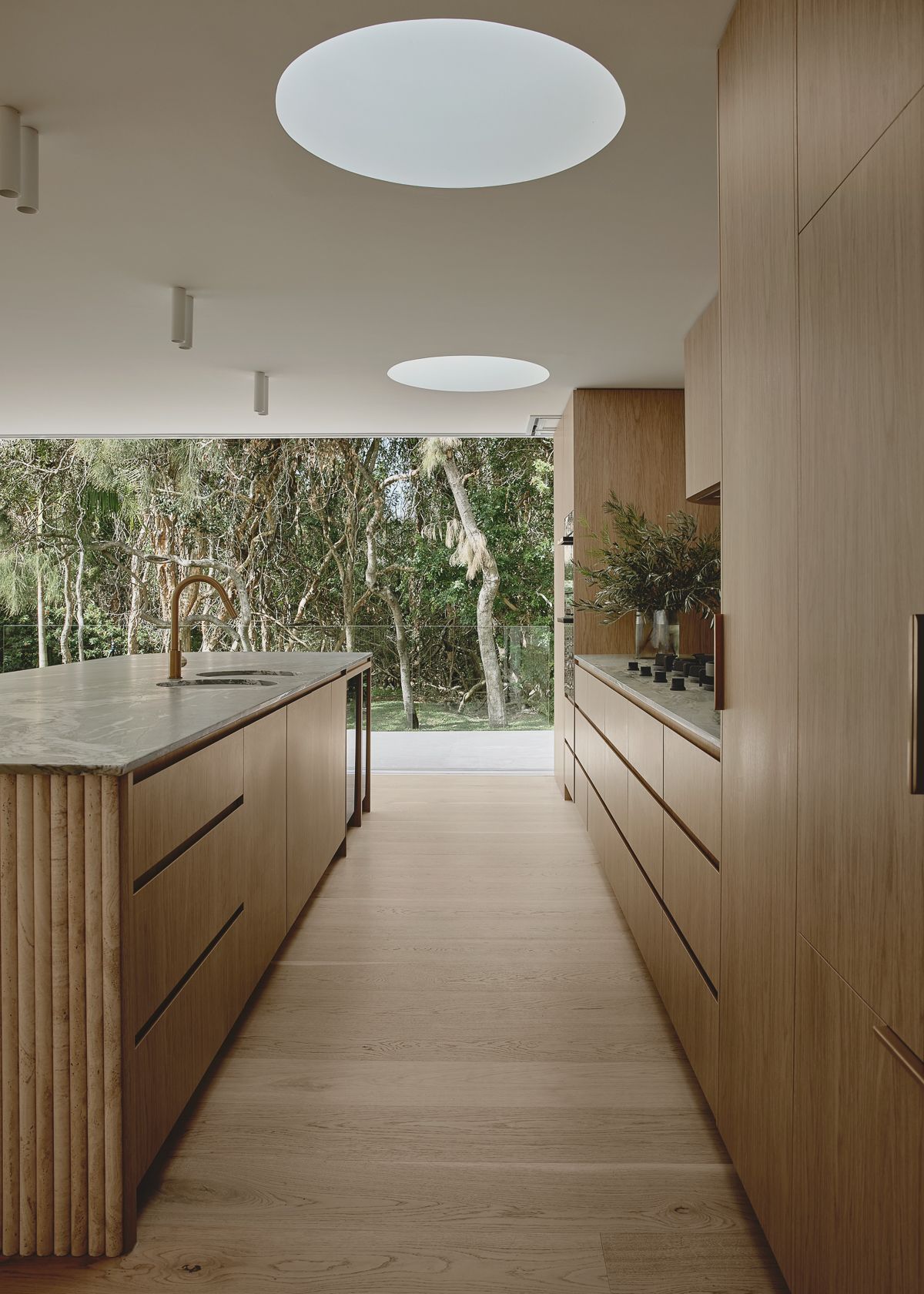 But with every challenge comes innovation. The living space underwent a dramatic transformation, tripling in size. The problematic stair was not just replaced but re-envisioned as a centrepiece – a joyous journey that links the home's spaces. Through rigorous design exploration, the kitchen's orientation was modified to enhance engagement. Simultaneously, every space was meticulously shaped, reflecting a deep-rooted passion for blending interior and exterior landscapes.
At its core, Oceanic House stands as a testament to the delicate balance between preserving the essence of a home and infusing it with a new, personalised character. The modernist-inspired façade, bathed in a serene cream hue, harmoniously blends traditional pitched roofing with contemporary gabled elements. The tactile allure of white brickwork deepens the design narrative, while a welcoming wooden door beckons visitors. Mindful of its Queensland backdrop, this residence both harmonises with its neighbours and boldly declares its unique presence.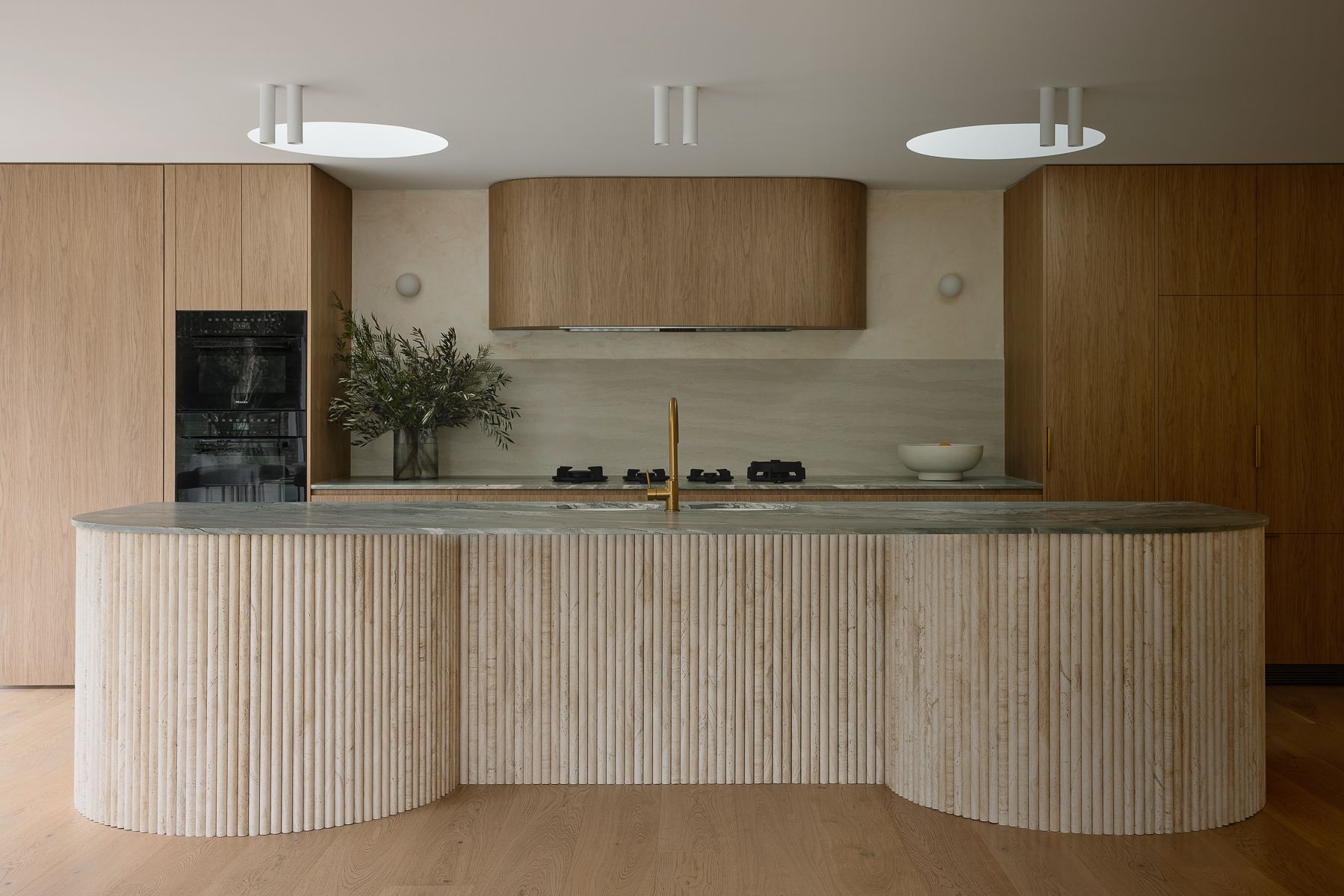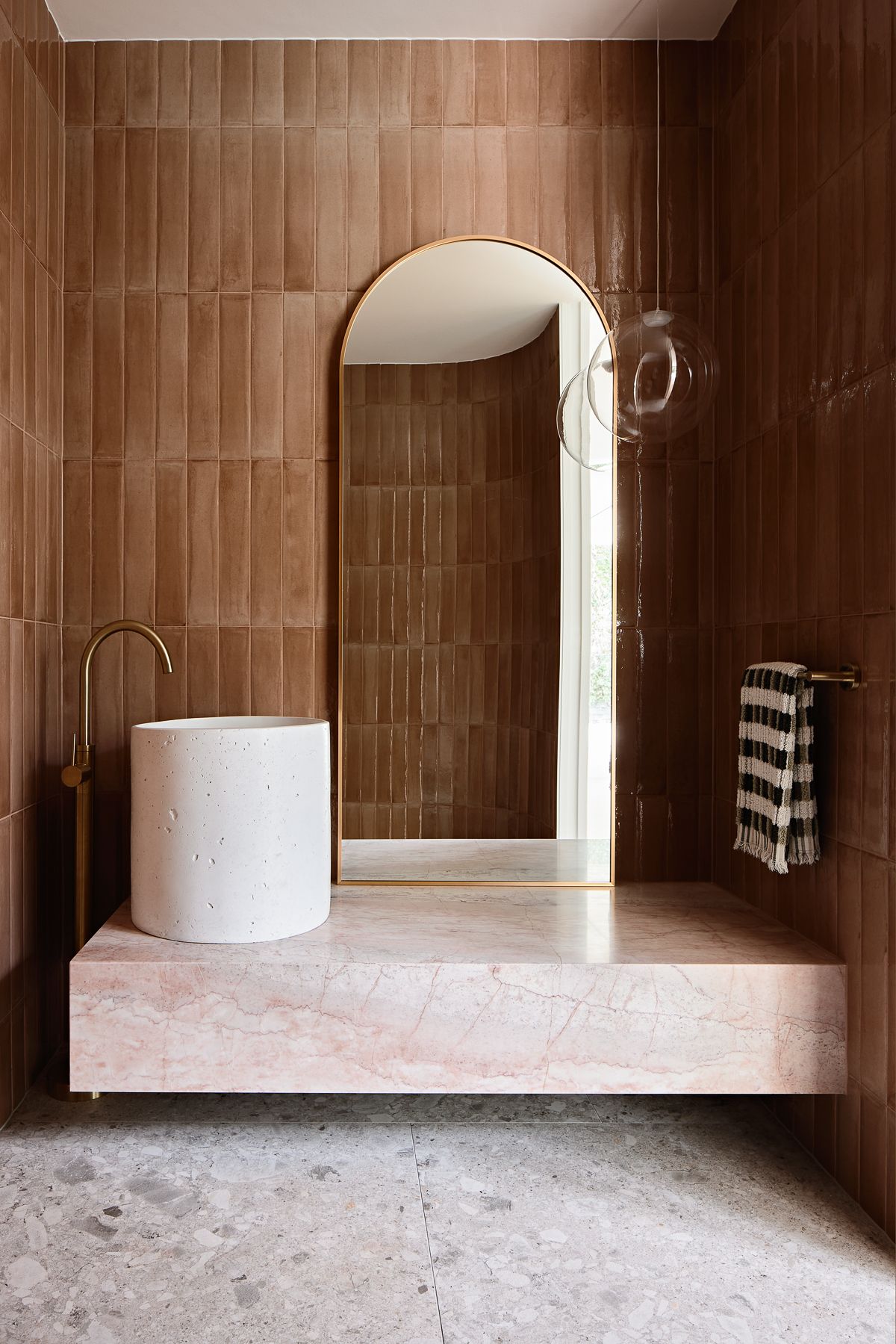 In crafting Oceanic House, OGE Group Architects and Kate Cooper Interiors channelled the distinct personalities of the homeowners, presenting a design that's both vibrant and contemporary. Coastal nuances inform the design, yet there's a delightful unpredictability. This isn't just a structure; it's a heartfelt reflection of those who inhabit it. Striking the perfect chord between audacious flair and understated elegance, the design accommodates the lively rhythms of a young family. Terraced gardens, rich with native flora, blend the architectural contours gracefully into nature's embrace.
Inside, one is met with an array of natural elements. From timber to stone, every material was chosen not just for aesthetics, but for its durability amidst the coastal conditions. The extensive glazing allows for an abundance of natural light, blurring the lines between indoor and outdoor spaces.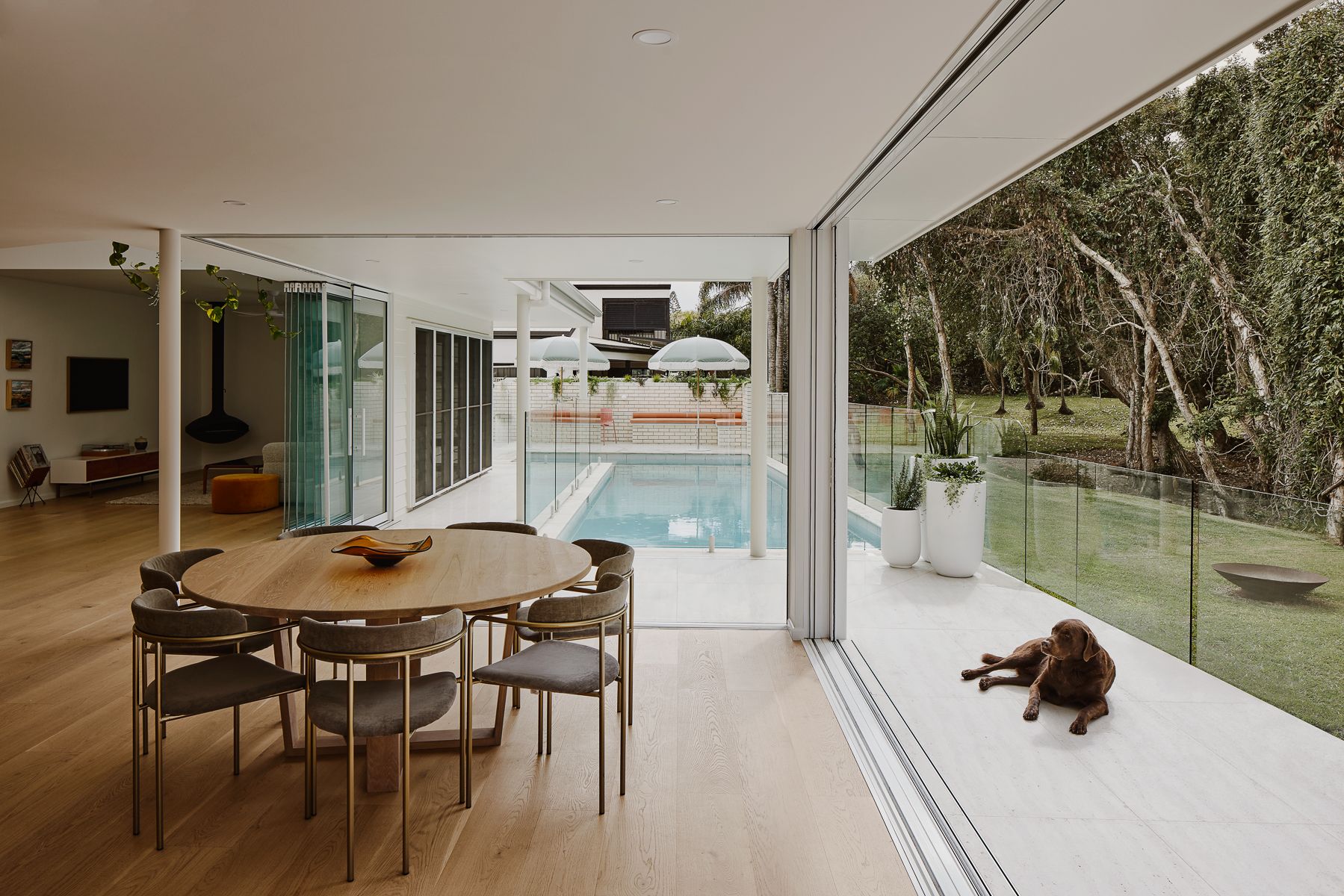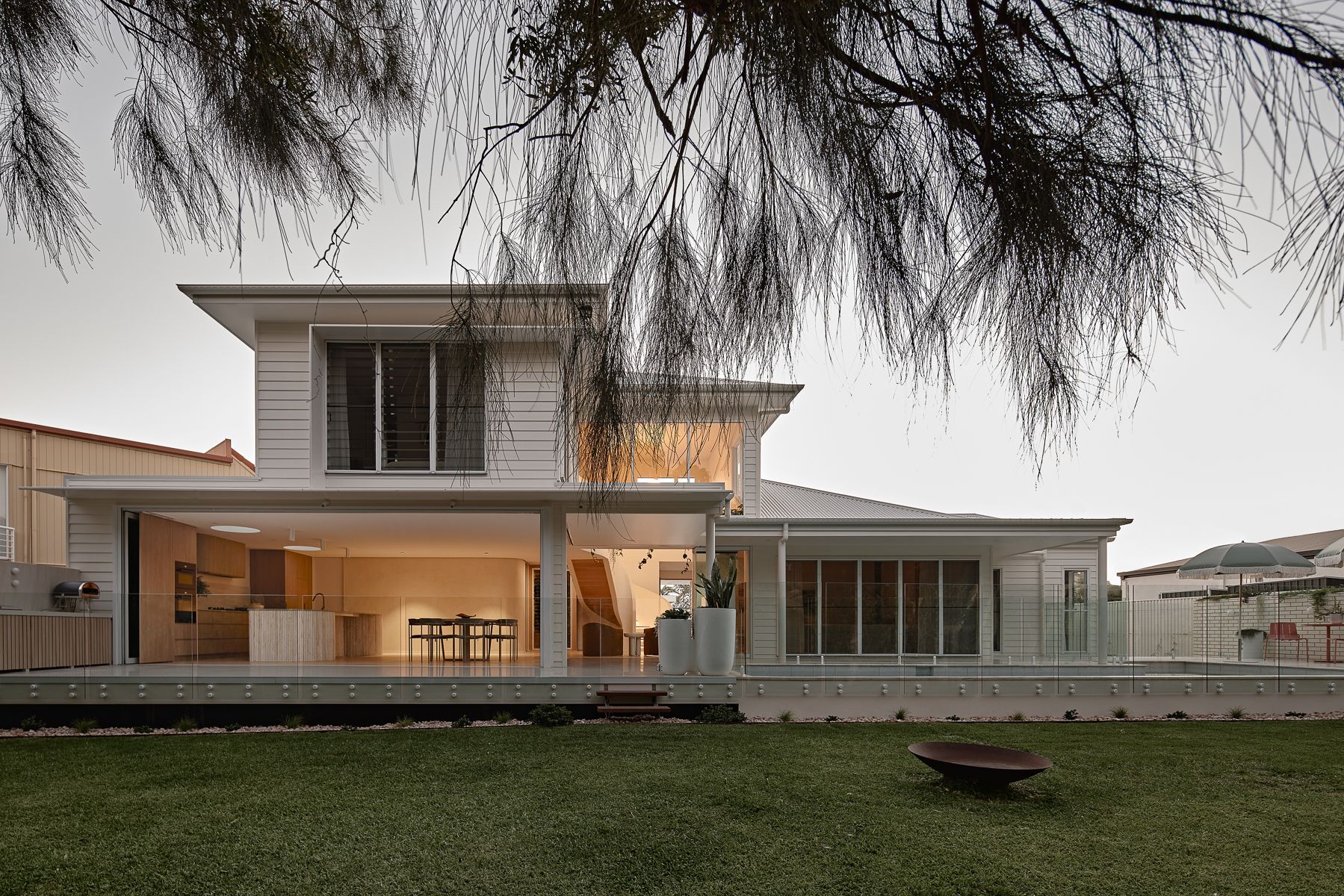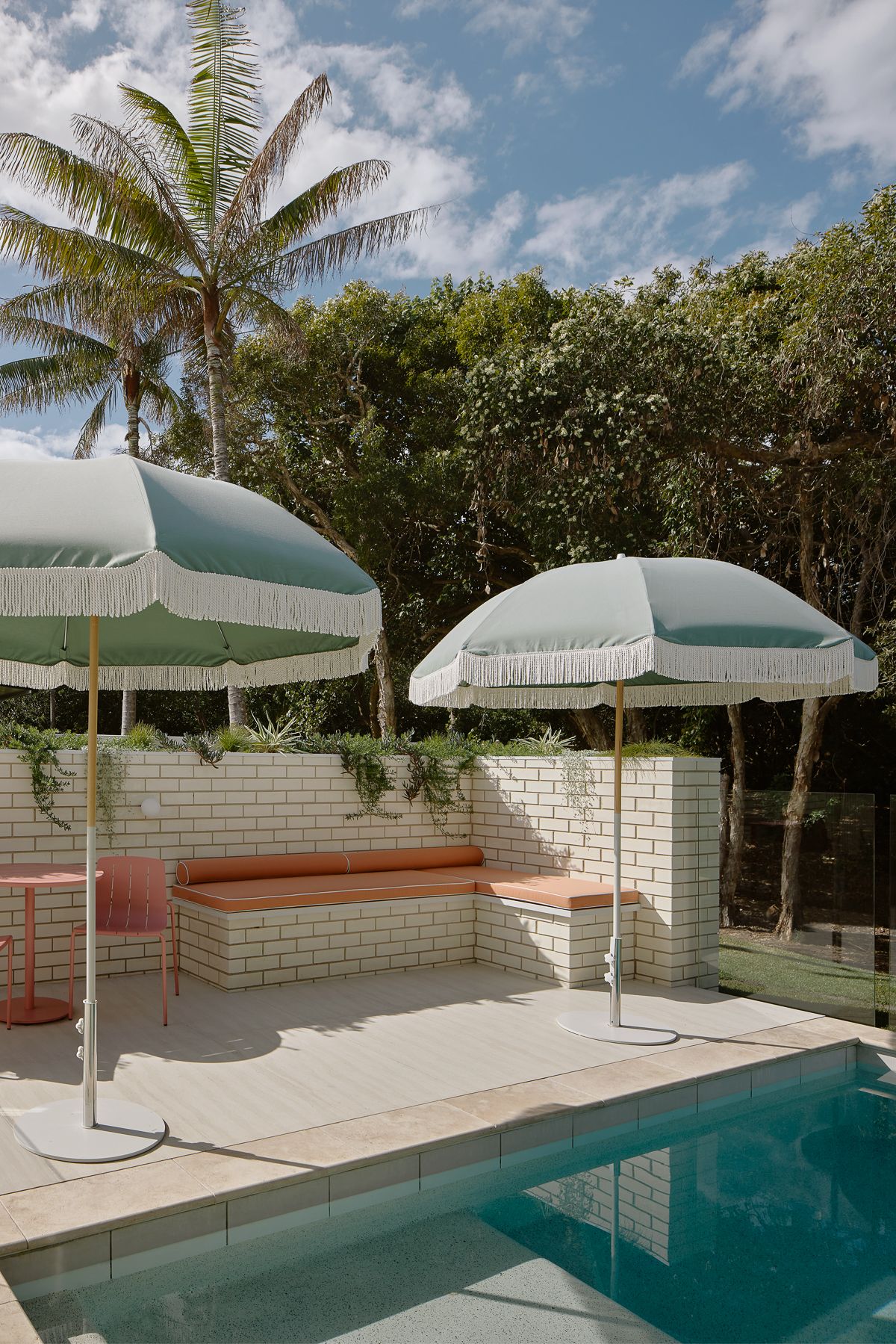 In weaving the home effortlessly with its environment, Oceanic House stands as a personalised design reflecting its owners' essence. With OGE Group Architects and Kate Cooper Interiors at the helm, the design fosters a symbiotic relationship with nature, setting the stage for evolving narratives in the future.
Project Details
Location: Warana, QLD.
Traditional lands of the Kabi Kabi people.
Photography: Brock Beazley Photography
Architecture: OGE Group Architects
Interior Design: Kate Cooper Interiors
Construction: Watermark Constructions
Landscape: Shepherd Urban Landscape Architecture
Artwork: Dina Broadhurst
Engineering: HR Design Group
Joinery: Custom Built Cabinets
---
NOW HIRING
OGE Group Architects are actively looking for a dynamic and dedicated Experienced Graduate of Architecture/Architect with 0-5 years of experience, or a Registered Architect with 5+ years of experience, to join their team at their Maroochydore, Queensland studio. Apply via the link.
---
CO-ARCHITECTURE COMPANY PROFILE
To find out more about OGE Group Architect's you can visit the OGE Group Architects Company Profile. Its a great place to discover more about their studio and gain valuable insights into their work.