This hotel, reborn from the historic Tyne building on Wentworth Avenue, shares tales of its multifaceted past. Originally built to house a kiln and pottery facility in 1916, the building transitioned through various roles: a pharmacy warehouse, a garment factory, and even a sanctuary for at-risk youth, before finally evolving into the Ace Hotel. Surry Hills' dynamic energy is fuelled by its proximity to the rich cultural and culinary scenes of Thai Town and Chinatown, both just steps away from the hotel. Additionally, its closeness to Redfern, a landmark of First Nations activism and an ongoing centre for Aboriginal culture and community, adds another layer to its vibrant backdrop.
With Bates Smart at the architectural helm, the Ace Hotel embarked on an ambitious project to refurbish the historic Tyne building, preserving the 10-storey structure while adding an additional eight floors. The melding of Sydney's historic federation-style architecture with Ace's robust style becomes strikingly evident, bestowing the hotel with unmatched authenticity.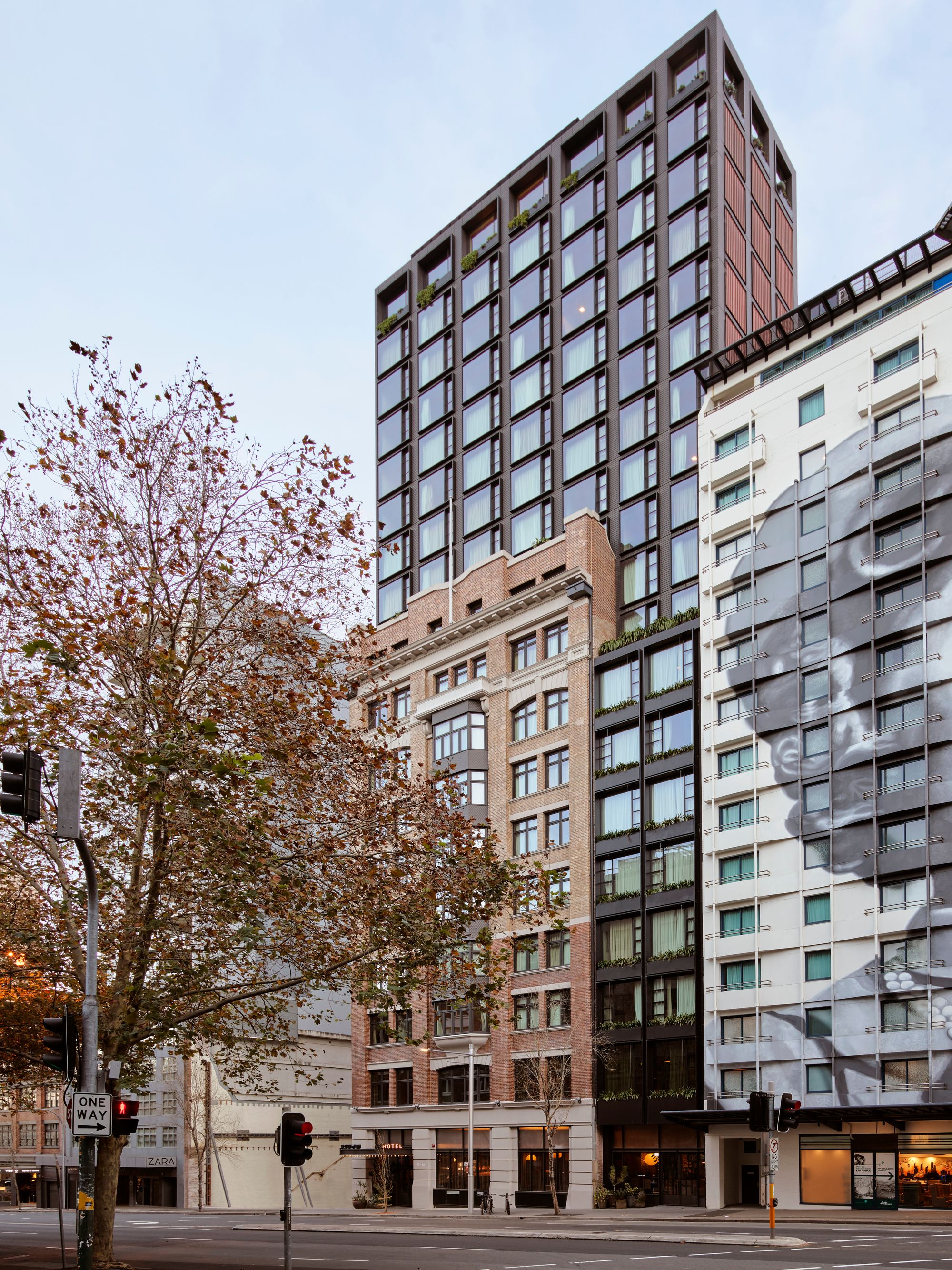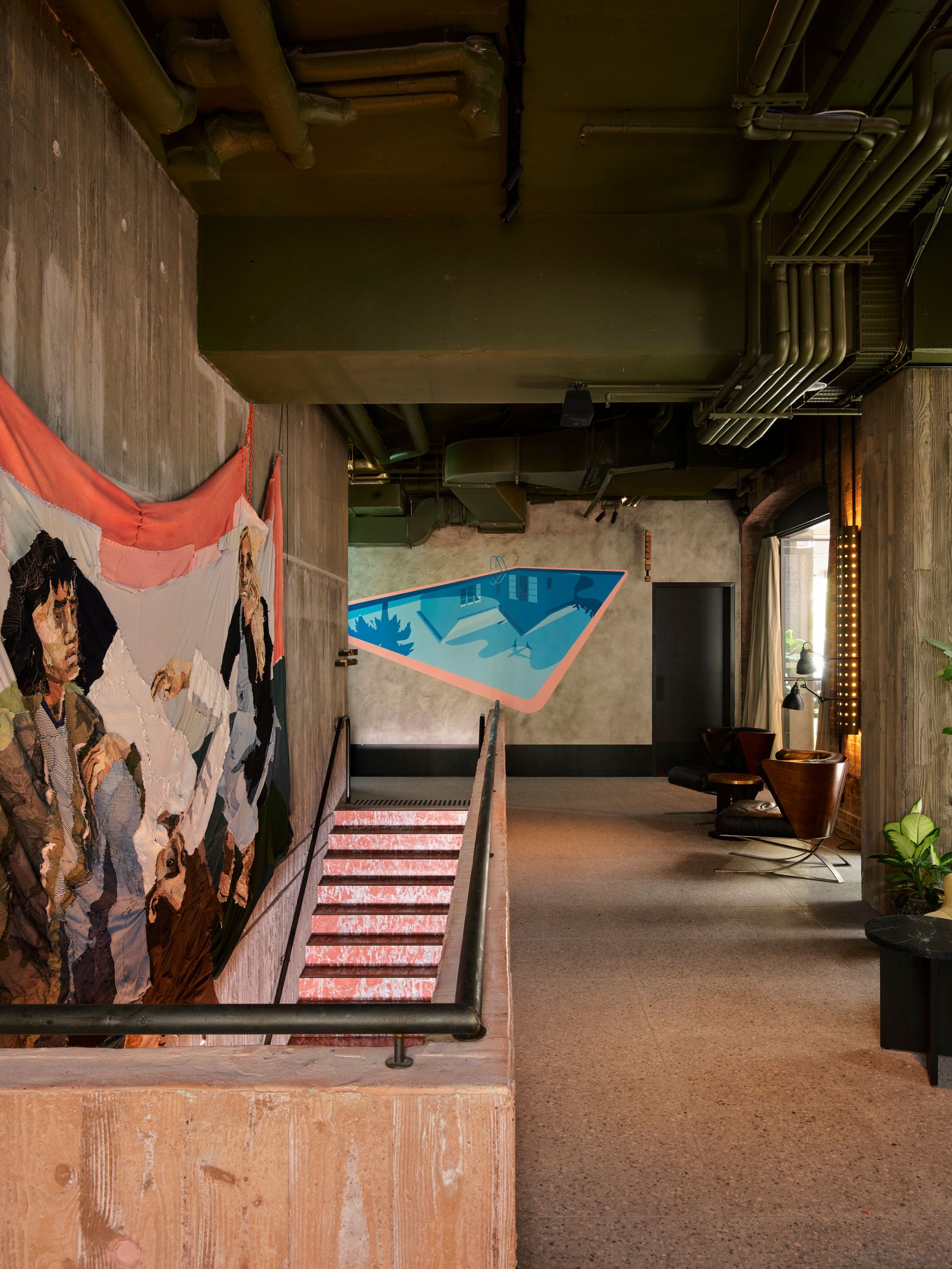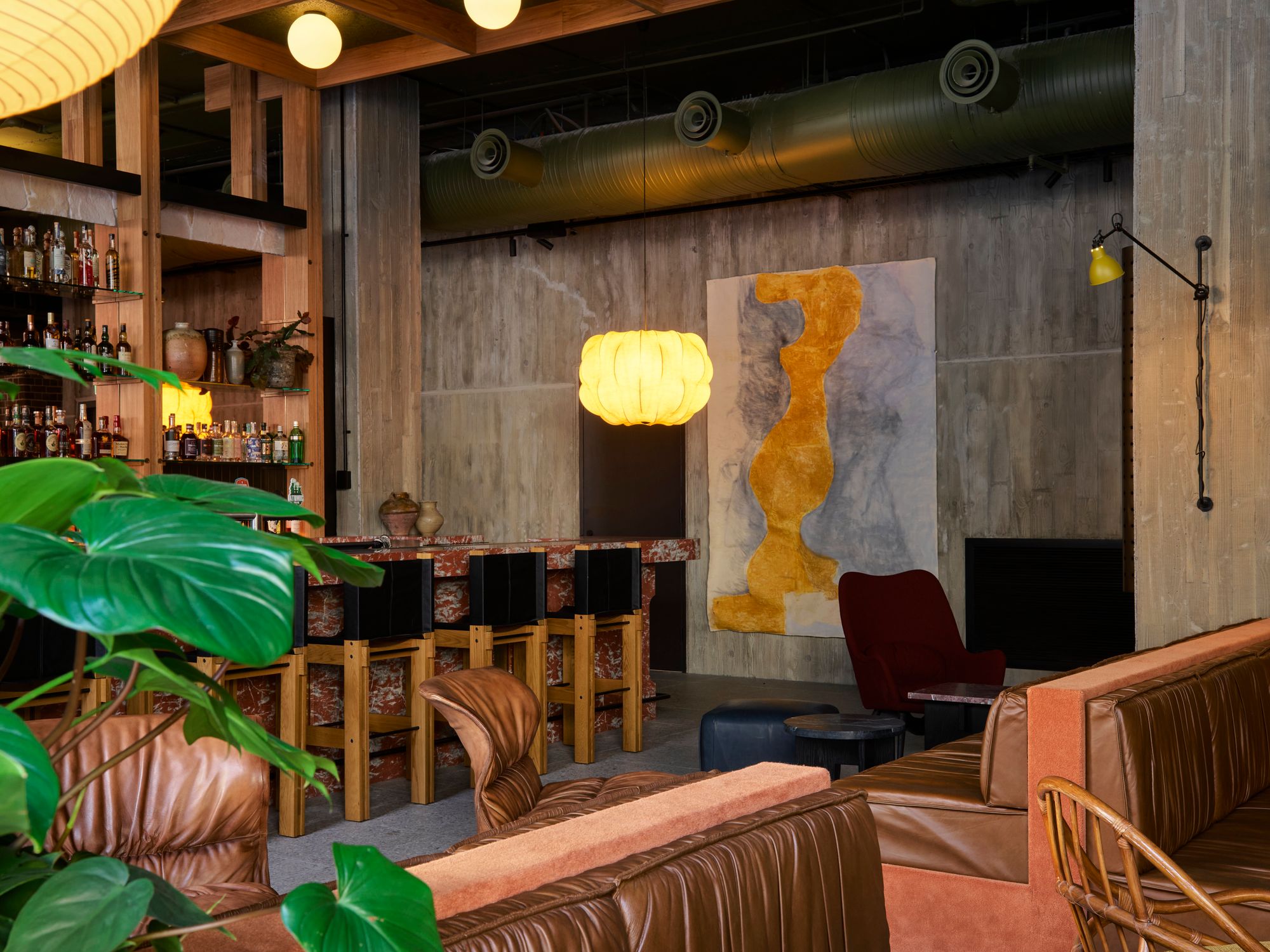 Upon entering its glass-fronted lobby, guests are immediately bathed in natural light, amplifying the space's open and airy feel, a testament to the design prowess of Flack Studio, the primary interior design collaborator. Everywhere you look, there are nods to Australia's rich landscape: reclaimed brick, warm terracotta, tans, and abundant greenery. Drawing inspiration from Australian modernist architect Robin Boyd and his influential book "The Australian Ugliness," Ace Hotel Sydney embraces materials that reflect the utilitarian history of both the building and its surrounding neighbourhood. A visual symphony, the hotel showcases bold works from contemporary Australian artists, which playfully complement custom furniture and a diverse range of textures and natural materials. The end result is a warm, cinematic palette that redefines Australian design.
The Lobby exudes a bright and inviting atmosphere, serving as the heart of the hotel. Its sunken lounge, adorned with burnt orange and pleated tan leather cushions, evokes the laid-back design aesthetic popular in 1970s Australian suburbs, beckoning guests into cosy, intimate conversations.
In the guest rooms, design inspiration from the Lobby persists, presenting a sanctuary of warm ochres, terracotta's, and sunset oranges. Every detail, from tailor-made furniture to textured straw panelling and green bathroom tiles, has been thoughtfully curated to offer a harmonious blend of homely comfort seamlessly integrated with the building's heritage nuances.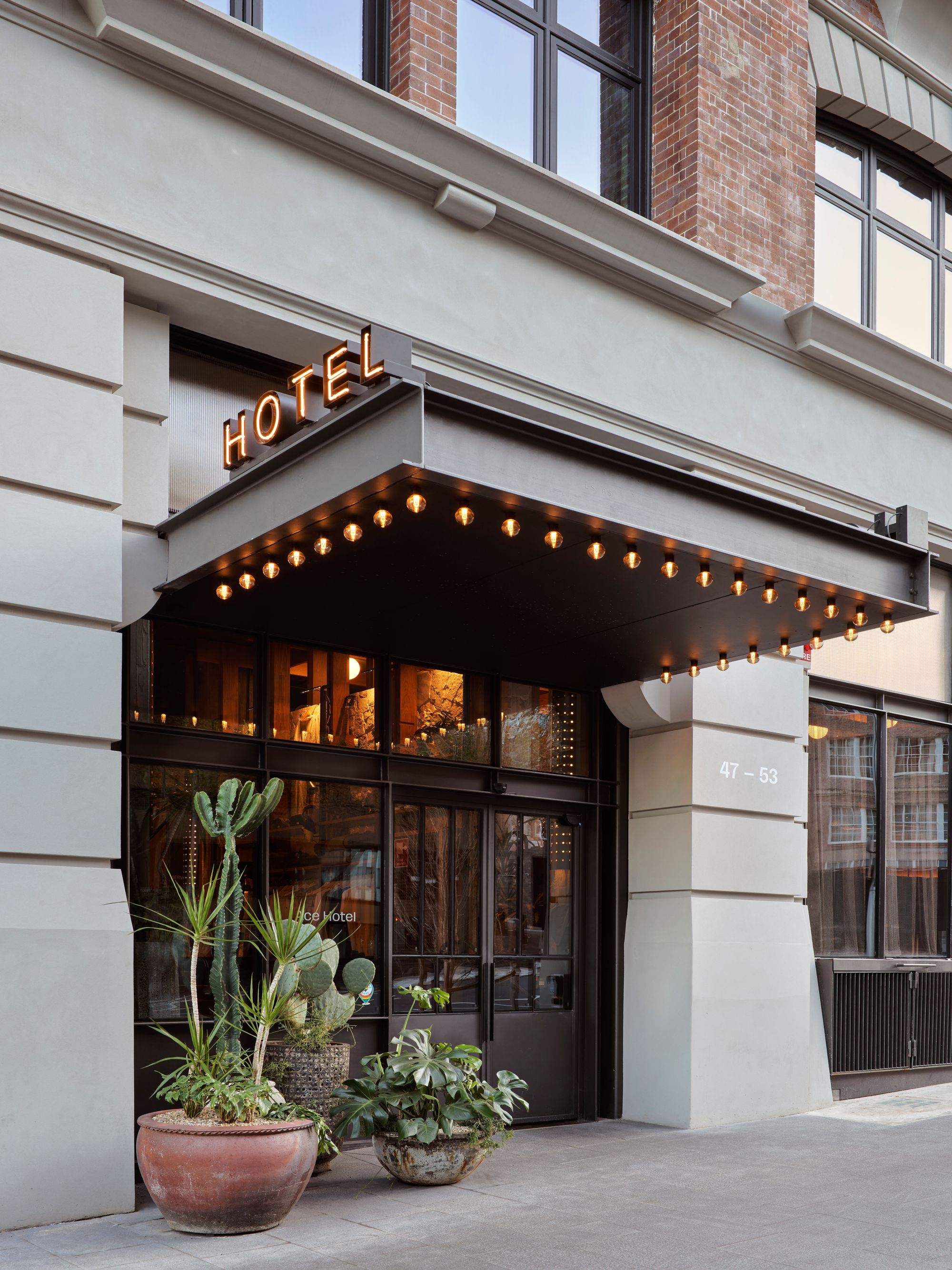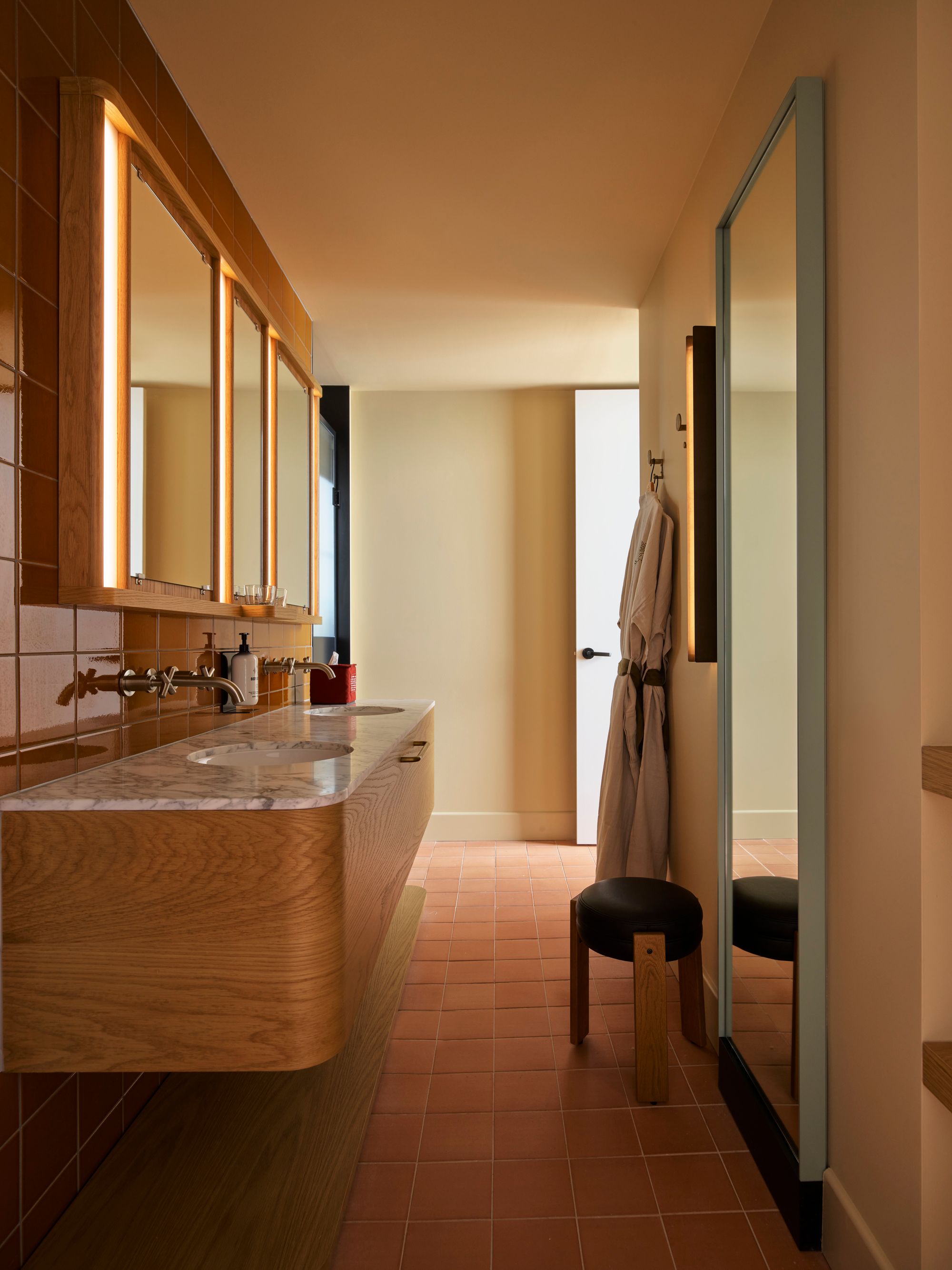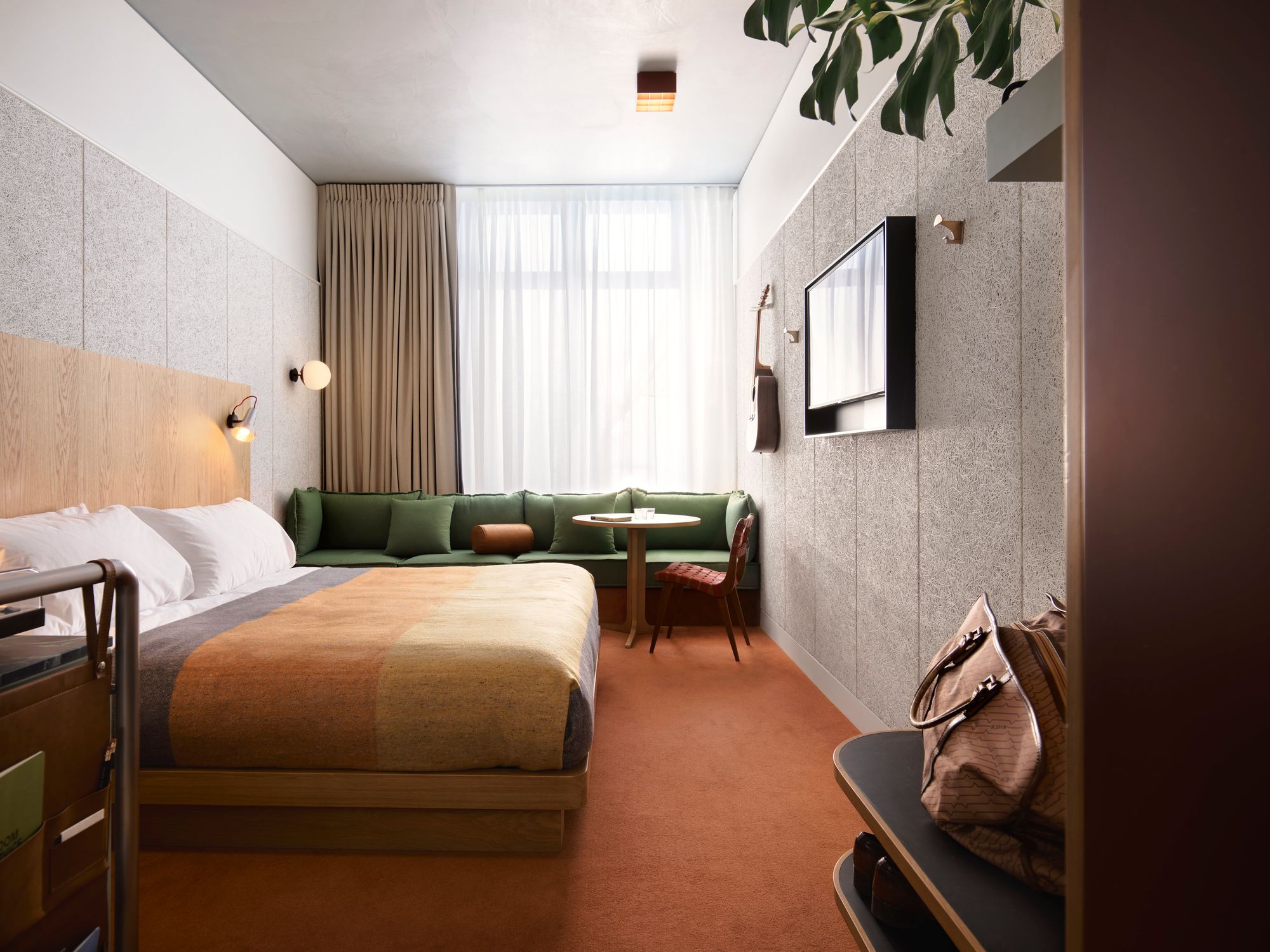 Ace Hotel Sydney boasts four dining and drinking venues. The Lobby, a cocktail bar, and lounge, doubles as the hotel's primary gathering spot. On the ground floor, LOAM serves breakfast, lunch, and dinner daily to locals and guests alike. A culinary ode to sustainability and regional produce, LOAM is dedicated to sourcing and crafting dishes from the finest ingredients. Adjacent to the hotel's Foy Lane entrance, Good Chemistry offers an all-day menu in an ambiance that pays tribute to the building's industrial roots. Atop the hotel, eighteen stories above, is Kiln, the rooftop restaurant. Here, guests can indulge in a culinary fusion inspired by Italy, Japan, and Southeast Asia, all set against a backdrop that mirrors Australia's native landscapes.
With 257 meticulously crafted rooms spanning 10 distinct designs, the hotel caters to a vast array of guest preferences. Bathed in generous sunlight from vast windows, each room pulsates with warmth, making Ace Hotel Sydney a masterful fusion of Historical charm and modern urban elegance.
Ready to book your stay?
For inquiries and bookings, explore the Ace Hotel website & Instagram. Treat yourself to the unique, community-cultivating approach to hospitality that Ace has to offer.
---
Project Details
Location: Surry Hills, New South Wales
Traditional land of the Gadigal people of the Eora Nation.
Architecture: Bates Smart
Interior Design: Flack Studio
Photography: Anson Smart