In the ever-evolving urban landscape of Sydney's sprawling suburbs, duplex design has risen to prominence as a pivotal solution to address housing needs. As land becomes increasingly scarce and property values continue to soar, duplexes offer a unique approach for optimising available space by providing two independent living units on a single site. This not only ensures a higher density of residences without compromising the aesthetics of the suburban tapestry but also allows homeowners to gain additional income through rentals or to provide housing for extended family.
The latter was the case when the clients of Dulwich Hill Duo approached Blake Letnic Architects. The clients, two brothers with a vision of living adjacently with their respective families, presented distinct requirements to BLA for their dream homes. One brother envisioned a conventional 4-bedroom family residence, while the other was inclined towards a share-house arrangement that would accommodate multiple occupants with shared spaces. Collaborating diligently with each brother, Blake and his team embarked on the challenging journey of merging these two disparate living concepts. The objective was to harmonise the varying functionalities of both homes, yet ensure that they echoed a uniform architectural tone. This intricate design process not only led to the creation of two tailored living spaces but also showcased the versatility of modern architectural thinking, seamlessly blending diverse residential needs under a coherent aesthetic umbrella.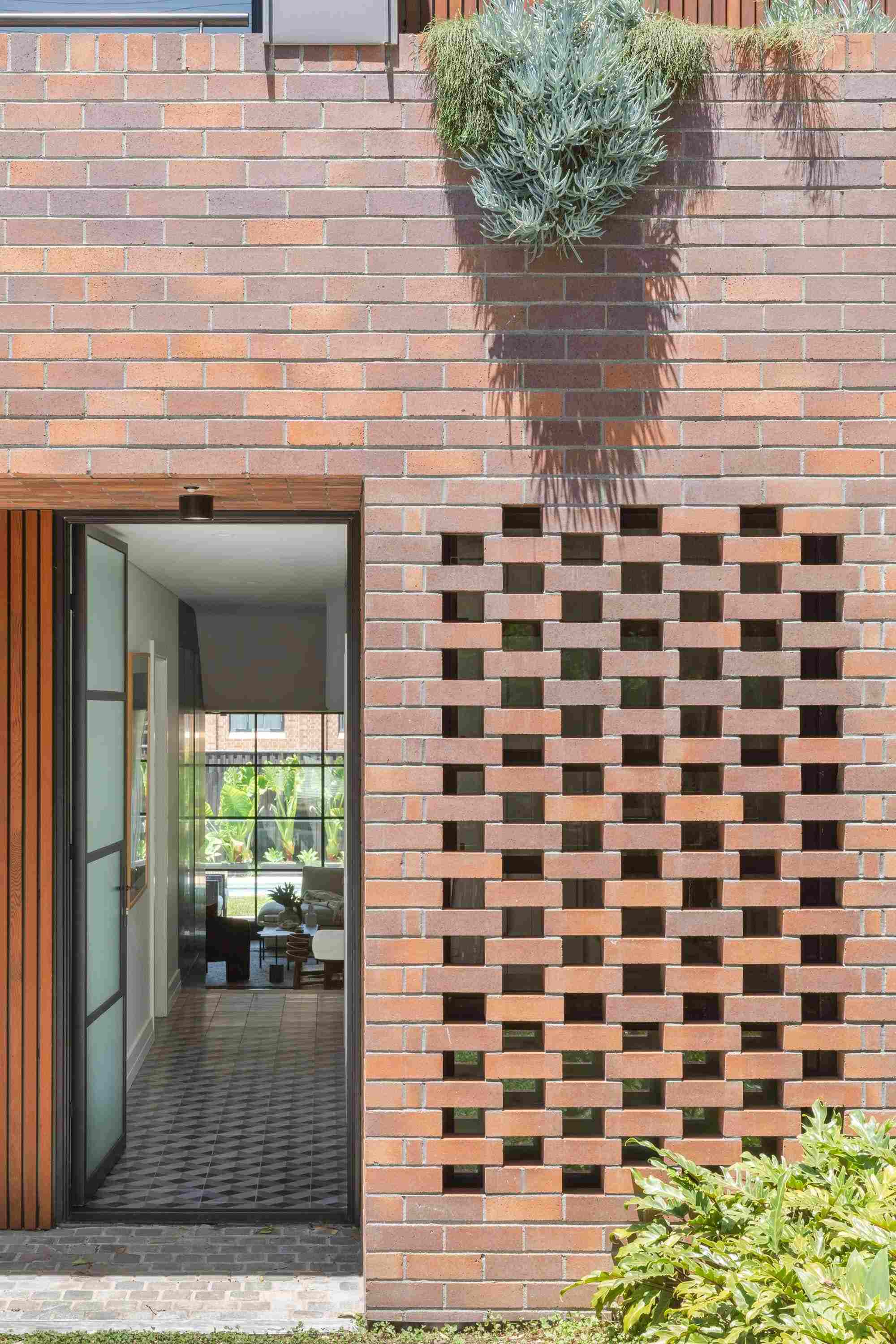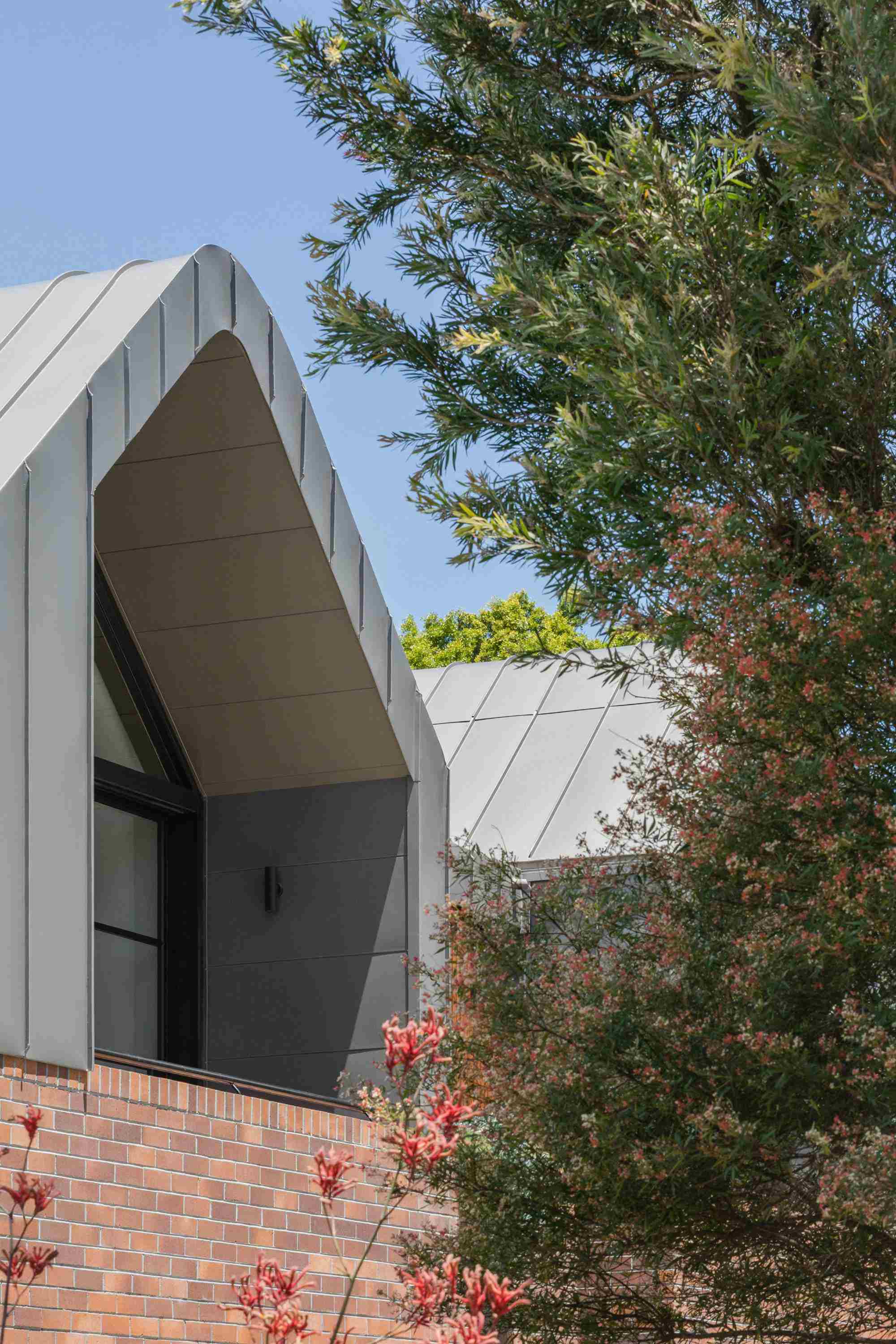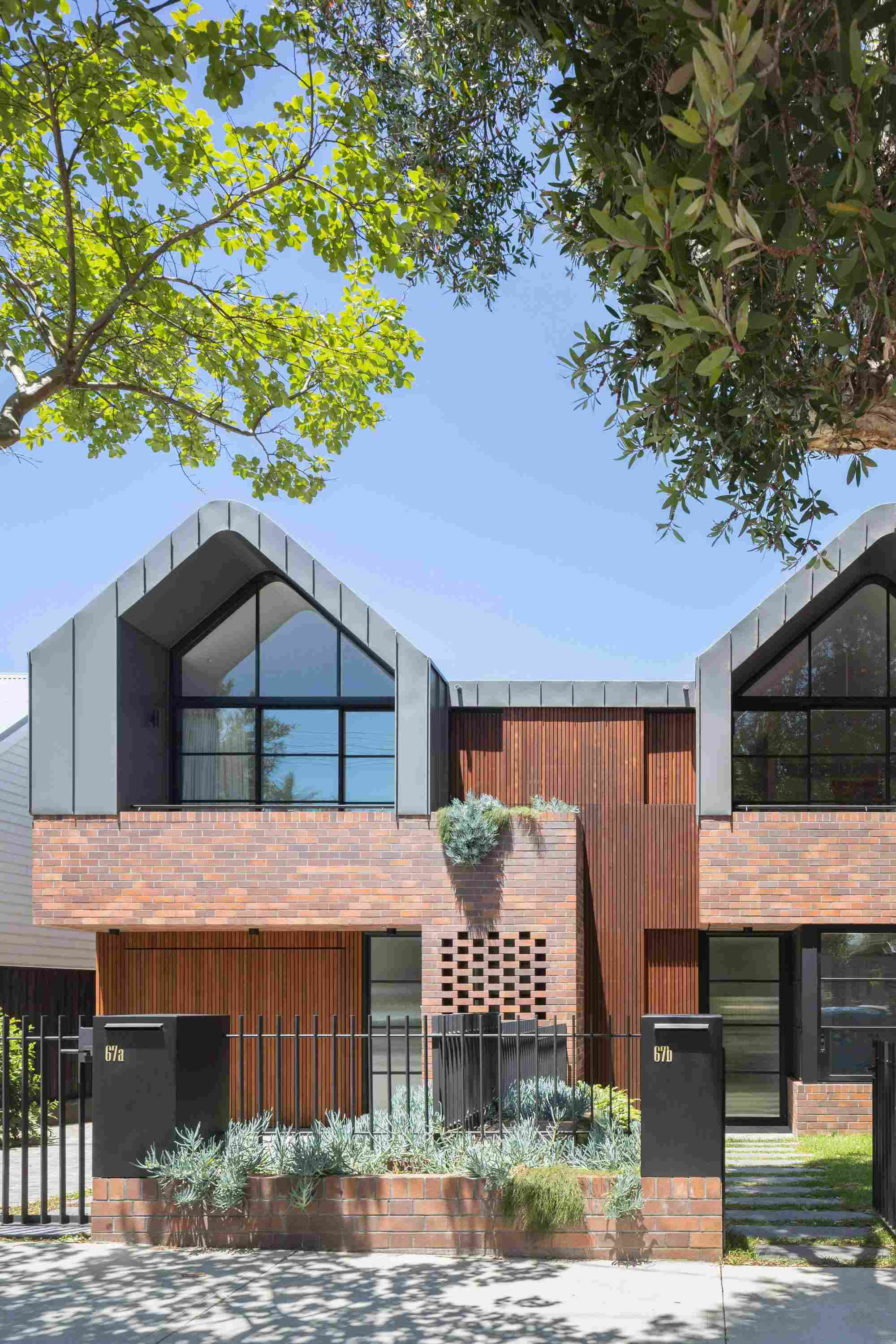 The outcome of this residential design is a modern reimagining of the area's traditional architectural language. By drawing inspiration from Dulwich Hill's inherent character and fusing it with contemporary design principles, the project seamlessly integrates with the existing streetscape. While ensuring a harmonious blend with the neighbourhood, the design permits an appropriate increase in density and offers enhanced amenities. This thoughtful approach guarantees both a nod to the past and a forward-looking perspective, fostering a sense of community while embracing the advancements of modern living.
In terms of materials, the face brickwork echoes the dominant construction material prevalent in the area and a nod to the heritage listed Waratah flour mills which form the backdrop of the rear yards. Meanwhile, the vaulted roofs with their standing-seam cladding offer a modern twist on the traditional gable ends commonly seen throughout the streetscape.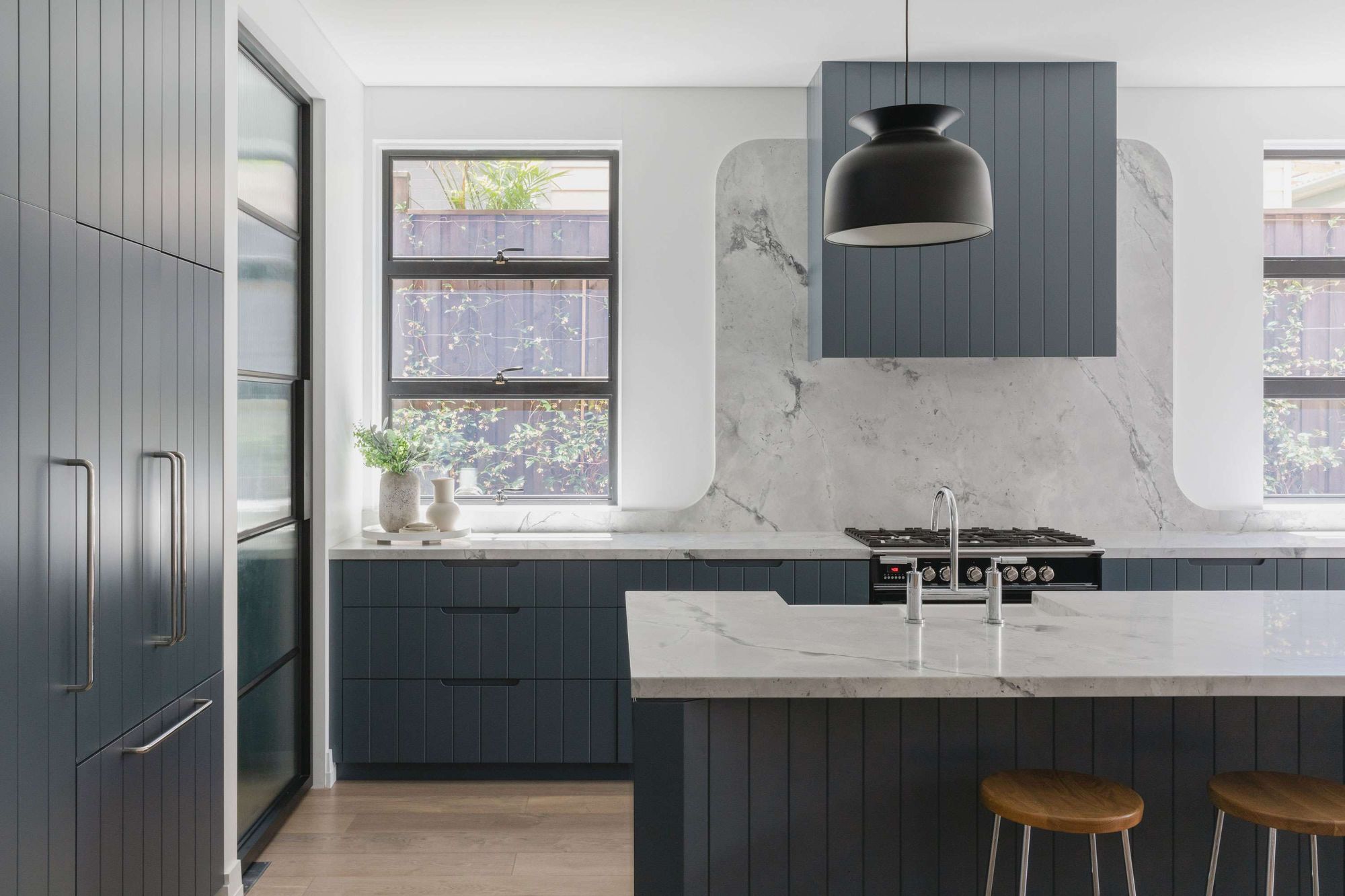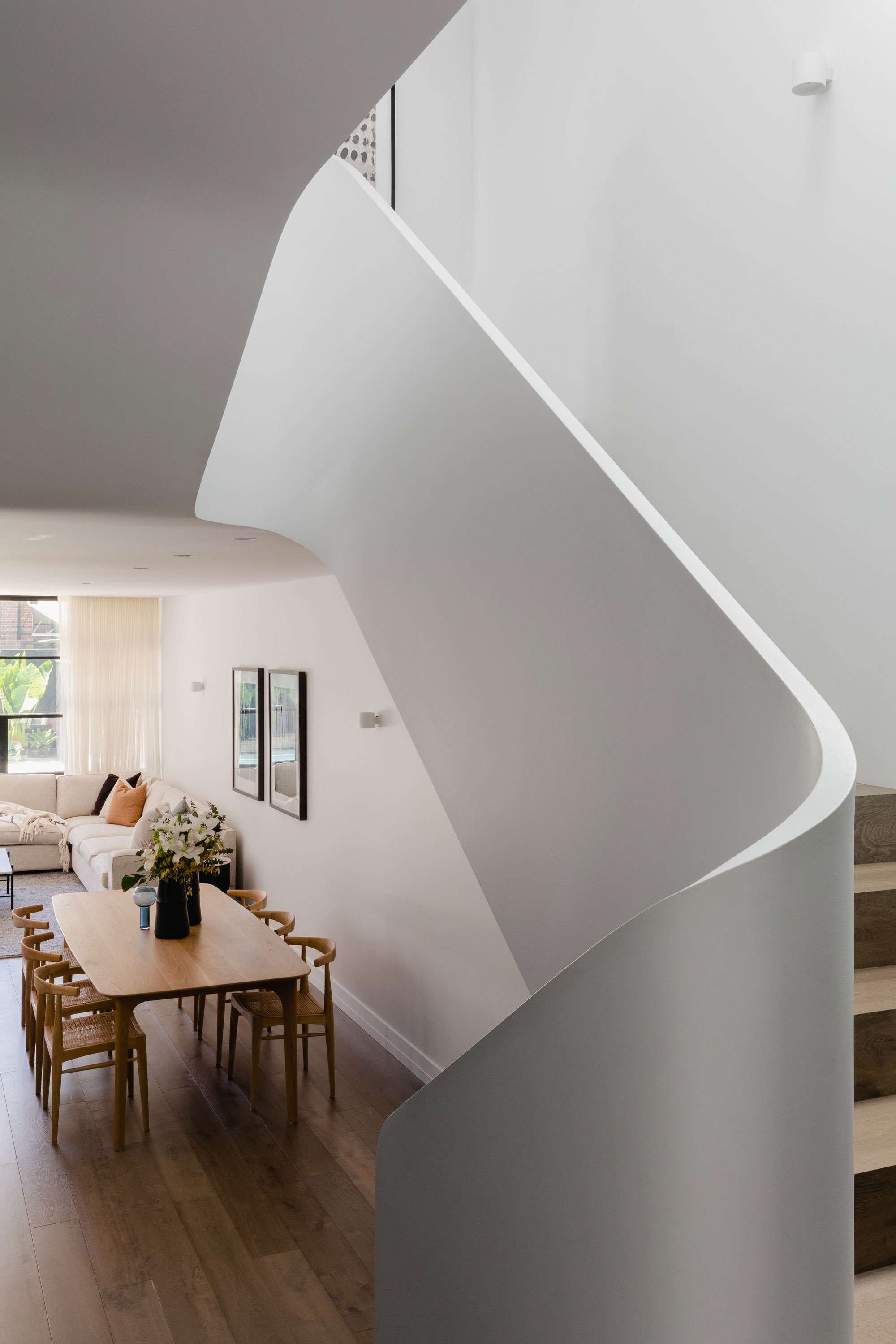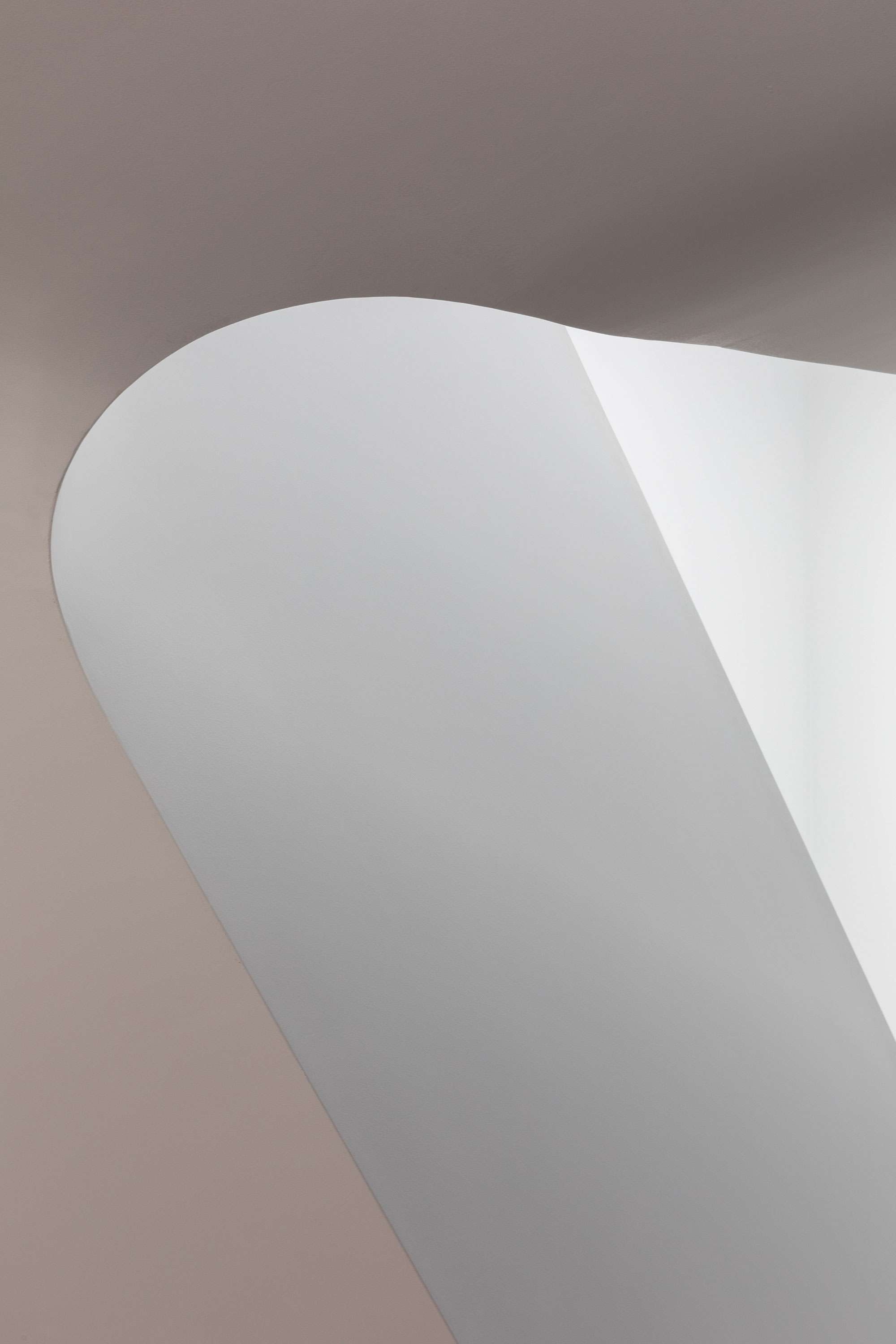 Internally, the design shifts to a more delicate and refined material palette. The interiors boast white curved plasterboard that gracefully encircles a standout staircase. This is beautifully contrasted by the subtle light blue v-joint joinery that adorns the kitchen, adding a touch of calm and tranquility. White marble benchtops elevate the space, introducing an element of opulence and luxury, making these areas not just functional, but also aesthetically pleasing and inviting. The juxtaposition of these materials ensures a serene atmosphere, creating a sanctuary that balances comfort with sophistication.
This project is a commendable representation of a modern residential design solution in Sydney's inner suburbs from a unique design brief. Tailoring to the diverse requirements of two brothers, the project seamlessly merges the vision of conventional family home with that of a shared living space.
Project Details
Location: Dulwich Hill, Sydney NSW
Architecture & Interiors: Blake Letnic Architects
Builder: TPS & Co Construction
Photographer: Katherine Lu
---
NOW HIRING
Blake Letnic Architects are currently looking for a Graduate of Architecture to join their Sydney studio. If you have a passion for architecture, excellent design & communication skills, and a strong desire to work in an emerging architectural office they would love to hear from you. Apply via the link.
---
CO-ARCHITECTURE COMPANY PROFILE
To find out more about Blake Letnic Architects you can visit the Blake Letnic Architects company profile. Its a great place to discover more about their studio and gain valuable insights into their work.