Hi Everyone,
It's time for our monthly community update, and we're thrilled to bring you the latest news and developments from CO-architecture.
Future of Work - Melbourne / SOLD OUT
First and foremost, we want to express our astonishment at the overwhelming response we have received for our upcoming event, Future of Work - Melbourne. We are thrilled to announce that all tickets have been sold out, adding to our excitement for this week's event. Thank you to everybody who reserved their spot, we can't wait to see you there.
We are looking forward to discussing the latest trends in design practice, employment insights, and how a renewed emphasis on flexibility, employee sentiment for wellbeing, and authentic connections is transforming how we work and, ultimately, how we design our cities and neighbourhoods.
We have been able to lock in an exciting and diverse panel including:
Monique Woodward - Director, WOWOWA Architecture
James Cadler - Global Director, ERA-co
Ingrid Bakker - Principal and Commercial & Workplace Sector Leader, Hassell
Dr. Agustin Chevez - Research Lead, Workplace Future at Swinburne University of Technology
Jill Garner - Office of the Victorian Government Architect
Blake Hillebrand - National SONA Vice President
We will be documenting the event throughout the night and will make sure to share the highlights on our social media platforms.
Keep an eye out for our next location announcement.

Introduction of the Discover Board

We are thrilled to introduce our latest offering, the Discover Board, which provides a space for architects and designers to share their latest work and engage with fellow professionals, talent and clients.
Our Discover Board is an invaluable tool for our architecture and design community, allowing members to visually showcase their recent design concepts and projects, whether they are completed or in progress.

This new feature will also facilitate collaboration among architects and designers, as we build new features to enable you to exchange feedback, ideas and host digital design reviews, while offering potential talent and clients a chance to discover your work.
View the Discover Board and add your projects today.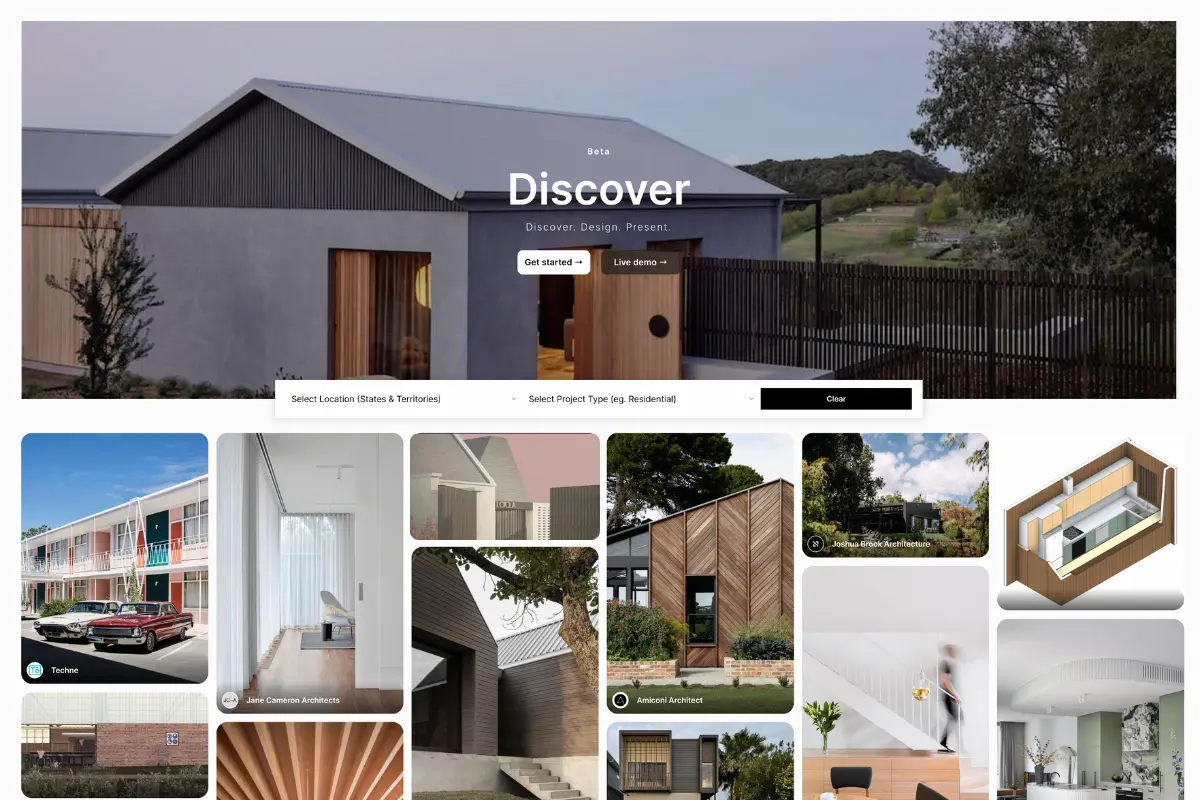 Project Submission Page
Our recently launched project submission page on CO-architecture, aims to streamline the process for our community of uploading and sharing their work. Now, they can easily upload both past and future projects, and they will be considered for features on our social media channels and digital publication, Site. by CO-architecture.
The best part is that these projects will automatically be added to your Company page on CO-architecture, as well as the Discover Board, where we guide our followers to find inspiration for their upcoming projects. This exposure can potentially attract future clients or talented individuals who are interested in working with members from our community.
As a platform built for and by designers we are excited by the value and potential opportunities these new features will provide for our network.
Start submitting your projects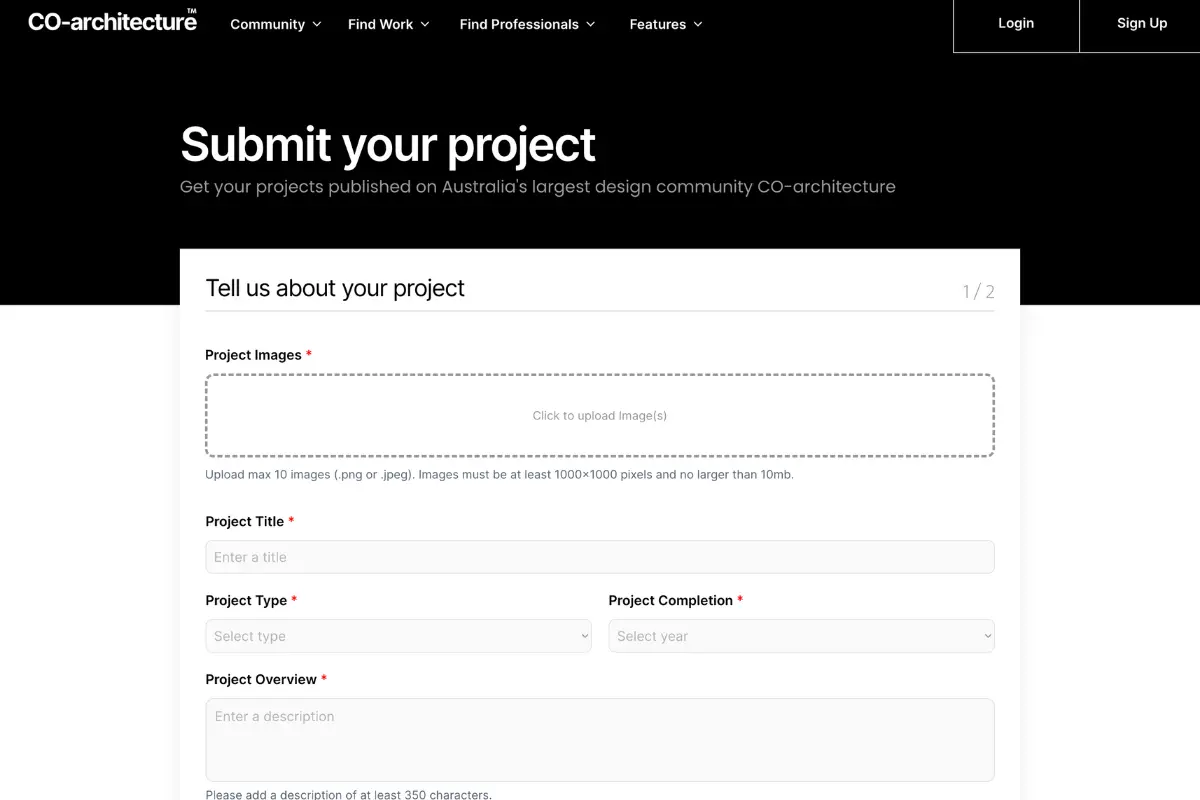 Salary Calculator
As the CO-architecture platform continues to expand, we consistently explore avenues to develop valuable resources based on the data collected. Our most recent addition is a user-friendly Salary Comparison tool. This tool leverages real-time data from the platform to assist job seekers and employers in determining average salaries for specific positions.
Check out the Salary Comparison tool!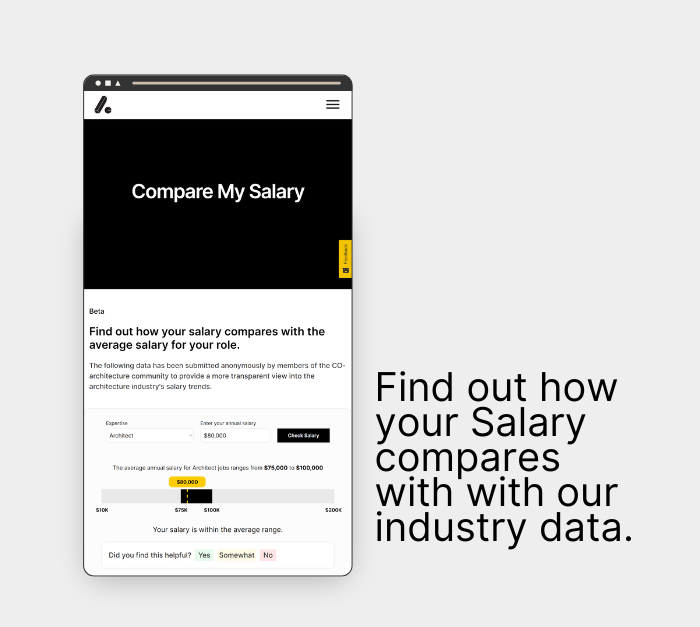 Feedback Box
In our ongoing efforts to enhance the platform and resolve any bugs, we have implemented a convenient feedback box directly on users' dashboards. This feature is designed to streamline the process and make it easier for users to provide feedback regarding any issues they encounter. We greatly appreciate your input and encourage you to utilise the feedback box to report any bugs or suggest improvements.
Thanks for being a part of our community, and as always, we appreciate your feedback and suggestions on how we can continue to improve our platform.
Wishing you all a great June!
Wade, Kevin & Luke