'Valley House' is a hidden oasis – a home and a garden full to the brim with the design skill and ethos of its owners. Joel Barker and Hannah Pannell's new family home is located down a quiet street in White Gum Valley near Walyalup/Fremantle and is a simple, joyous reflection of their personalities, their passion for West Australian landscapes and the simple, rural architectural feel that defined their own childhood memories. Both hailing from the South West of WA, the couple's dream was to create a sustainable, modest home redolent with rural character on the smallest footprint possible – a sacrifice deemed necessary to make way for a substantial productive suburban garden that Joel and Hannah fondly describe as 'West Australian Mediterranean'.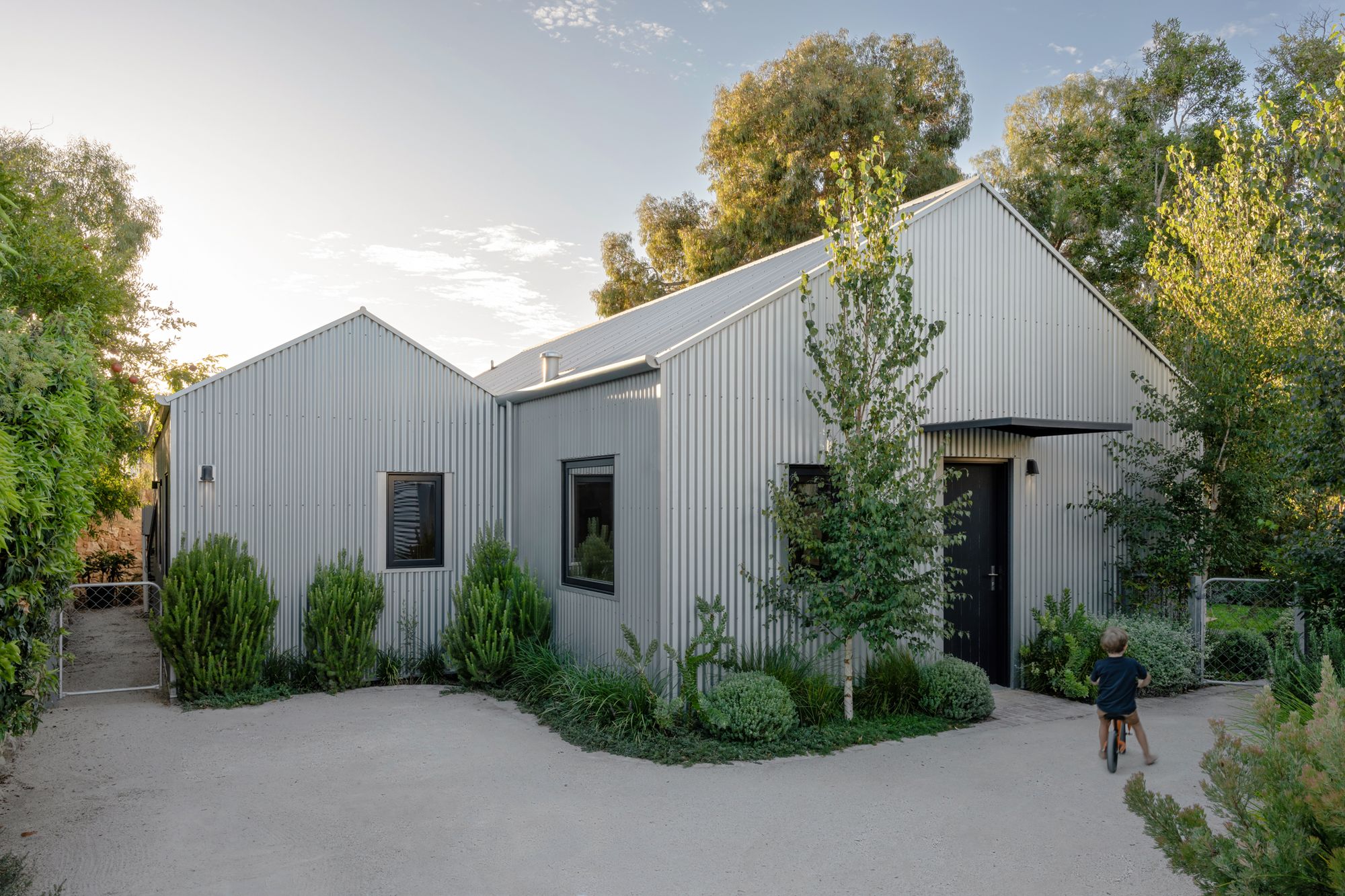 As the co-founders of See Design Studio, one of Perth's most respected boutique landscape architecture firms, Joel and Hannah have developed a deep connection with Walyalup/Fremantle's landscape heritage. When they found a hidden rear lot in White Gum Valley shaded by four mature native trees and bound by a character-rich limestone rubble wall, they knew it was the perfect spot to design their family's new home and garden.
Walyalup/Fremantle has a rich history of productive suburban gardens, and species brought to the area by first generation Italian and Greek Australians were chosen by Joel and Hannah to be the foundation of their own garden. The entry to the home is rich with olive trees lining the side fence, heaving with fruit, and with citrus trees, pomegranate trees and grapevines all providing seasonal harvests for their growing young family.
Their vision was to create a sustainable home that was financially achievable and the house itself embraces a simple, rural Australian aesthetic.
Both Joel and Hannah have a love of country architectural forms and materials – corrugated iron sheets and a gabled roof form where simple and affordable are the defining characteristics of rural architecture. The lightweight structure minimizes heat retention - essential in the hot Perth summer.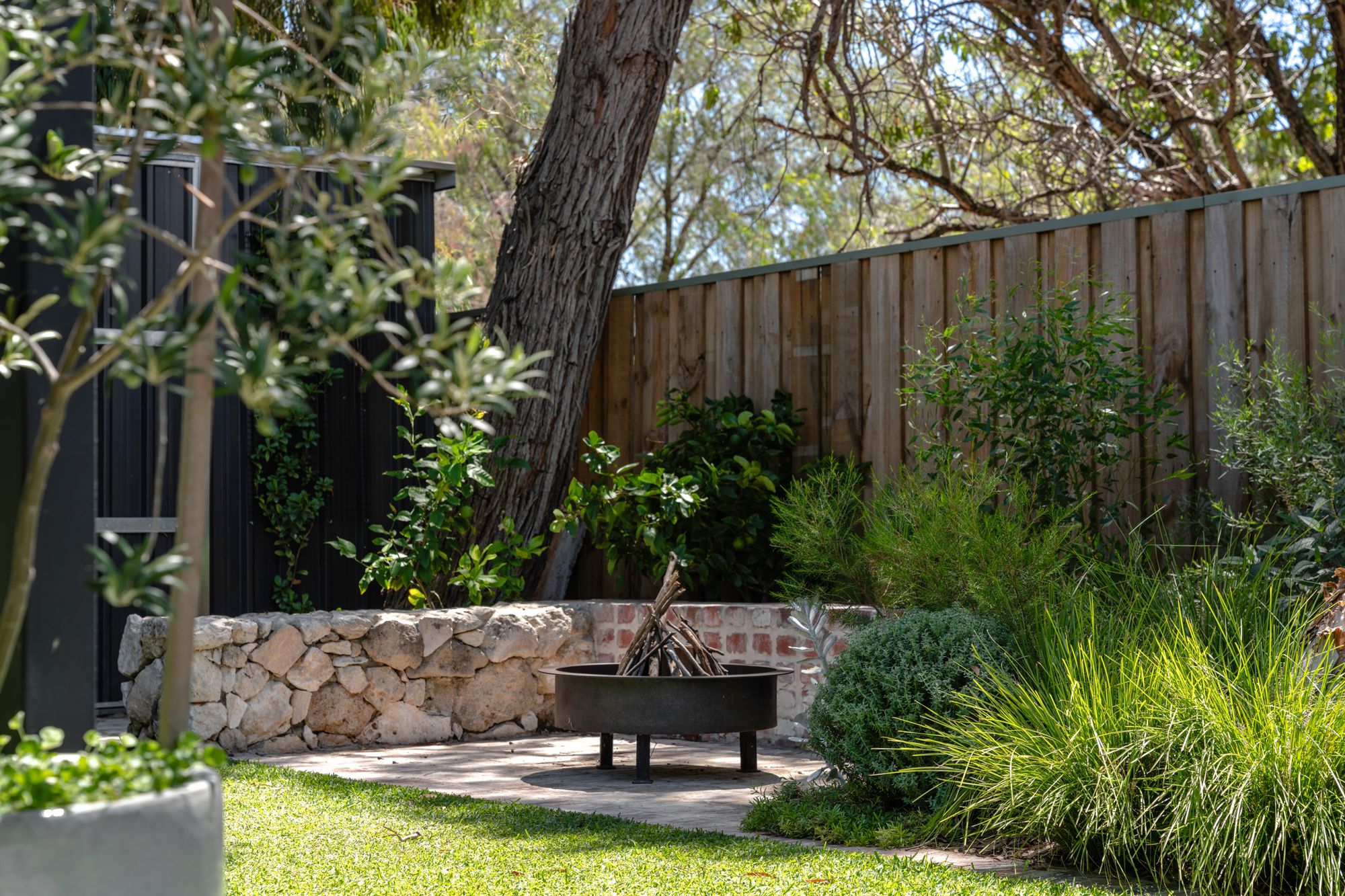 The house is designed using passive house principles,with living areas oriented north for maximum winter sunlight. When the grape vines lose their leaves in the cooler months, the sun streams through the double glazed windows heating the burnished concrete floor and warming the whole house. A simple eave and the grape vines provides protection from the summer sun, so the house requires almost no heating or cooling year round.
Each room connects to the outdoors, with oversized double-glazed sliding doors that open onto the garden from the living area and bedroom. The house opens up to take advantage of the 'Freo doctor' sea breeze for natural ventilation.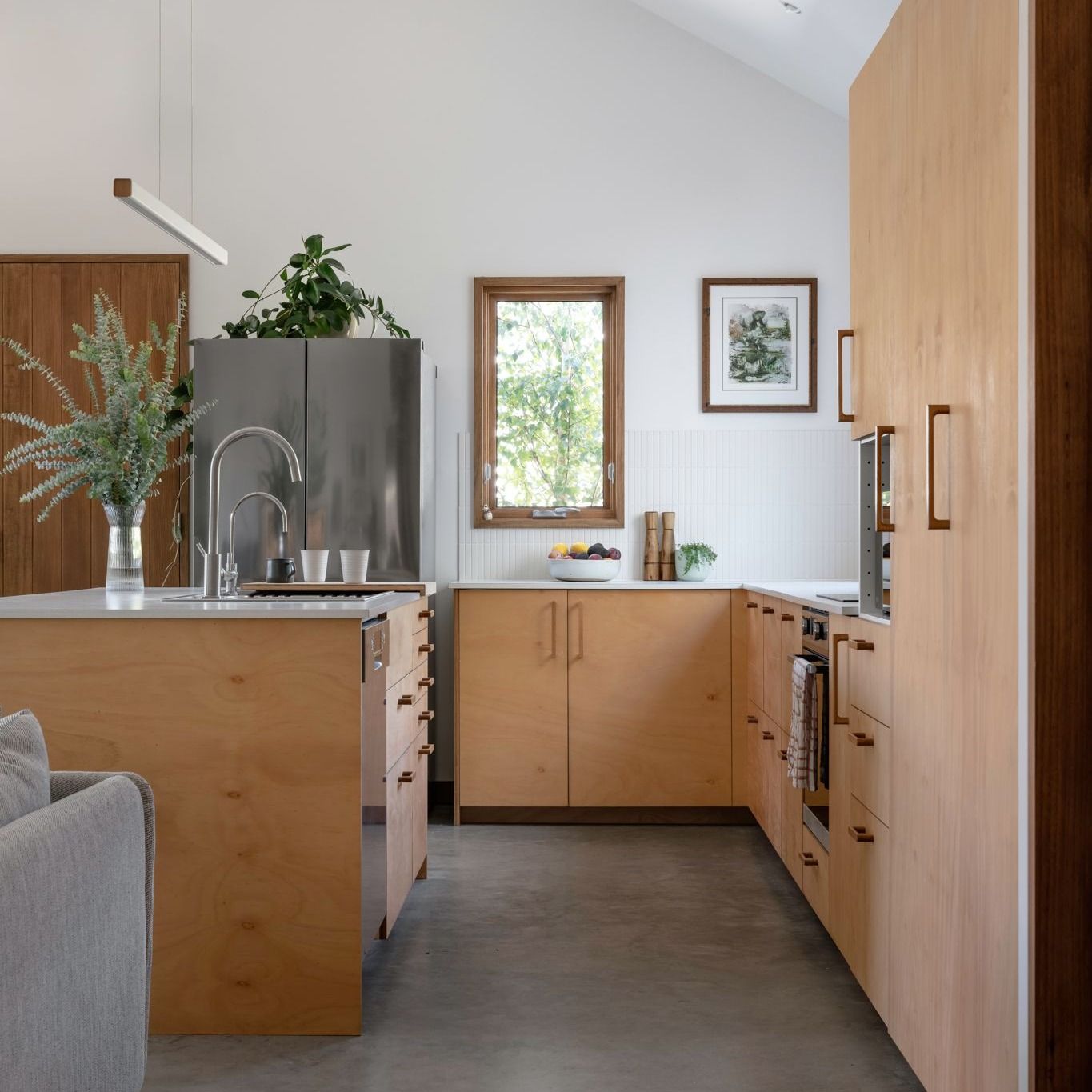 The floorplan is designed with minimal circulation areas for the most efficient use of space, and the simple internal spaces are characterized by views out to the garden.
A deck made from sustainably sourced local timber connects these internal spaces to the garden, made of predominantly local endemic species with selected climate-appropriate, Mediterranean flowering plants being a key feature.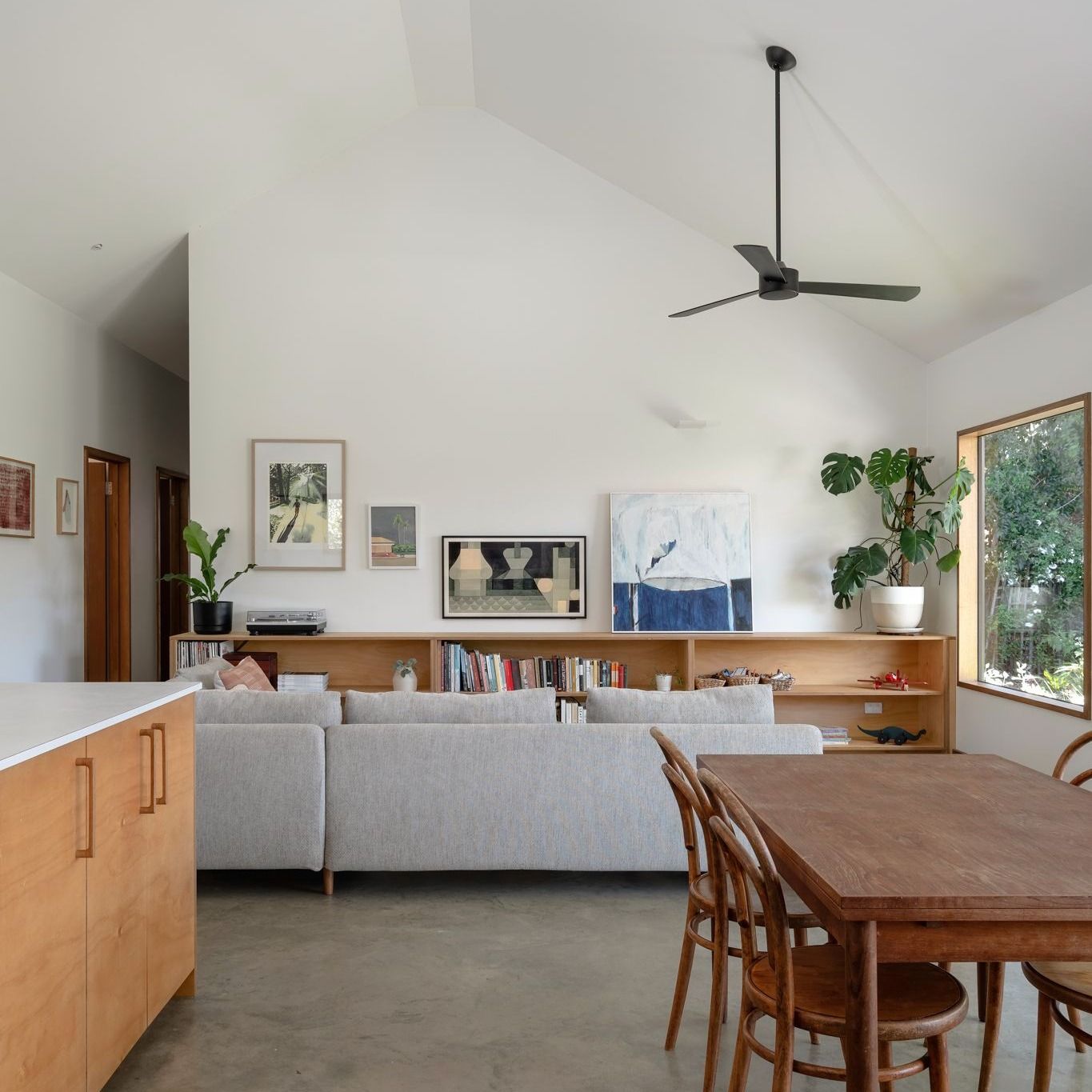 A row of large, raised planters full of vegetables, berries, herbs and edible greens capture the sun all day all year round, supplementing the family's everyday diet. An aditional veggie bed has been repurposed as a sandpit for the couple's young children. The garden creates a comfortable microclimate for living in each season, and shade from the mature trees and grape vine arbour are crucial to comfortable living spaces in summer, reducing the heat load on the house and garden during the hottest days of the year.
The joy that this small, magical home and its verdant garden brings to this young family is clear. With a small piece of land and a modest budget they have created a hidden suburban oasis to raise their children in that deeply connected way that is reminiscent of Joel and Hannah's own, fondly remembered rural upbringing and their passion for our West Australian landscape.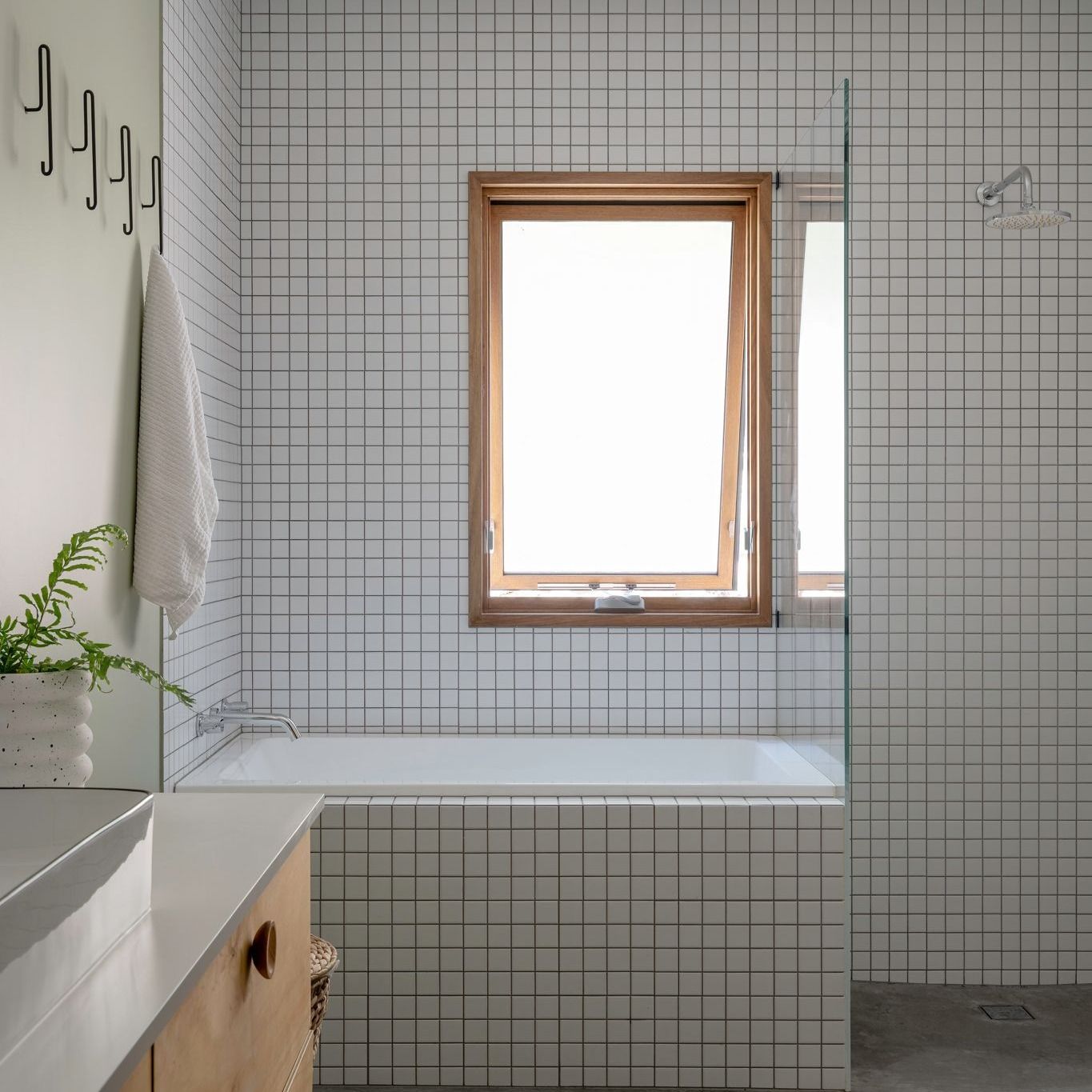 Year completed: 2021
Location: Walyalup (Fremantle), Noongar Whadjuk Country
Photography: Dave Deves
Team: See Design Studio, Interstruct, Sean Gorman, Gradient Landscapes
Words by Kate Fitzgerald from Whispering Smith