This tranquil retreat, thoughtfully designed by REFRESH* Studio for Architecture, offers a unique escape from the humdrum of urban life, encouraging occupants to immerse themselves in the surrounding natural beauty.
Drawing inspiration from local camping sites, the house encapsulates the fundamentals of camping: cooking, gathering, and sleeping, all under the protective embrace of a grand tarpaulin. The essential functions of the house are smartly condensed within a compact footprint beneath an elegant butterfly roof, reminiscent of a large tarp, enhancing the sense of lightness and connection to the sky.

The design of the Baker Boys Beach House is a clever blend of nostalgia and innovation. The sleeping and service facilities are tucked away within "pods," creating an intimate experience that feels more like sheltering than traditional indoor dwelling. The communal area, in contrast, is spacious and filled with panoramic views of the sea and the surrounding bushland, enhancing the sense of escape from everyday life.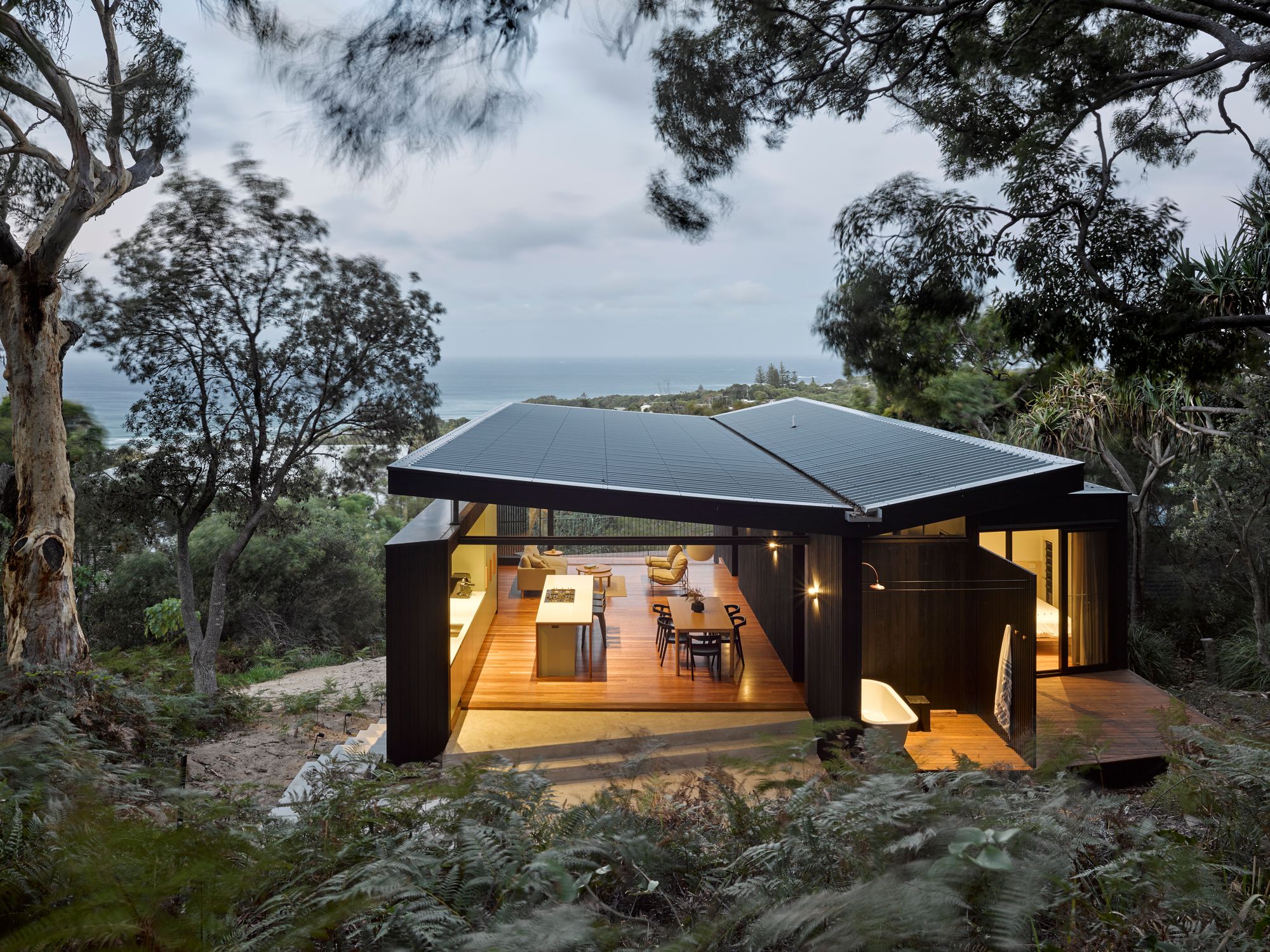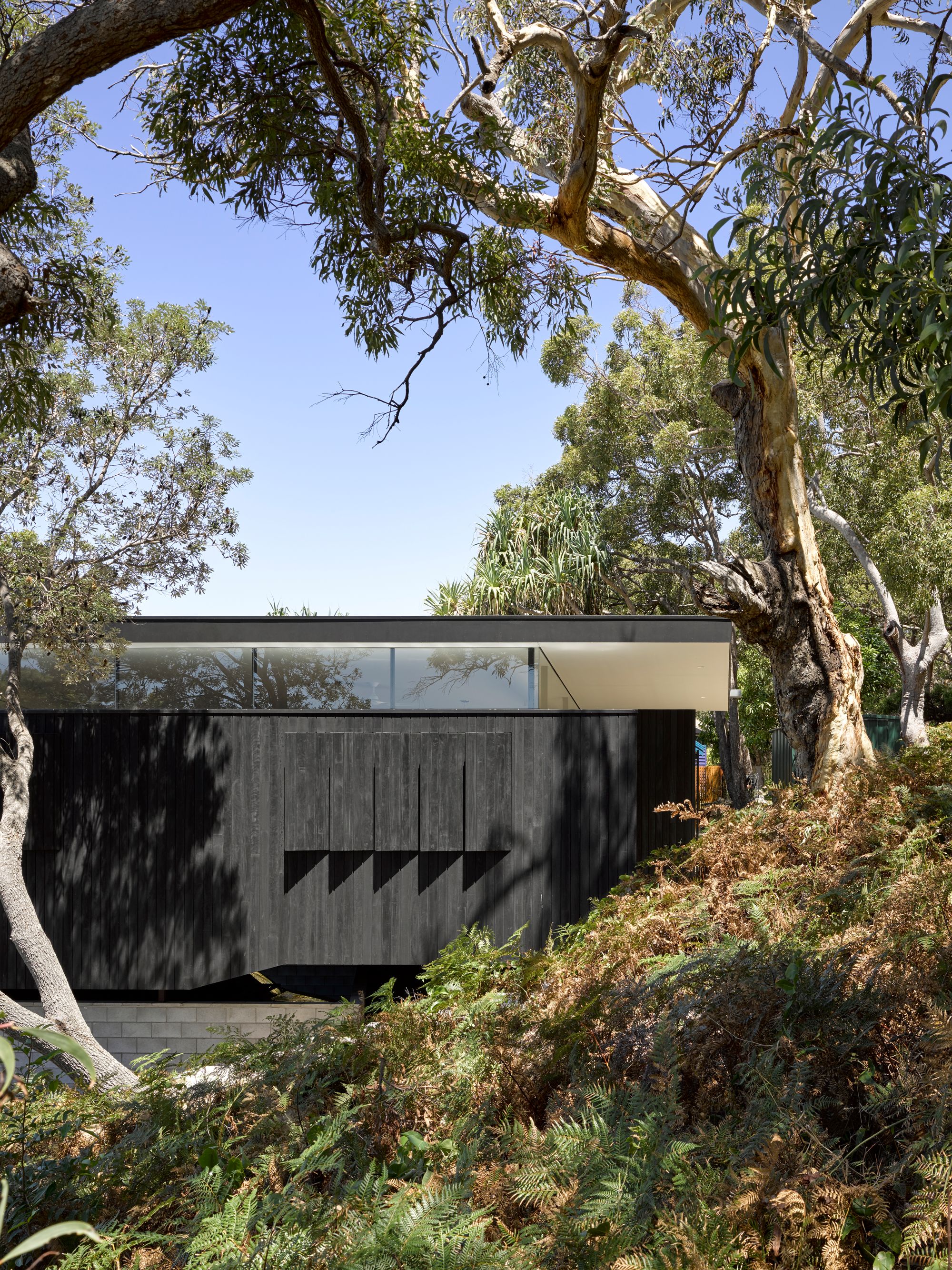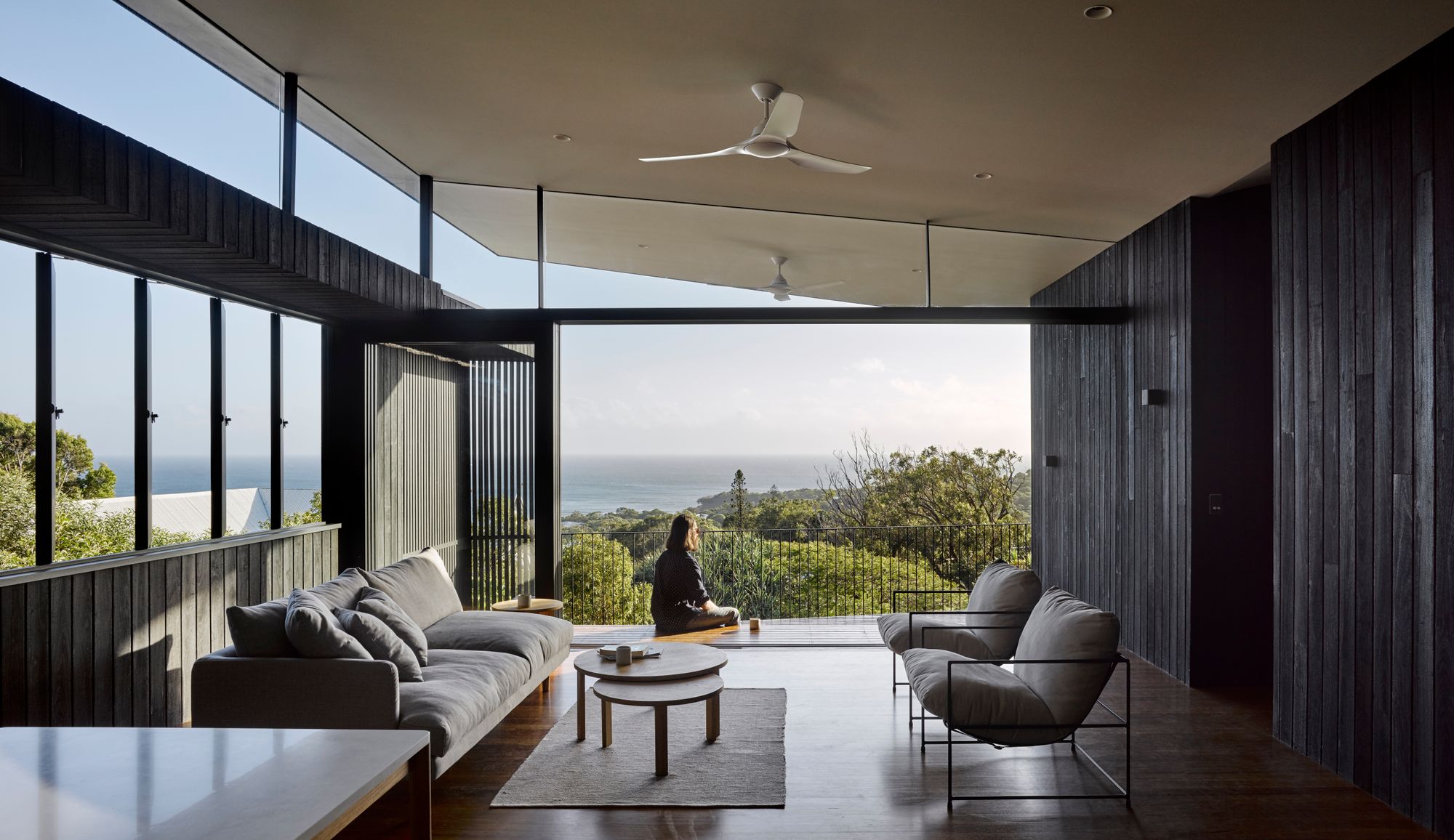 Designed to comfortably accommodate three families, the house can host up to 10 people, making it a perfect vacation destination for large groups. The rear of the house is rooted to the ground, blending seamlessly with the adjacent bushland reserve, while the front end cantilevers over a steep slope, maximising the breath-taking views and providing undercover space for car parking and storage facilities.
One of the highlights of the house is the outdoor bath, which is strategically positioned to offer a serene bush outlook. The integrated fireplace also provides a cosy gathering spot, shielded from the wind, with distant views of the ocean.

In the local Jandai language, the word "Moongalba" beautifully encapsulates the simplicity and tranquillity of spending time at Baker Boys Beach House. It evokes a sense of coming together, appreciating the beauty of the surroundings, and embracing the organic flow of life.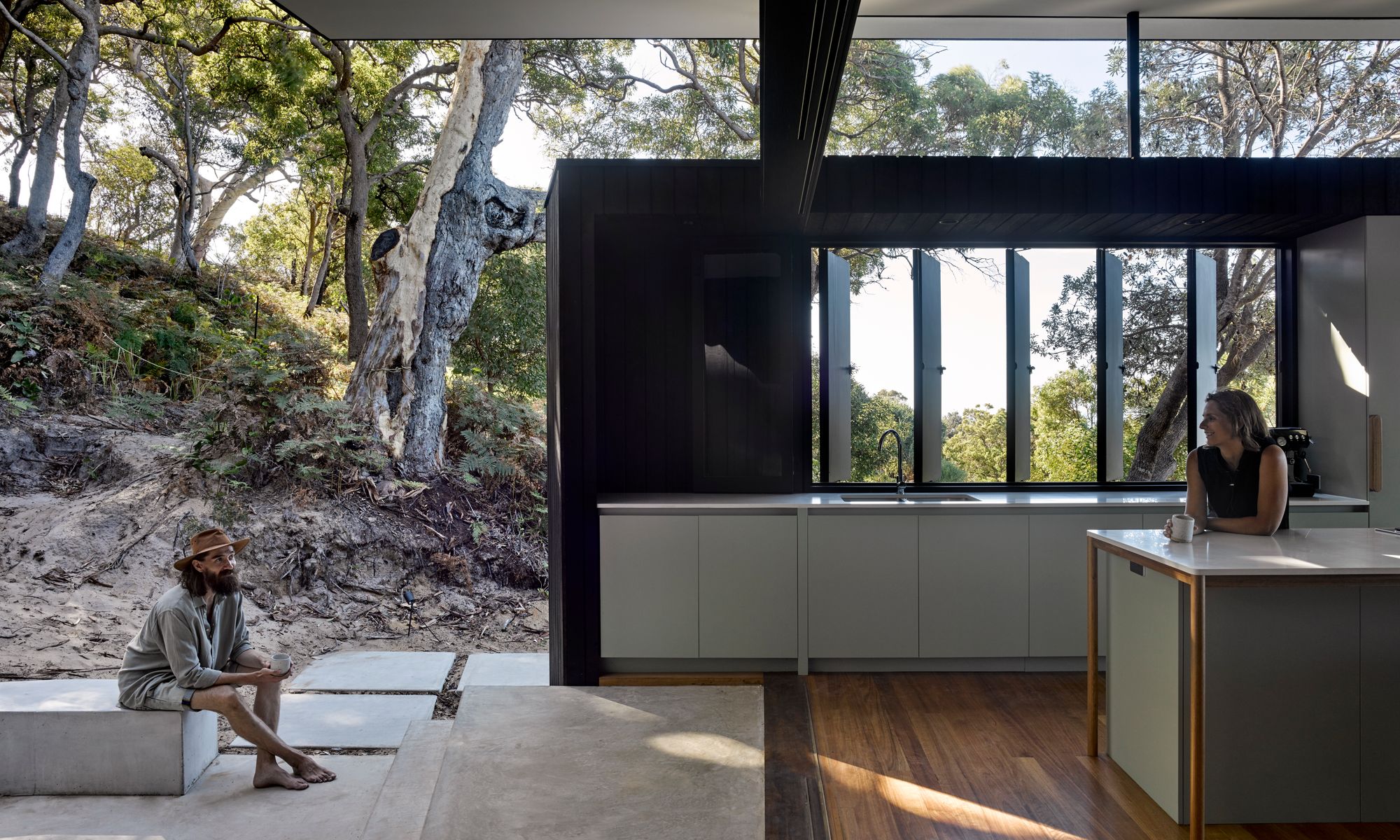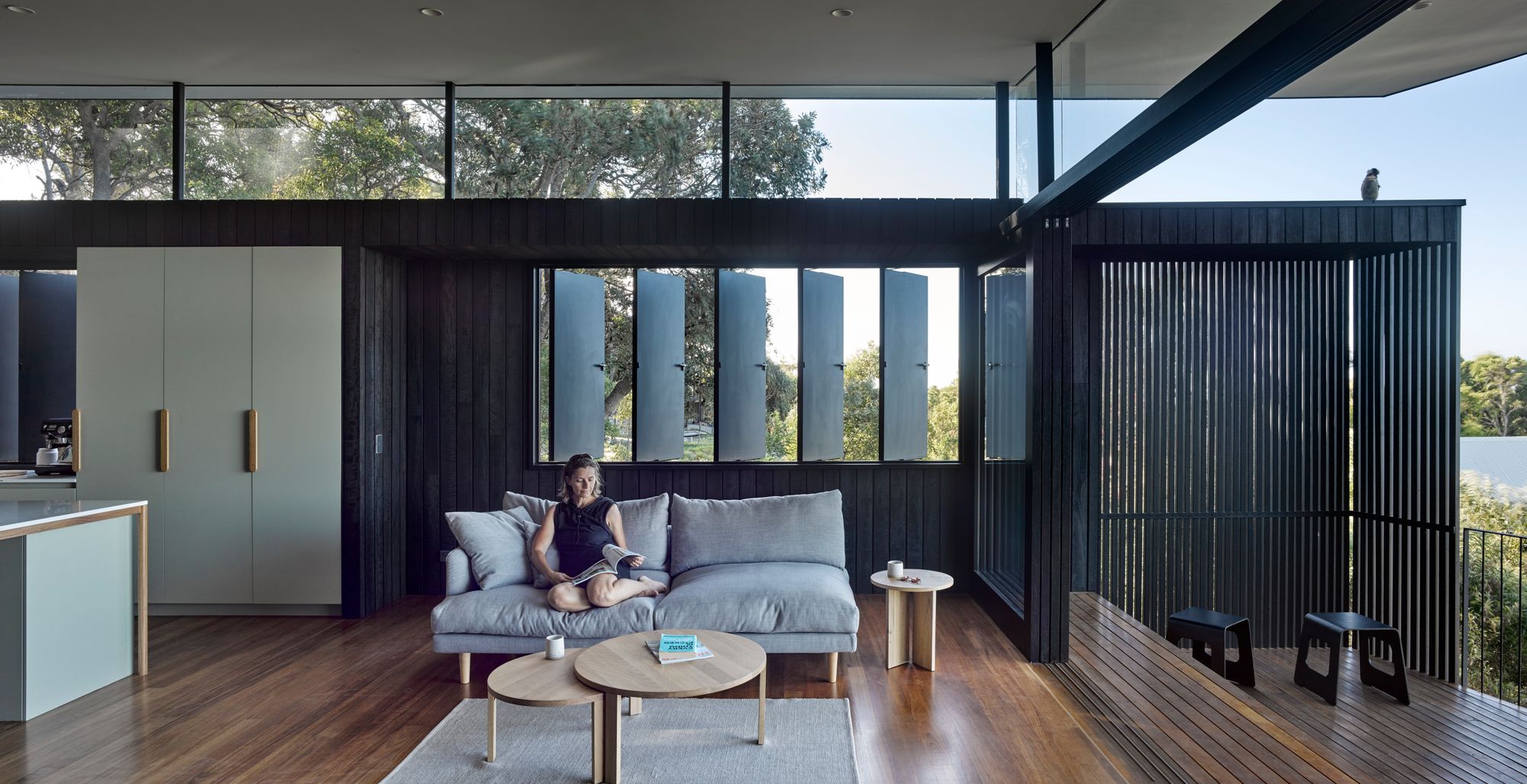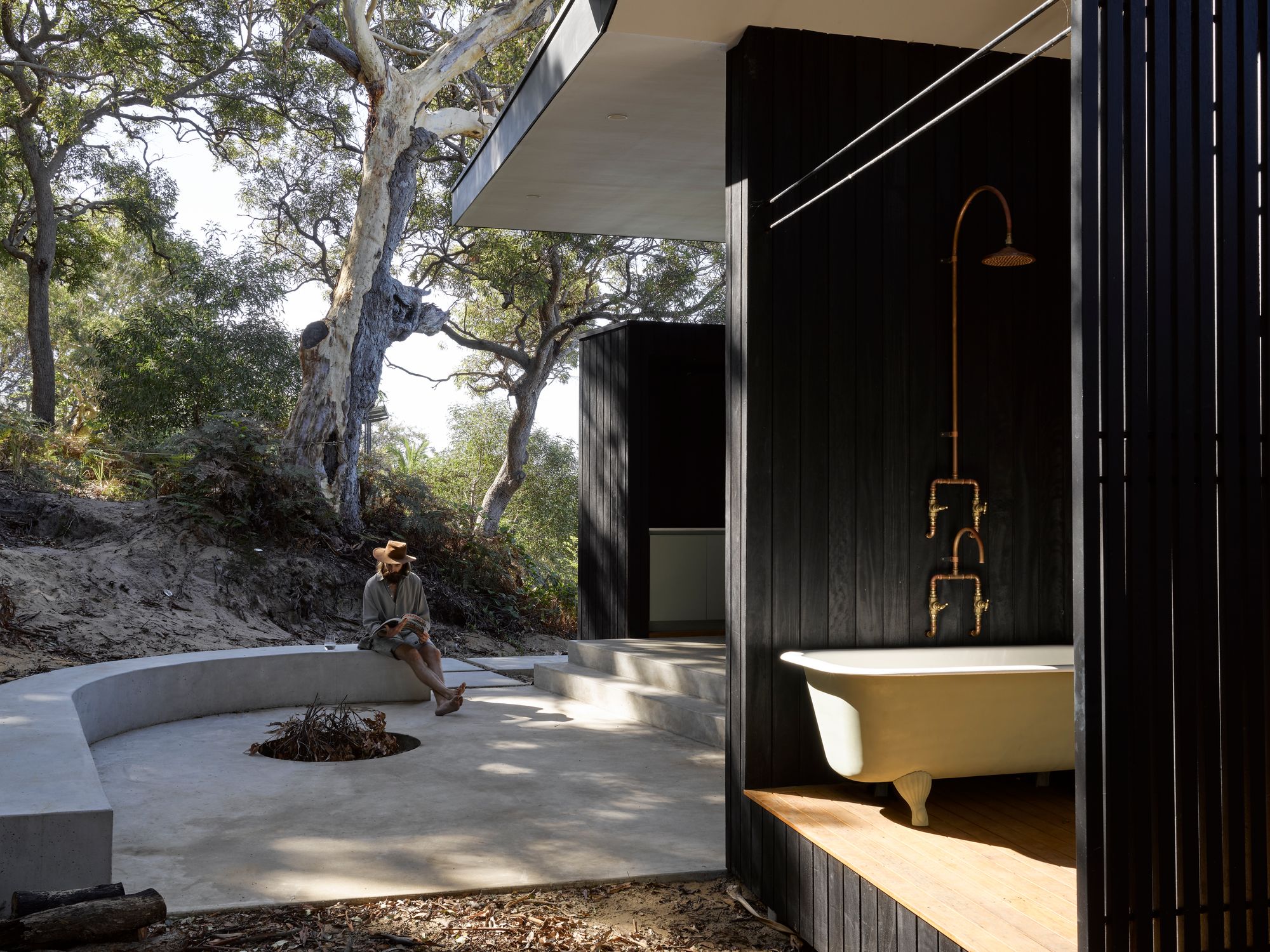 Despite the logistic challenges presented by the island's location, the team at REFRESH* Studio for Architecture coordinated with the builder and engineers to transport and assemble a pre-manufactured structural steel skeleton on site. Through careful planning and execution, they managed to achieve an impressive 4.5m cantilevered front deck.
Baker Boys Beach House is more than just a holiday retreat. It's a space that caters to the essence of vacationing, offering an escape from the hustle and bustle of everyday life and inviting occupants to connect meaningfully with nature and loved ones. Whether you're cooking, dining, playing games, reading, bathing outdoors, or simply spending time with loved ones, this house offers an excellent setting for creating unforgettable experiences. It's like having a permanent camp on Stradbroke Island, allowing you to momentarily leave your regular life behind for the ultimate holiday escape.
Project details
Location: Stradbroke Island, QLD. Quandamooka Country
Architecture: REFRESH* Studio for Architecture
Interior Design: Flokk Interiors
Builder: Bespoke Constructions
Structural Engineer: NGS Structural Engineers
Photography: Christopher Frederick Jones
---
CO-ARCHITECTURE COMPANY PROFILE
Find out more about REFRESH* Studio for Architecture via their CO-architecture Company Profile