Embark on a short, scenic 5-hour drive from Perth and find yourself transported to the serene charm of Denmark. This hidden gem offers a much-needed escape from the chaotic pace of city life. Immerse yourself in a world of tranquillity, where majestic forests, undulating landscapes, and fertile soil create the perfect backdrop for an extraordinary wine country experience. Just a stone's throw away from the town centre, Stillwood Retreat awaits, inviting you to uncover the pristine beauty of iconic beaches like Greens Pool and Elephant Rocks, a mere 10-minute drive from your doorstep. Prepare to indulge your senses as you discover the allure of award-winning wineries, waiting to be savoured and explored at your leisure.
The visionaries behind Stillwood Retreat are a dynamic husband-and-wife duo, directors of the renowned Studio Atelier. With an impressive portfolio of designing exquisite homes and spaces for numerous clients, as well as transforming their own personal renovations, they embark on an extraordinary endeavour to bring to life this one-of-a-kind boutique accommodation. Merging their roles as both client and designer, they wholeheartedly embrace their longstanding dream and unwavering passion for immersive design. Their mission?
To share this immersive experience with guests, creating an enriching escape in every sense.
With an unwavering commitment to sustainability, Stillwood Retreat embraces a guiding principle of preserving the existing shed on the property. By reusing the original concrete slab, walling, and sheeting, the retreat not only minimises costs but also champions environmentally friendly practices. The decision to preserve the shed not only shapes the architectural aesthetics of Stillwood but also seamlessly integrates it into the picturesque rural landscape. Paying homage to the beloved Australian shed aesthetic, the retreat's design harmoniously blends with the surrounding natural beauty.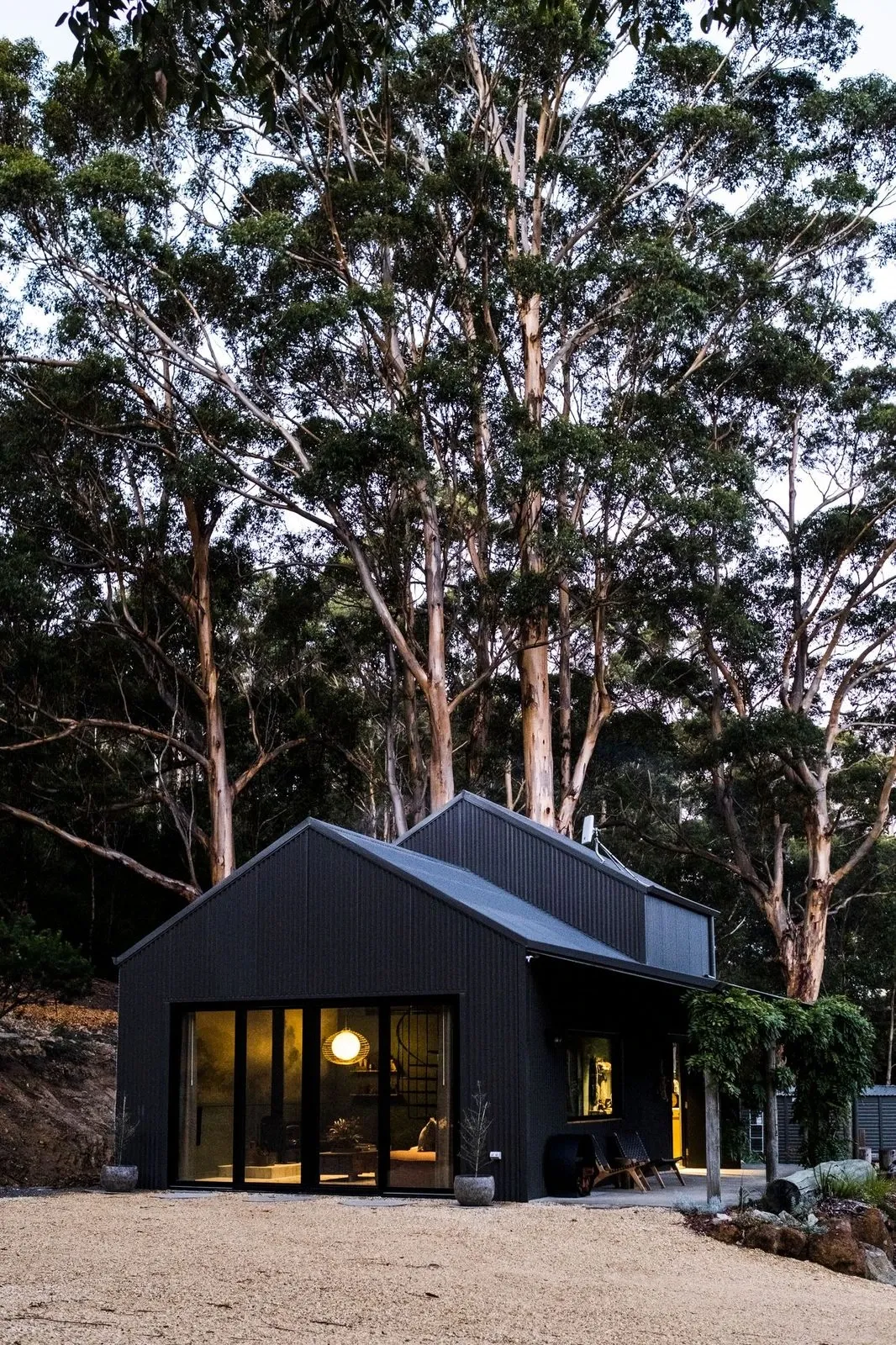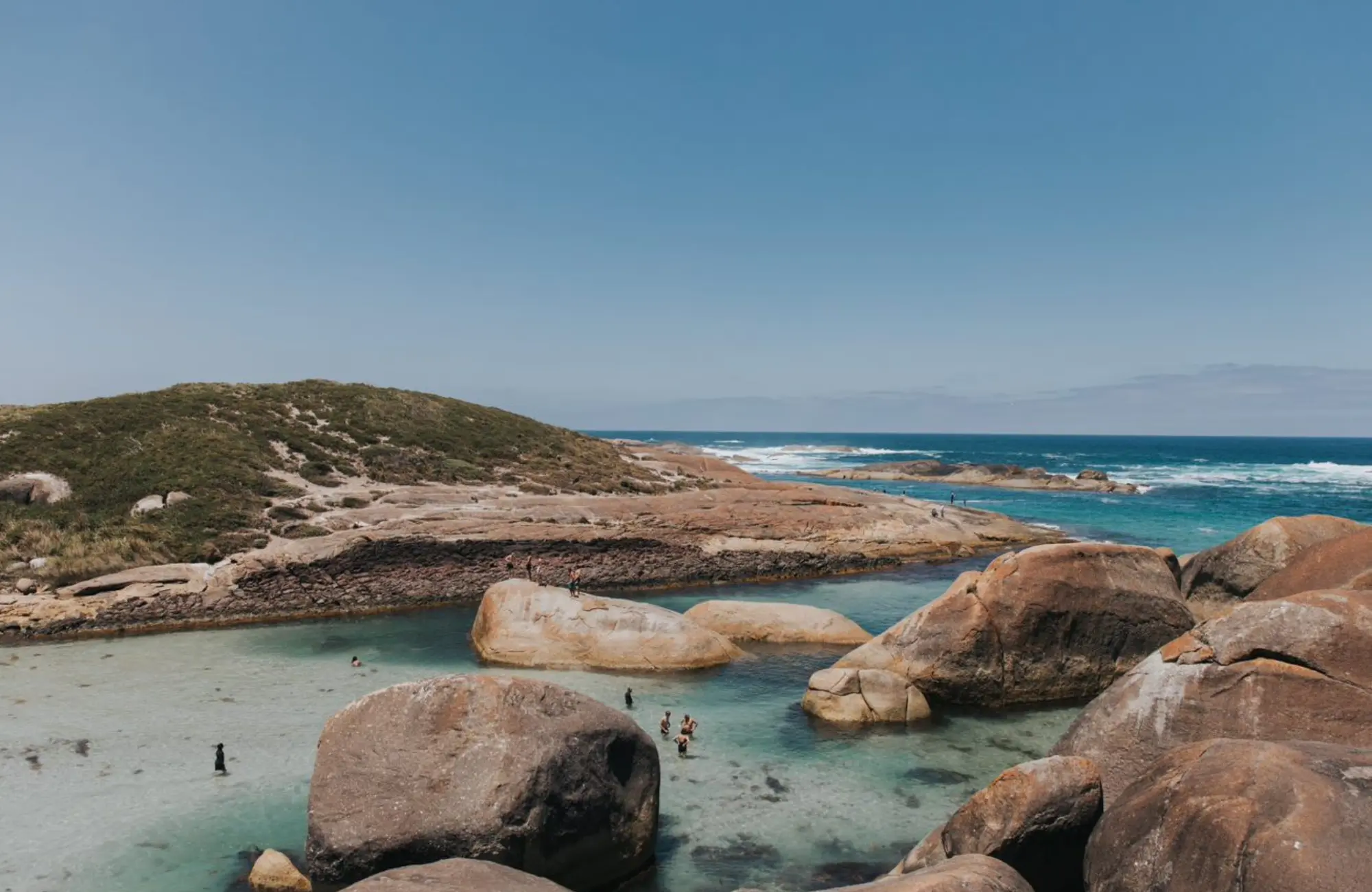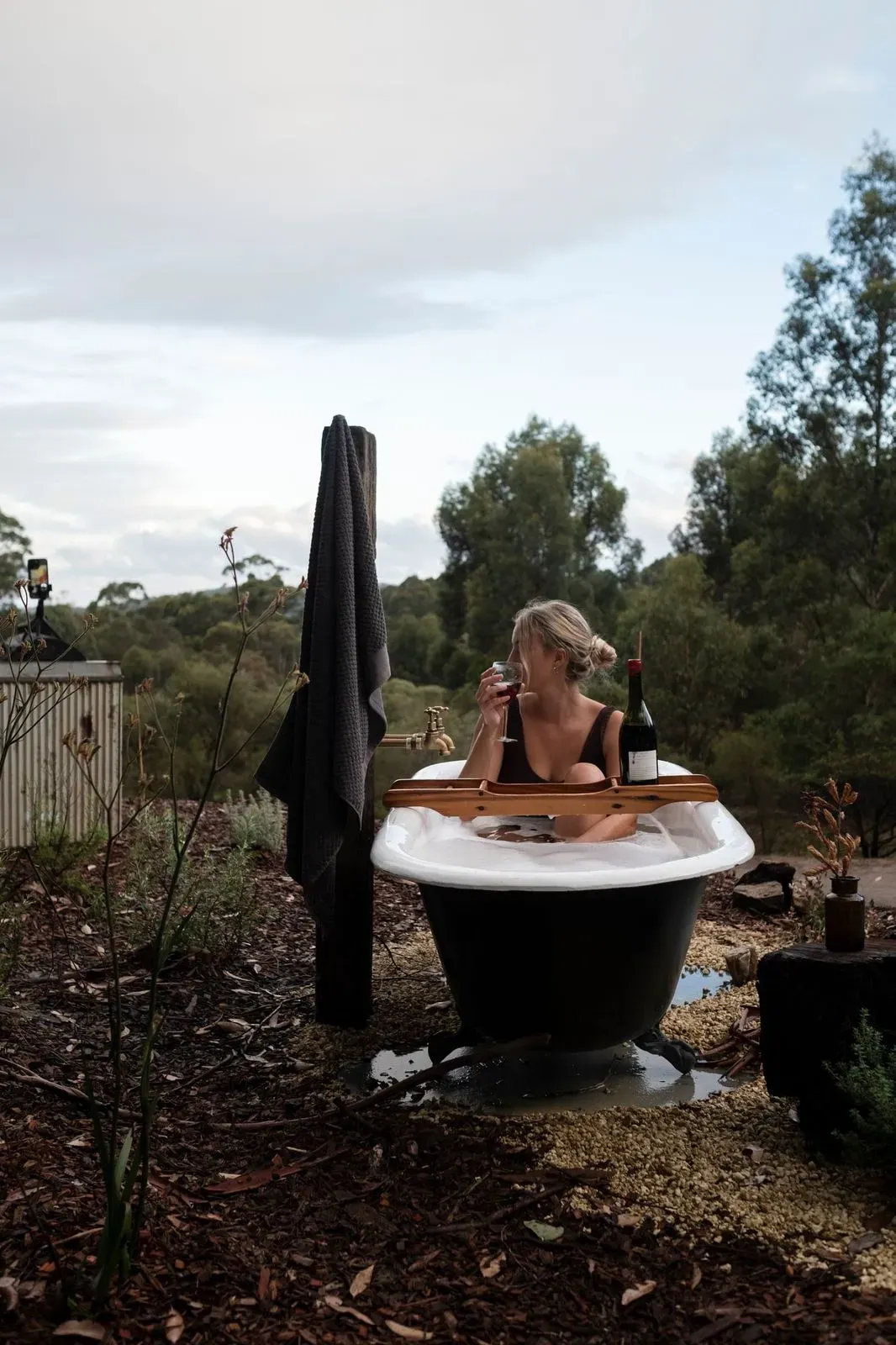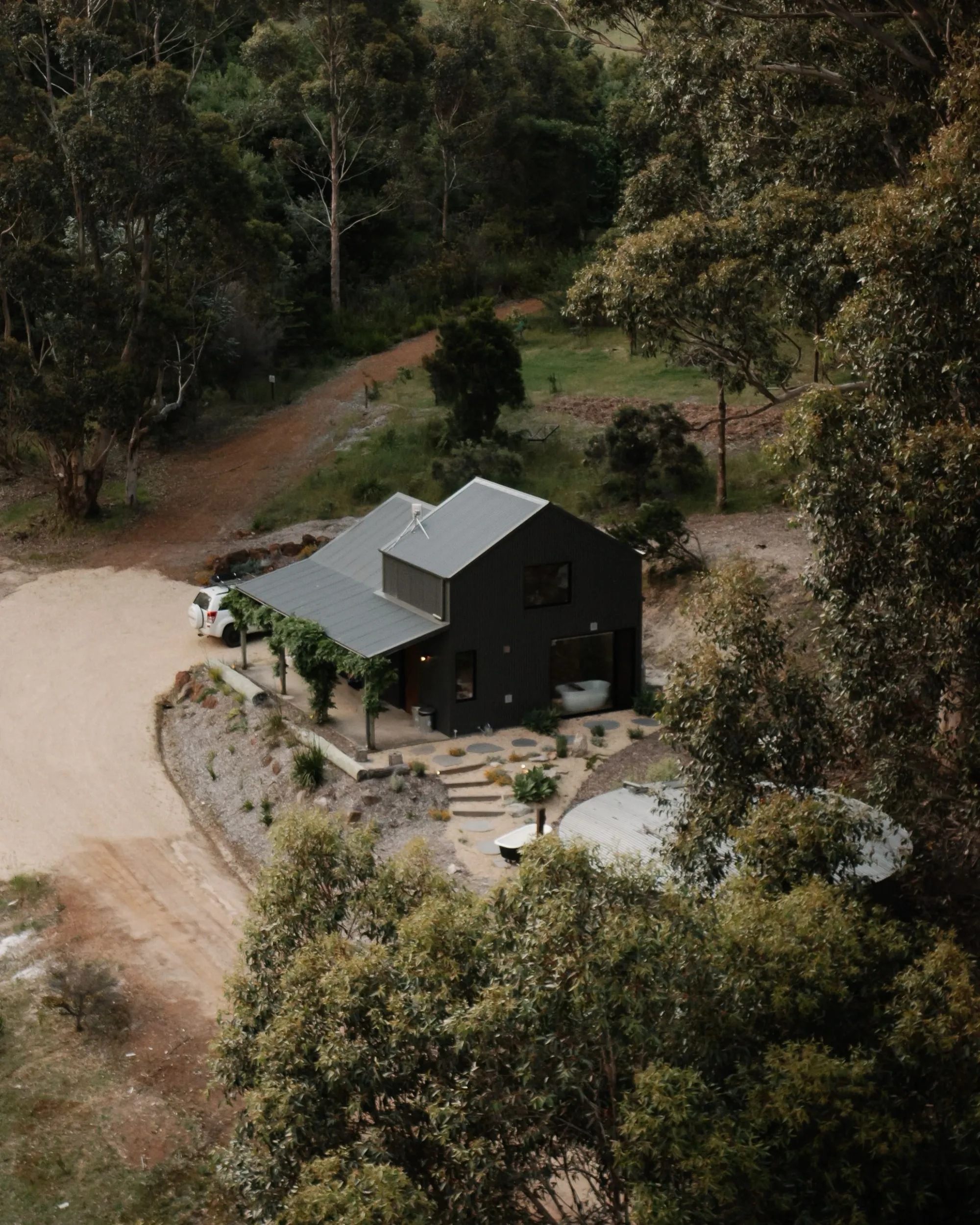 Step inside this enchanting retreat and be welcomed by meticulously curated interiors that effortlessly radiate warmth, layering, and an authentic sense of hospitality. Drawing inspiration from the natural colour palette of the surrounding property, the design celebrates handcrafted elements and flawlessly imperfect materials, creating an inviting ambiance that resonates with the very essence of your being. Prepare to be embraced by a sanctuary where every detail whispers stories of comfort and tranquillity.
Thermal comfort is a priority at Stillwood, with high levels of insulation and double glazing ensuring a cozy environment without excessive artificial heating or cooling. Rainwater harvesting systems and water-wise landscaping practices promote sustainable water usage and attract local fauna and birdlife, adding to the retreat's charm.
While the exterior boasts modern and clean aesthetics, the interiors come alive with layers of warmth and invitation. Carefully sourced vintage items from antique stores, flea markets, and online marketplaces infuse the space with character. An authentic Moroccan rug, acquired from a former expat living in Morocco, graces the floor, while dining chairs and a table with vintage cast iron legs add a touch of nostalgia. A vintage chest coffee table further contributes to the soulful ambiance, embodying the stories and histories of the past.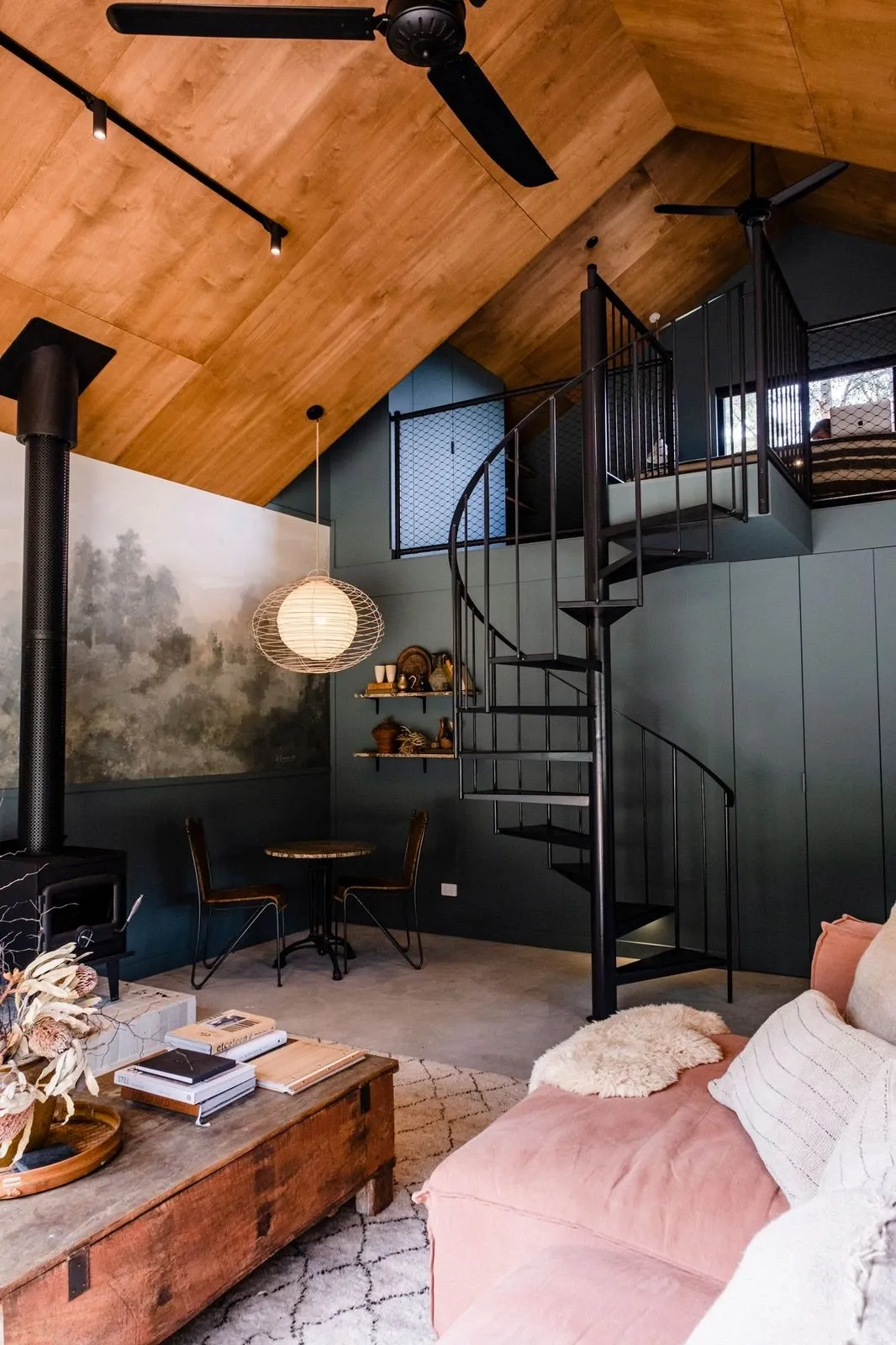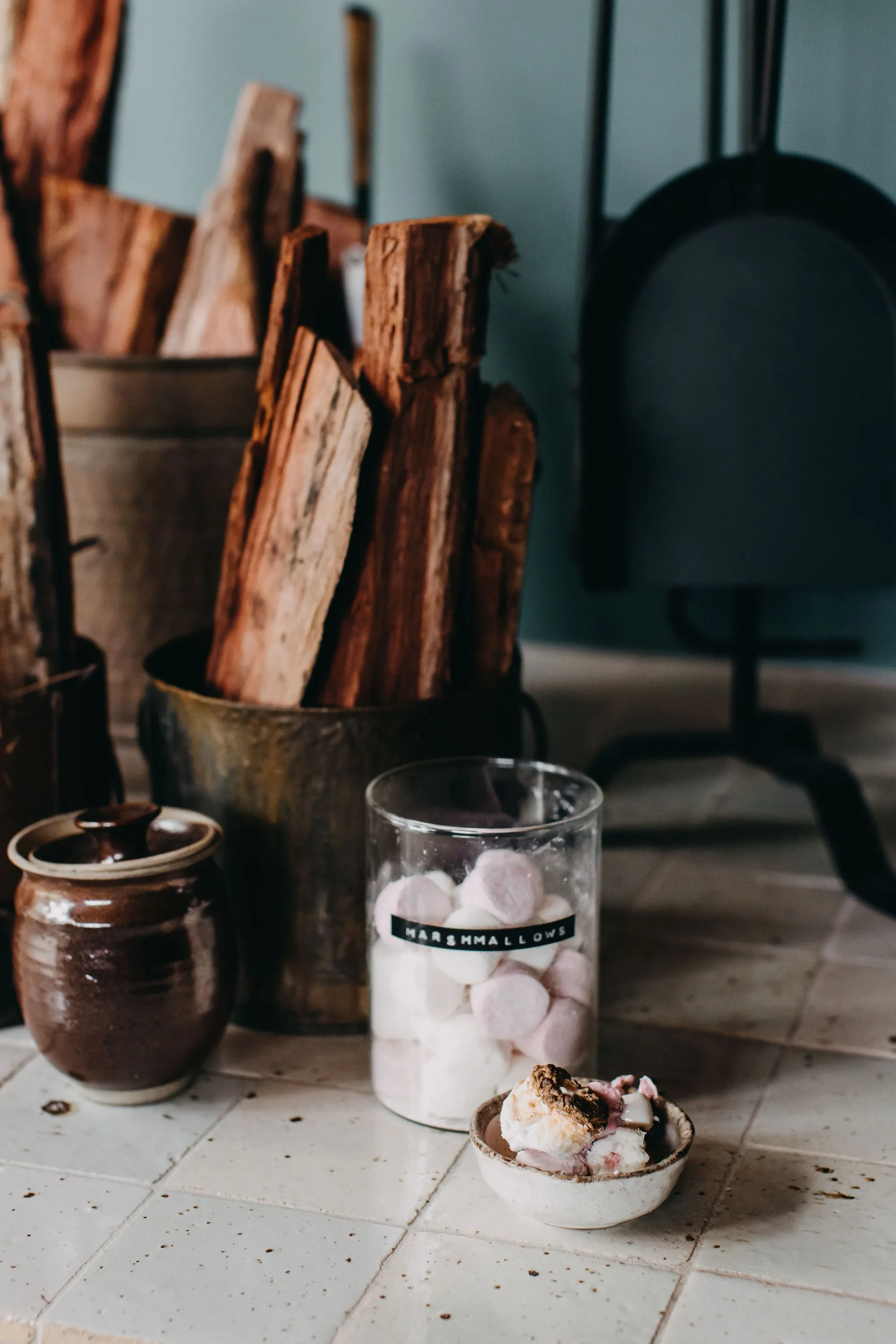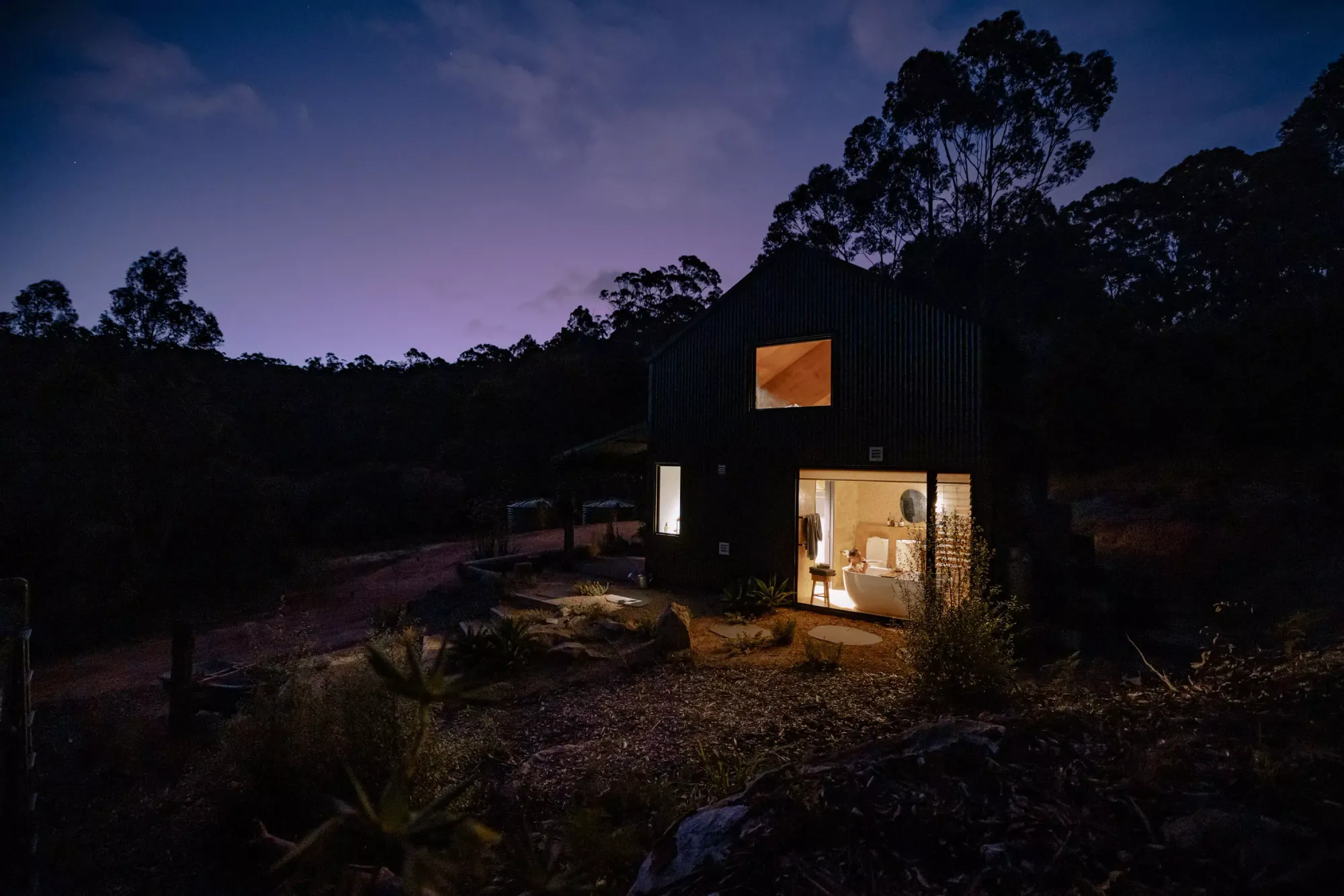 Among the remarkable design elements embraced by Stillwood Retreat, a standout feature is the awe-inspiring mural created by the talented artist Desmond Sweeney from 8 Foot Walls. With his exceptional skill and artistic prowess, Desmond masterfully captured the enchanting essence of the neighbouring Karri forest, bringing its captivating beauty to life within the retreat's walls.
Guests of Stillwood Retreat are enveloped in an exquisitely crafted ambiance that nurtures mindfulness, encourages ritual, and facilitates a profound reconnection with oneself and the natural world. Every design element within the retreat is carefully curated to surprise and delight, whether it's waking up to a breathtaking view of treetops through expansive picture windows or indulging in a starlit bath within a captivating bathroom adorned with meticulously hand-laid travertine tiles. The interiors effortlessly embody a distinctive Australiana aesthetic unique to the great southern region, blending authentic and reclaimed pieces with timeless allure.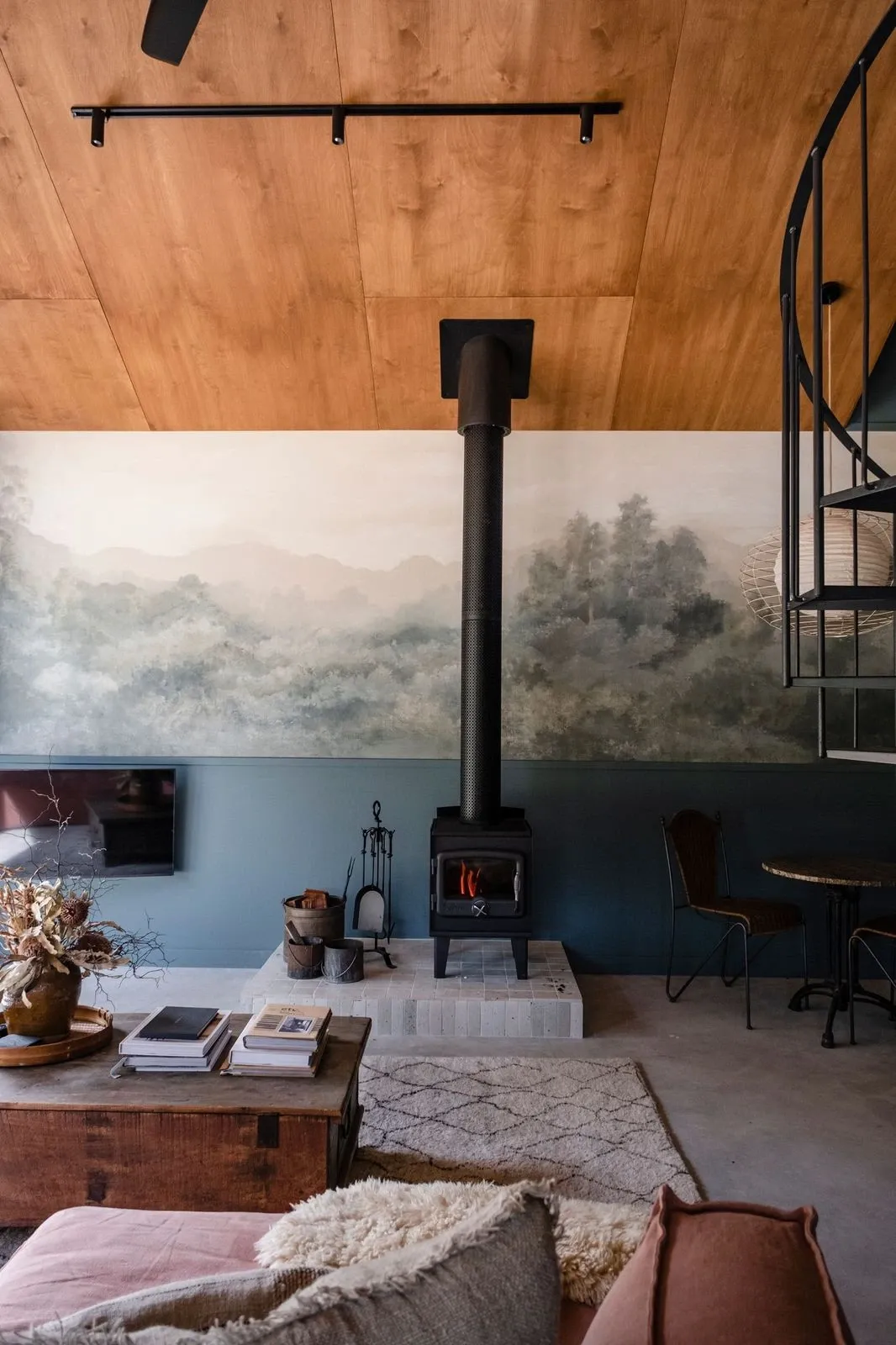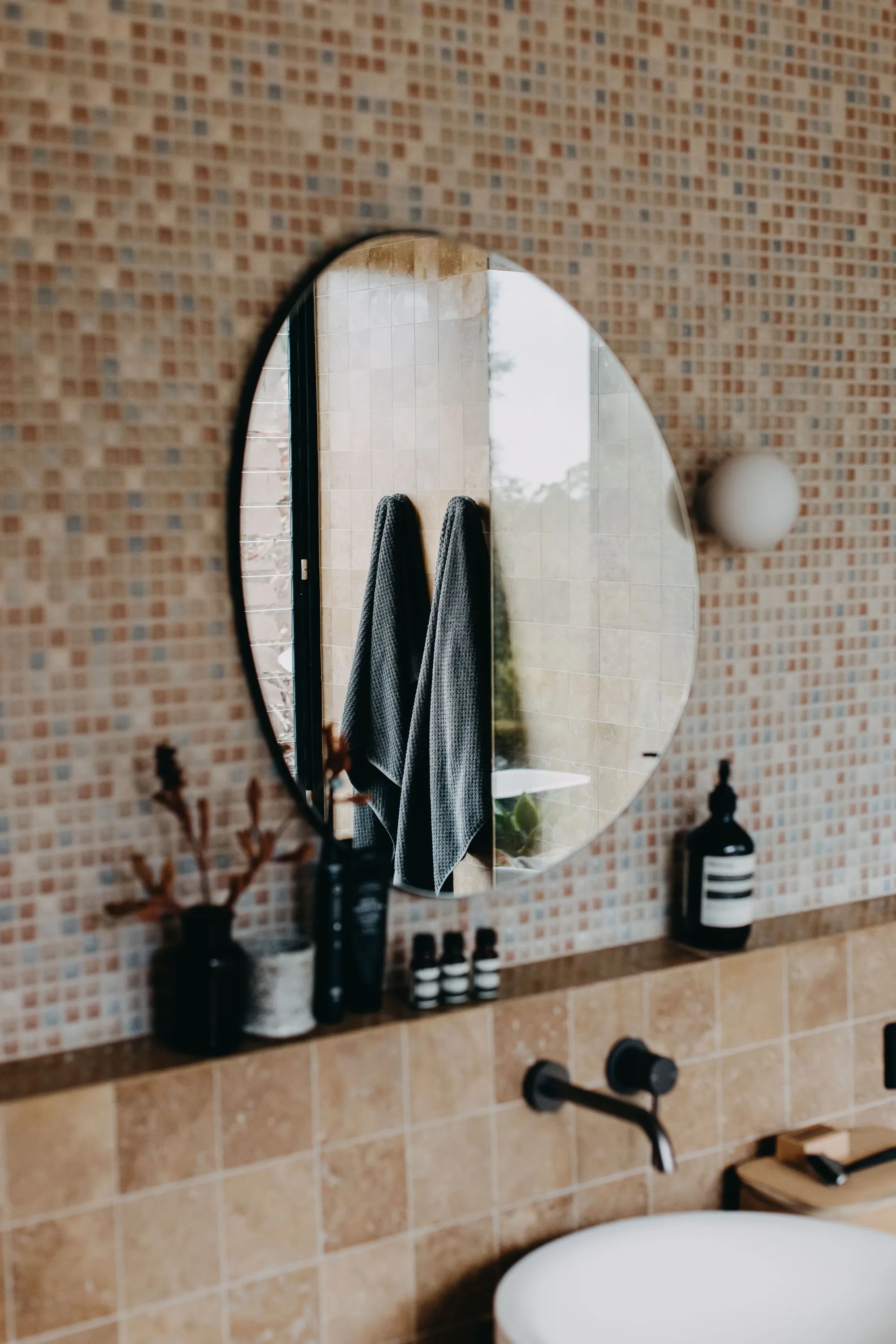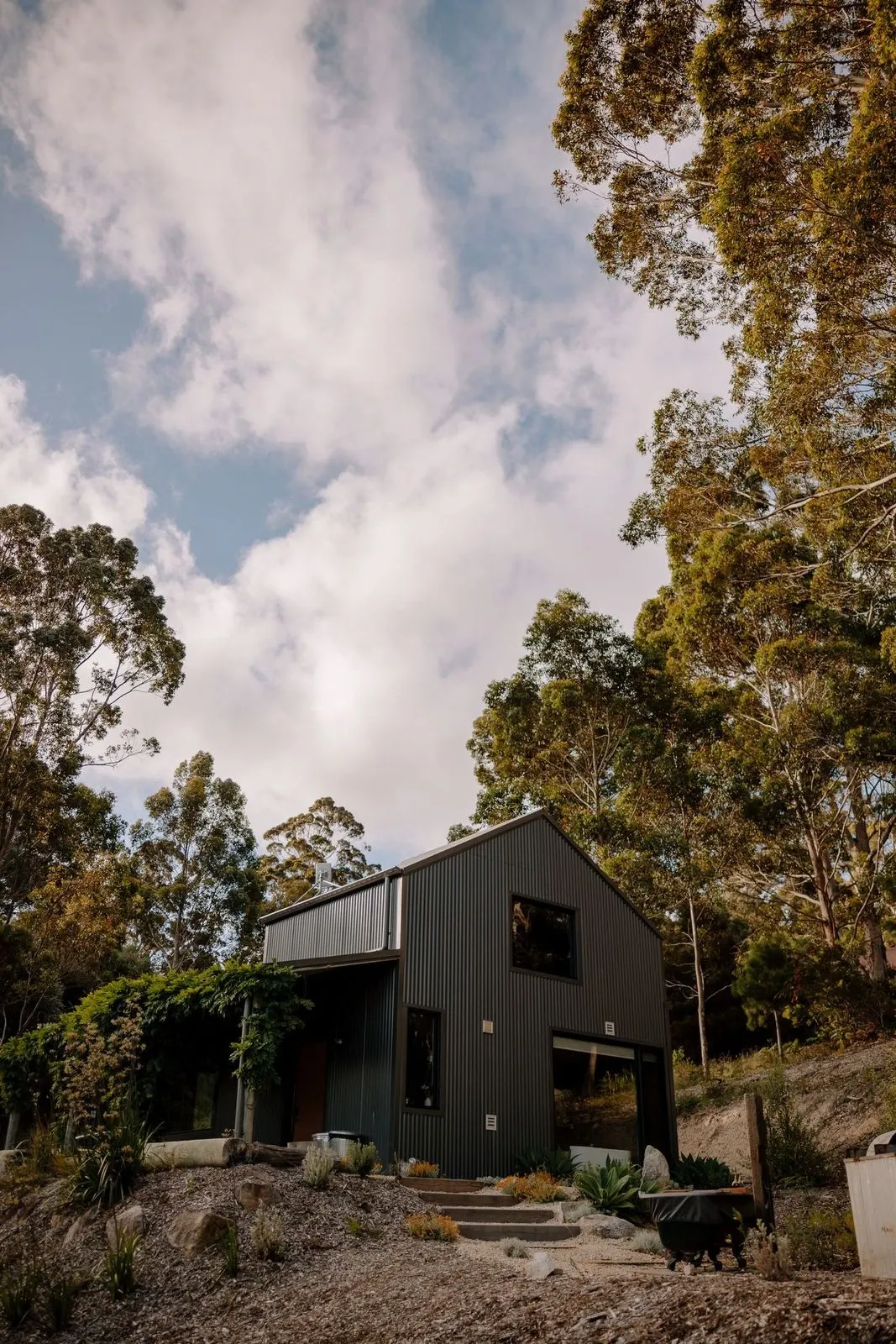 Immerse yourself in a truly unparalleled experience at Stillwood Retreat, where thoughtful design, sustainable practices, and an innate bond with nature converge harmoniously.
---
WIN A TWO NIGHT STAY AT STILLWOOD RETREAT
We are currently running a giveaway on Instagram to give one lucky person a free two night stay at Stillwood Retreat to experience this hidden gem in Denmark, WA.
---
Project Details:
Designers: Studio Atelier @studioatelier
Builder: Millbrook Construction
Mural Artist: 8footwalls
Photographers: Rachel Claire, Jarrad Seng, Tristan McKenzie & Ridhwaan Moolla