This exclusive retreat is nestled in Yamba, Northern NSW, and artfully blends opulent design with the serenity of its expansive 100-acre surroundings, offering an escape tailored for intimate retreats or gatherings of up to 20 guests.
Micalo's unveils itself through its extraordinary design—an elegant fusion of luxury and the breathtaking backdrop of its lush estate. Embraced by nature, but only a 10 minute drive from the bustling Yamba village, Micalo promises boundless riverfront vistas without sacrificing the cherished privacy and seclusion that guests crave. This profusion of unspoiled natural beauty served as the inspiration for Micalo's design, seamlessly merging indoor and outdoor living spaces and fostering a lifestyle that perfectly complements the temperate climate of the Northern River region.
The Main House at Micalo, comfortably hosting up to ten guests. The central living area welcomes guests with plush couches and a captivating fireplace whilst the kitchen is a culinary haven adorned with leathered granite countertops and butlers pantry. To elevate the dining experience, a custom-built round table awaits at the far end of the kitchen, offering a captivating vista overlooking the pool and terrace.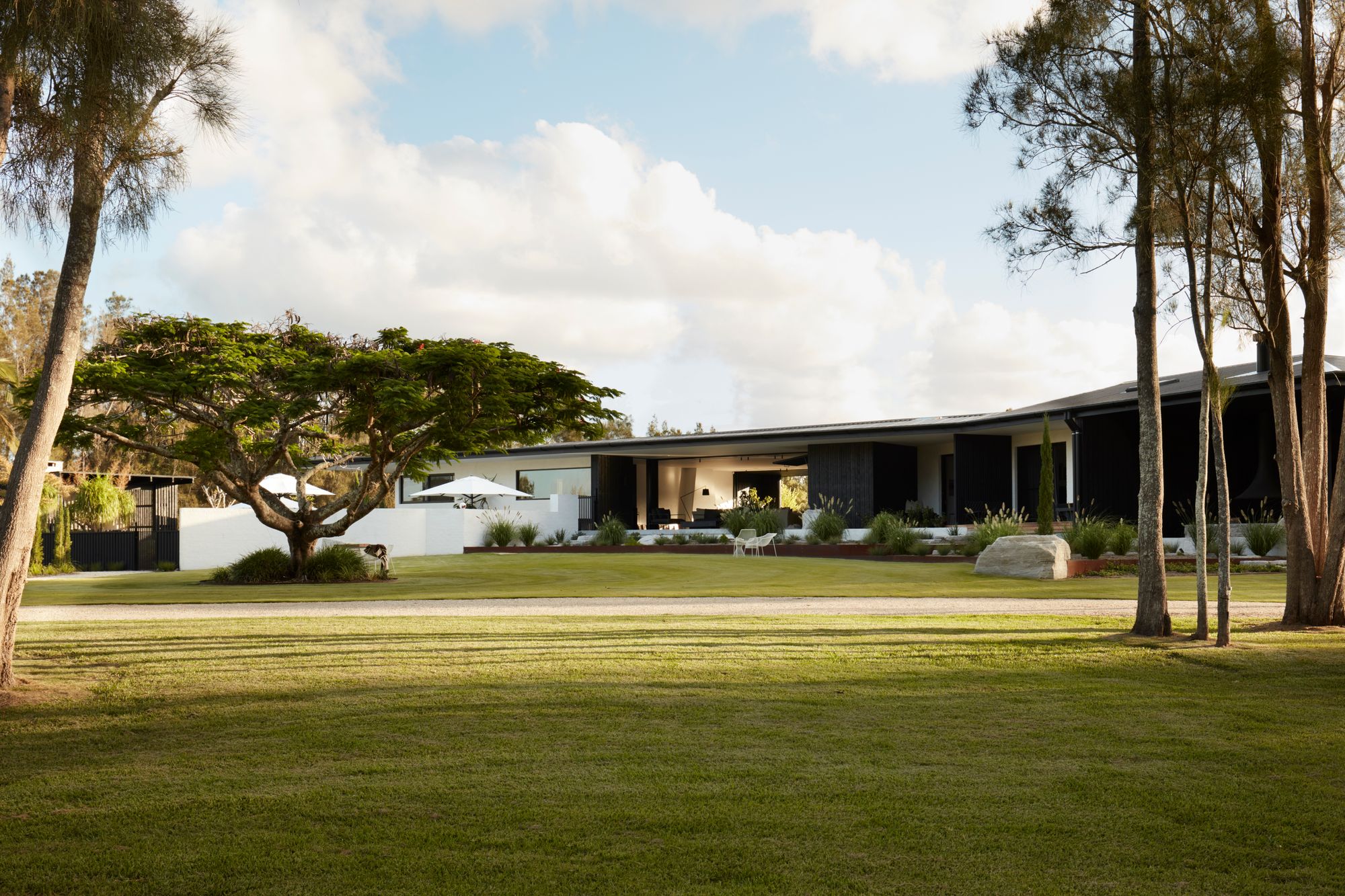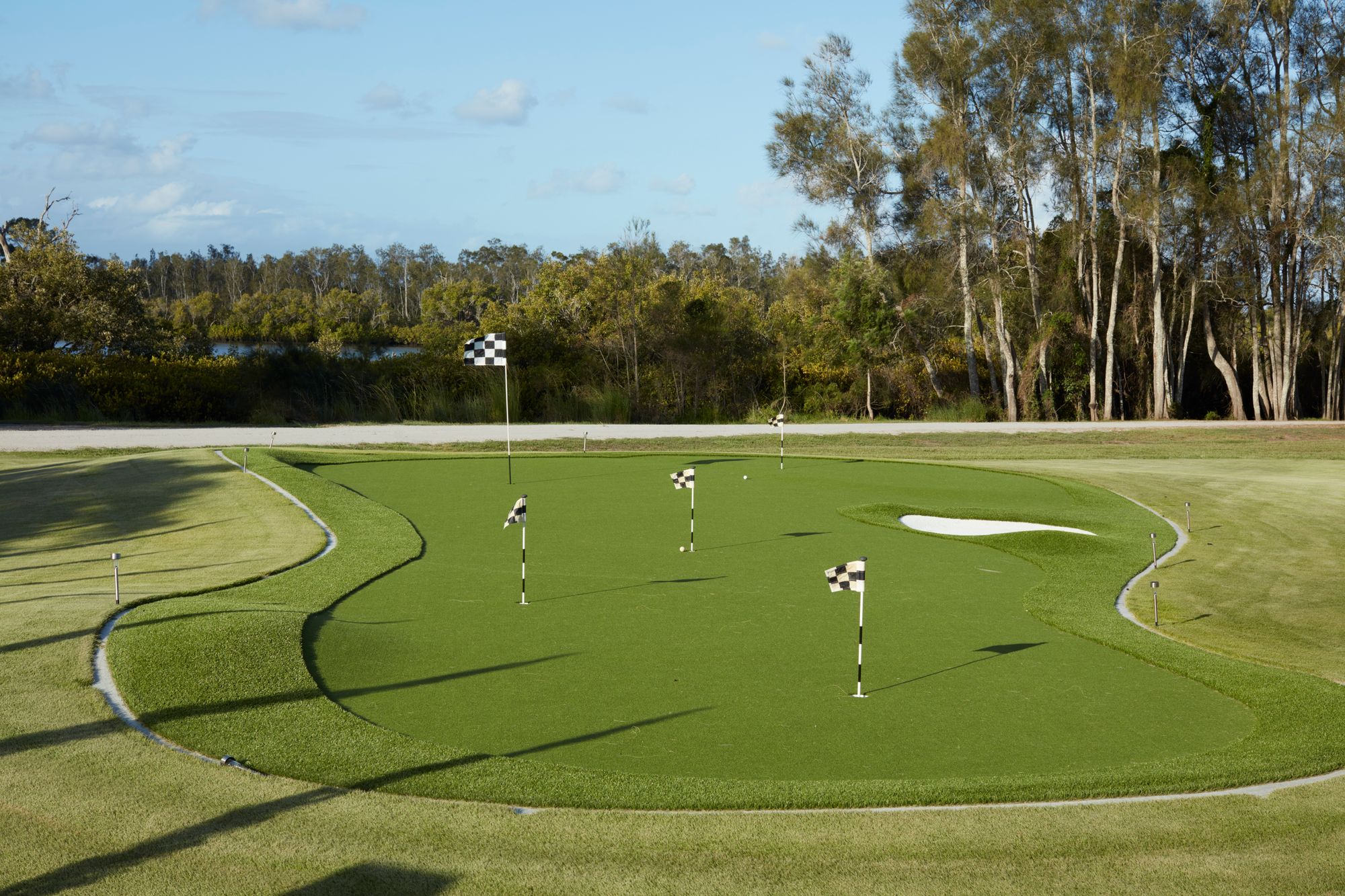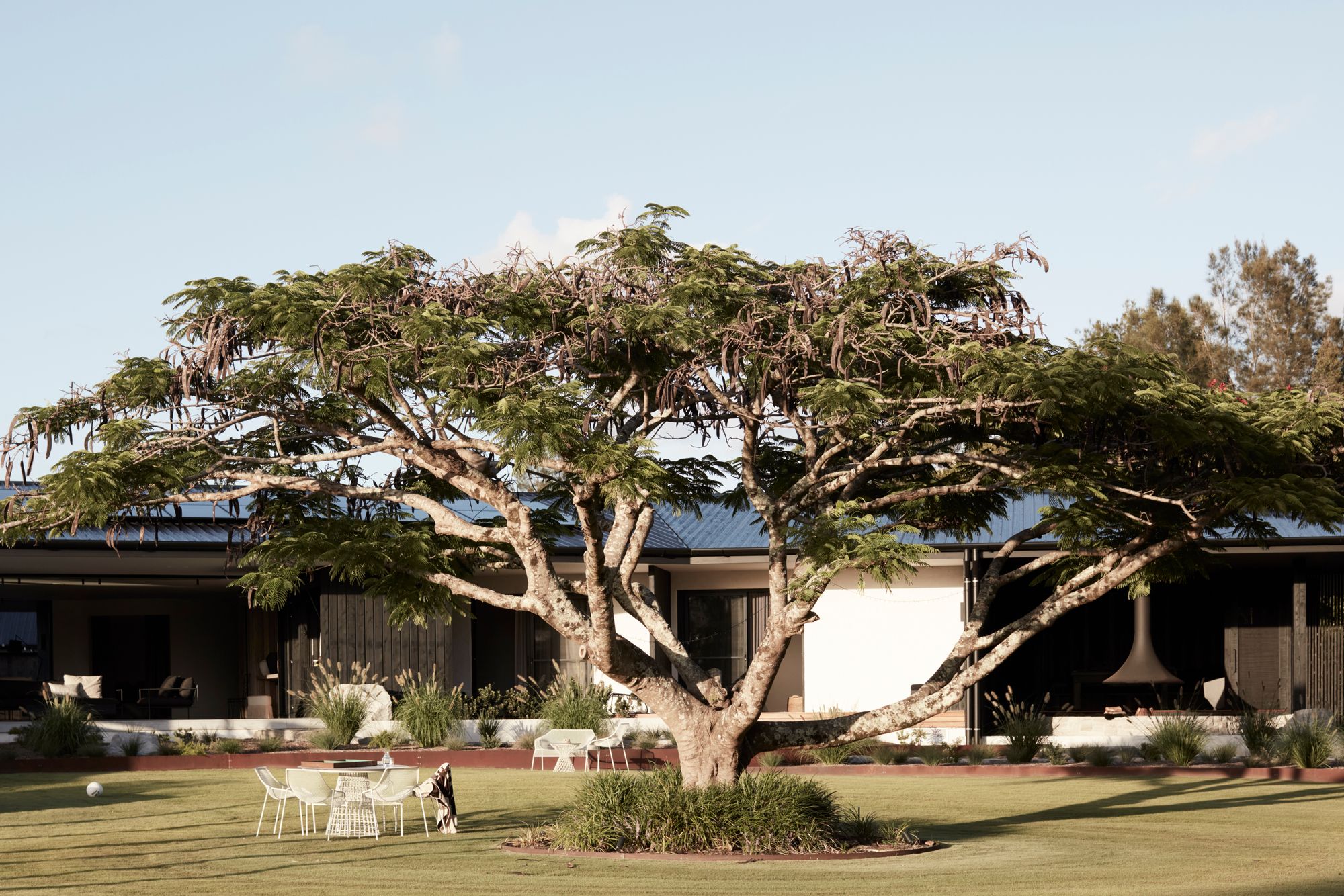 Micalo's main house presents a master suite adorned with a custom velvet king bed, cleverly equipped with a discreet TV lift footboard. Surrounded by floor-to-ceiling drapes and graced with an ensuite bathroom presenting a freestanding tub, this setting is designed to evoke an atmosphere of romance and connection.
Additionally, four King rooms are accessible via a central hallway. Each room with private bathrooms eliciting feelings of their own exclusive master suite. Vintage pieces, gilded mirrors, and eclectic artworks add a touch of softness that ensures guests feel genuinely at home. All bedrooms are equipped with TVs, ducted air conditioning, overhead fans, and private, covered decks that lead directly to the gardens, seamlessly continuing the theme of bringing the outdoor landscape inside.
The Studio serves as the ideal accommodation solution for larger groups with its open-plan design facilitating six custom bunk beds, two single beds, and an elevated, generously proportioned alcove featuring a super king bed.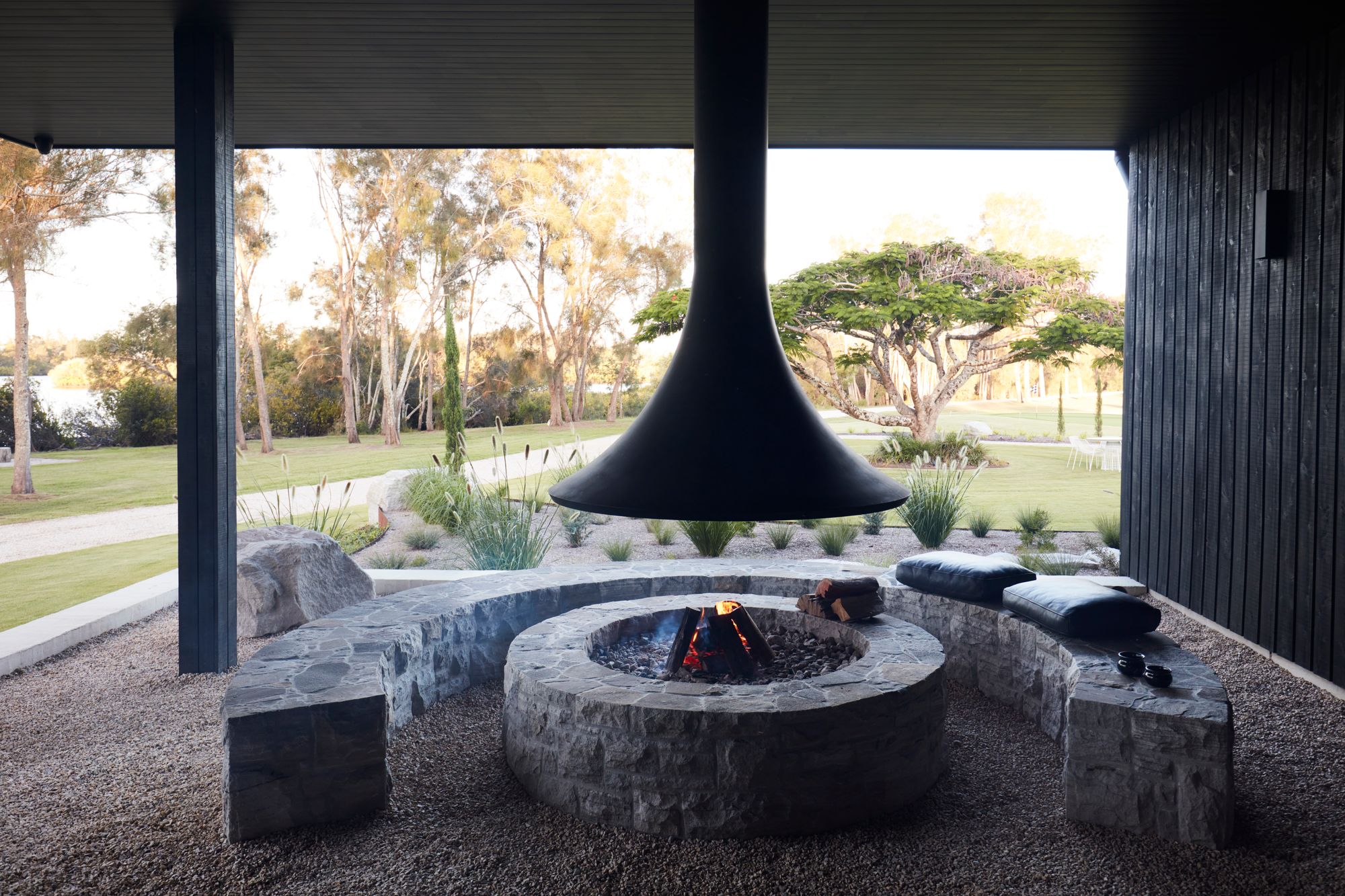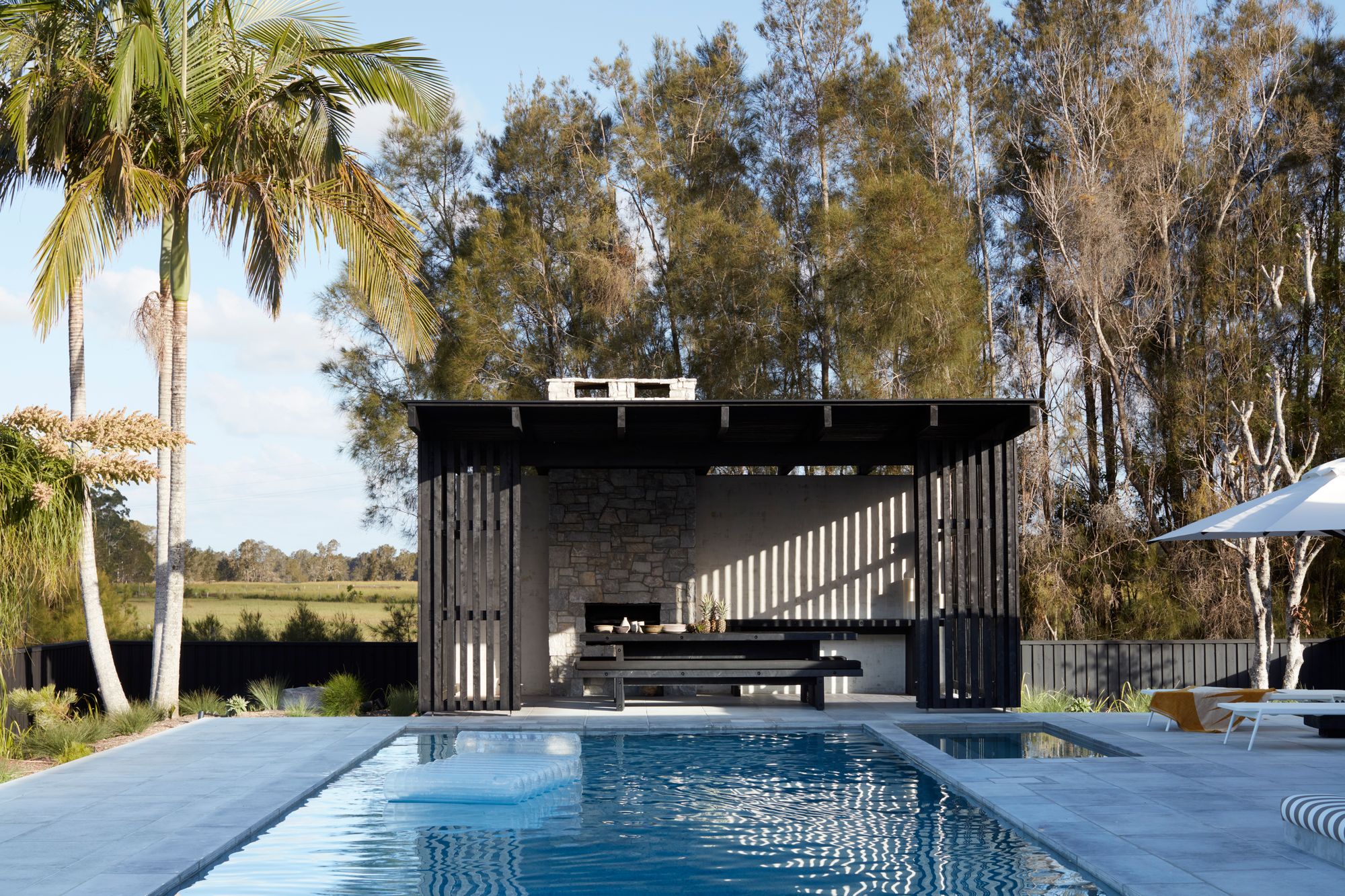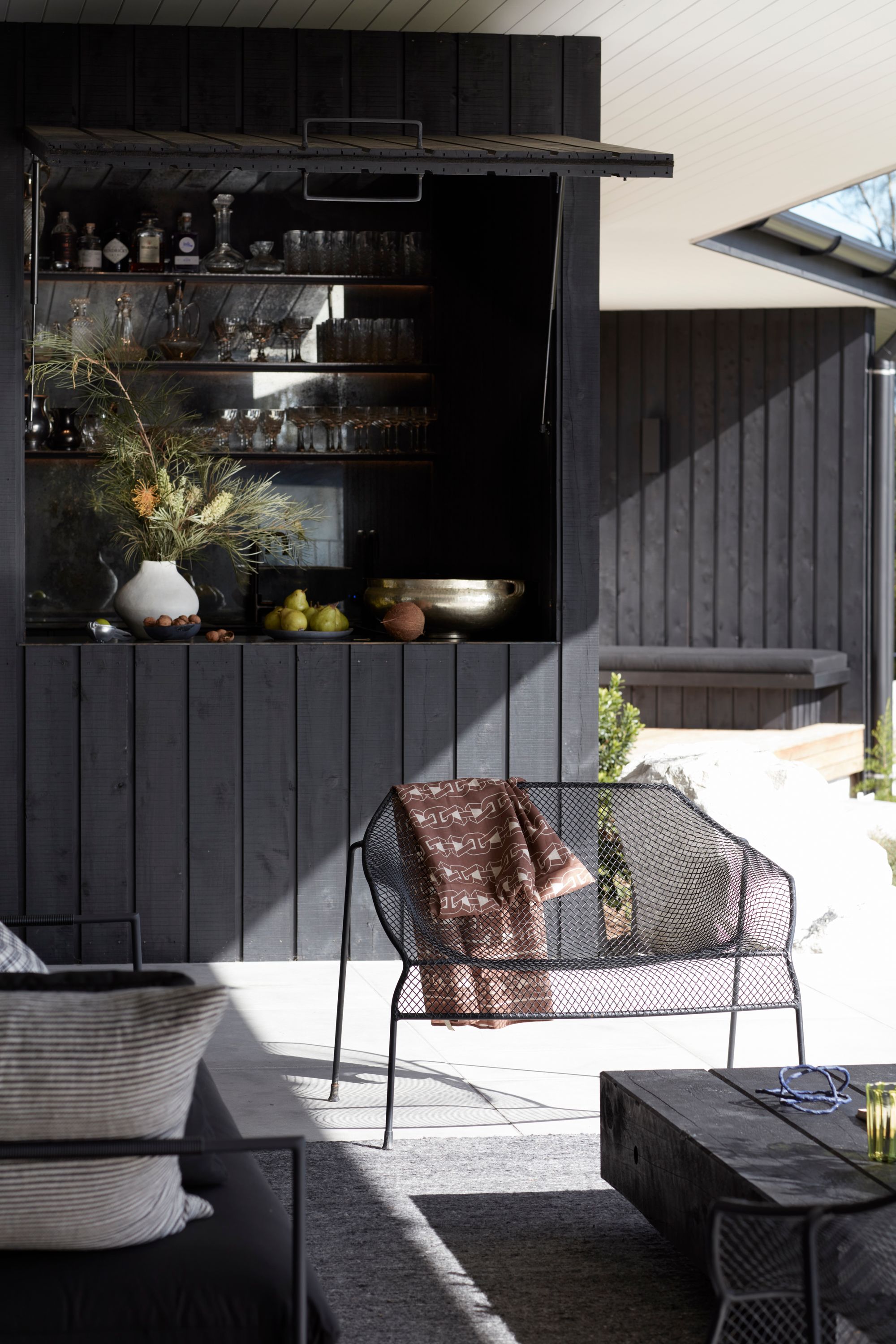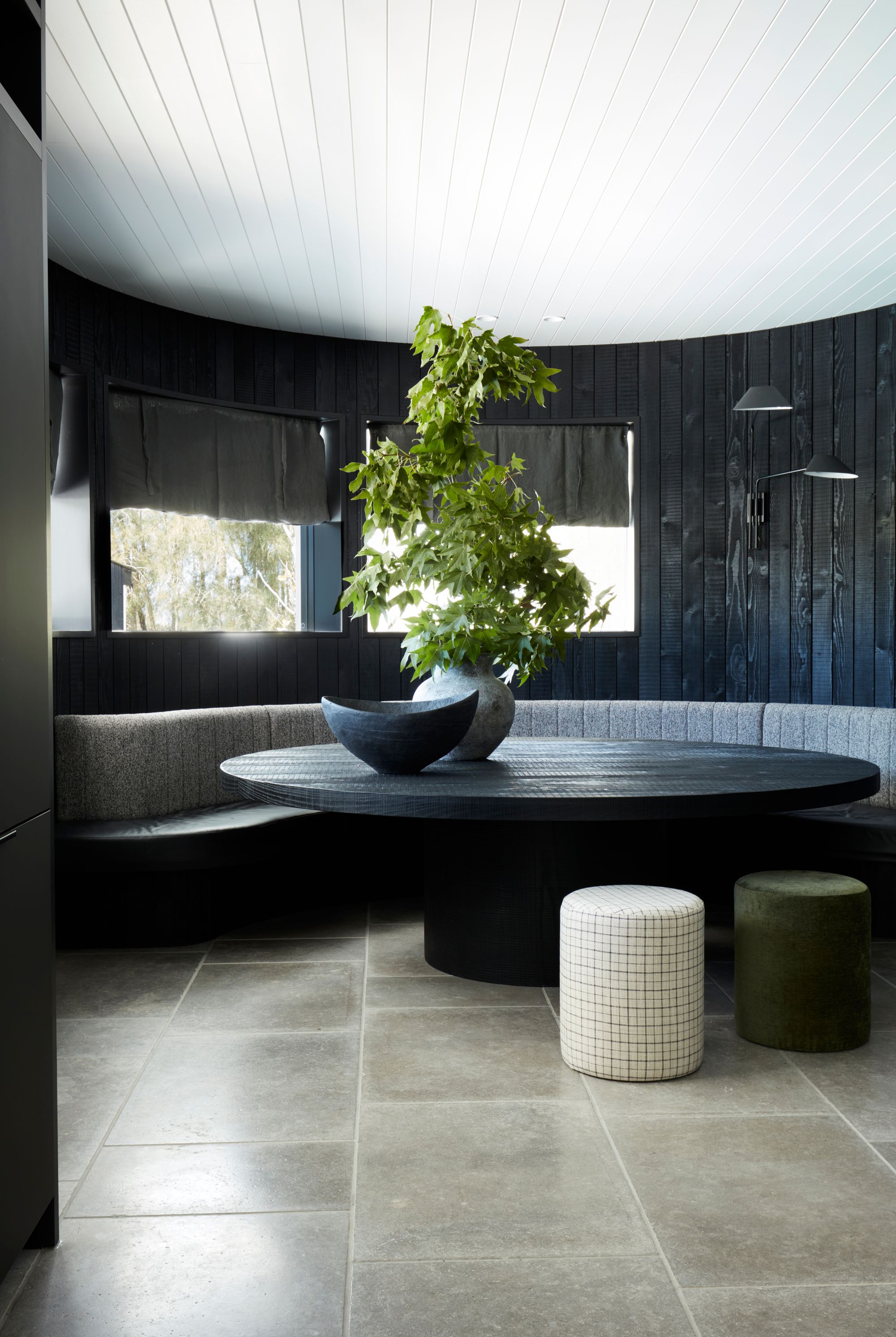 The Studio boasts an oversized, luxurious sofa, a large flatscreen television, a soundbar, and a Sonos system. A small kitchenette, complete with a gas cooktop, fridge, oven, and tiled countertop, ensures convenience for Studio guests while affording privacy for guests in the main house. The Studio even has its own bathroom and leads to a rear covered deck where a sauna and outdoor tub await. This space mirrors the rich and eclectic style found throughout the property, serving as a perfect complement to the main house and representing some of the finest Yamba accommodation available.
Micalo's outdoor spaces are equally enchanting, with multiple breakout zones, fire pits, an outdoor kitchen, and a pool area featuring day beds and a spa—all designed to enhance guest stay. These spaces seamlessly blend with the natural surroundings, offering a variety of experiences, from casual lounging to formal dining setups.
As guests explore Micalo, a wealth of activities awaits their enjoyment, ranging from exclusive access to a private golf course to invigorating kayaking adventures along the tidal river. Whether it's the indoor game room with its pool table or the soothing embrace of The Studio's sauna and outdoor tub, Micalo beckons guests to indulge in the lap of refined living. Its opulent colour palette, enveloping textiles, and seamless integration of natural elements create an ambiance that gently soothes the senses, offering an immersive experience that not only renews the mind, revitalises the body, but also rejuvenates the spirit.
Ready to book your stay?
Escape to the tranquillity of Yamba and experience unforgettable moments. Visit https://micalo.com.au/ and secure your spot or follow @micalo_yamba for their latest updates
---
Project Details
Location: Yamba, New South Wales
Traditional land of the Yaegl people
Architecture: John Burgess
Builder: Greg Lyons
Interior Styling: Byron Beach Abodes
Managed: Byron Beach Abodes
Photography: Prue Ruscoe