In 2012, Katie and Rom Lamaro wanted a sea change so decided to make the move to Phillip Island, Victoria. They quickly fell in love with the lifestyle and in 2018 they jumped at the opportunity of purchasing a 5 acre property. They started by turning it into a micro-farm planting 90 tree orchards, vegetable gardens and over 500 native trees and shrubs over the years.
They always had the dream of opening a boutique, luxury accommodation experience on the land and in 2021 that dream, became a reality. Working closely with Onsite Design they launched Five Acres.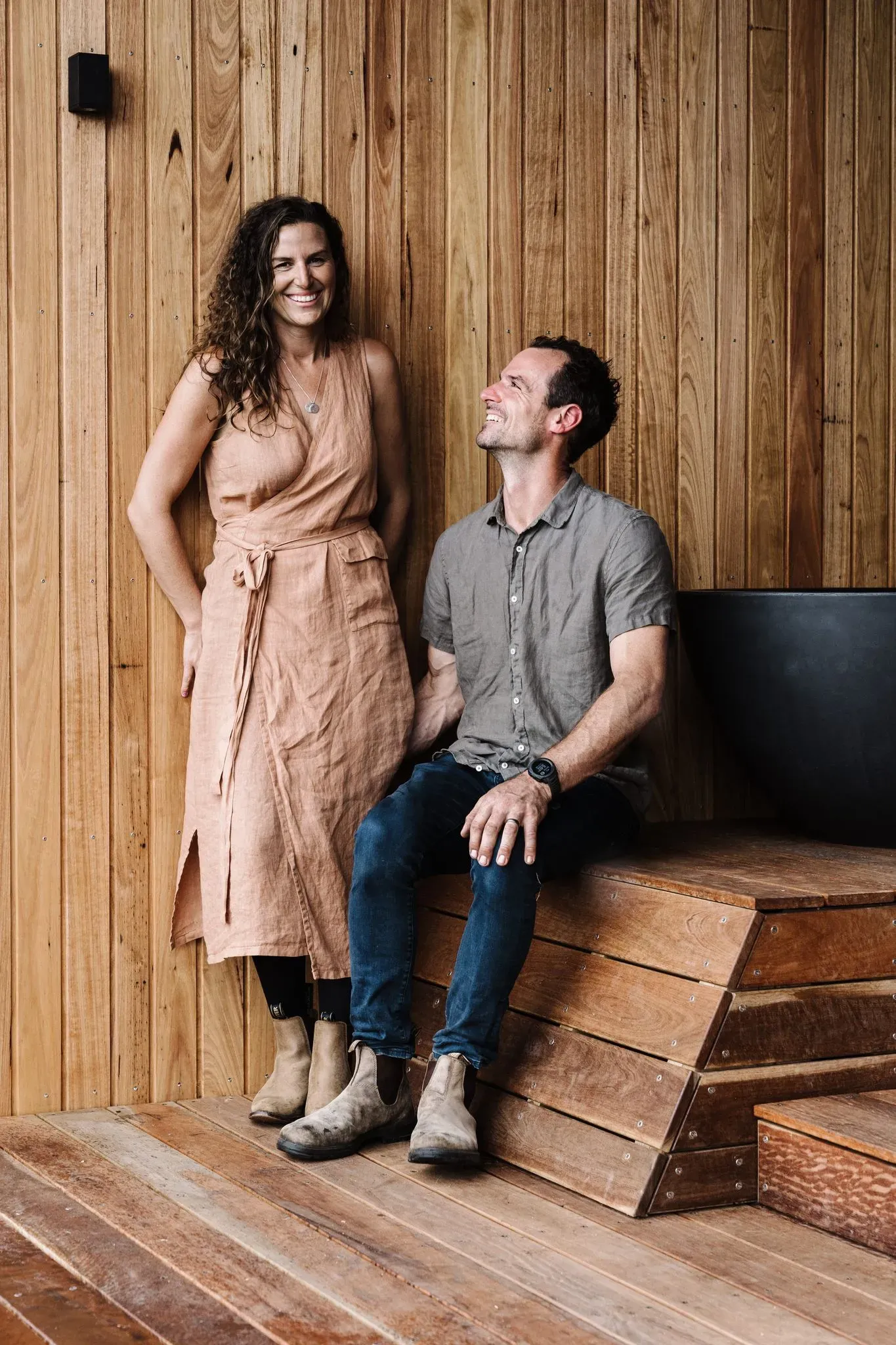 The boutique accommodation launched with three highly detailed cabins which promise an immersive nature and multi-sensory experience. Unmatched quality and craftsmanship, as well as a highly considered guest experience is the driving force behind what Katie and Rom have created. The design brief that was given was the feel of a cabin but to pay homage to the quintessential Australian beach shack which can be seen scattered all over Phillip Island.
Belle Hemming Bright were in charge of creating warm and calming interiors. The surrounding landscape was the inspiration for the interior colours of the cabins, and the material palette chosen help nail the brief of creating a calming space.
Recently, Five Acres has expanded with the opening a two bedroom guesthouse and private event space. This helps cater for larger families and special gatherings on the property.

We here at CO-architecture are big believers in planning and booking regular small trips to help escape either the stress of the work environment or to change up the scenery of your working from home set up. This retreat offers an excellent opportunity to relax, recharge and reconnect with nature or to host / celebrate a special event. Five Acres Phillip Island is located just a few minutes away from the beautiful beaches of Phillip Island, Victoria. With its beautiful scenery and peaceful surroundings, it's the ideal place to spend quality time with family and friends away from work or enhance your working from home experience.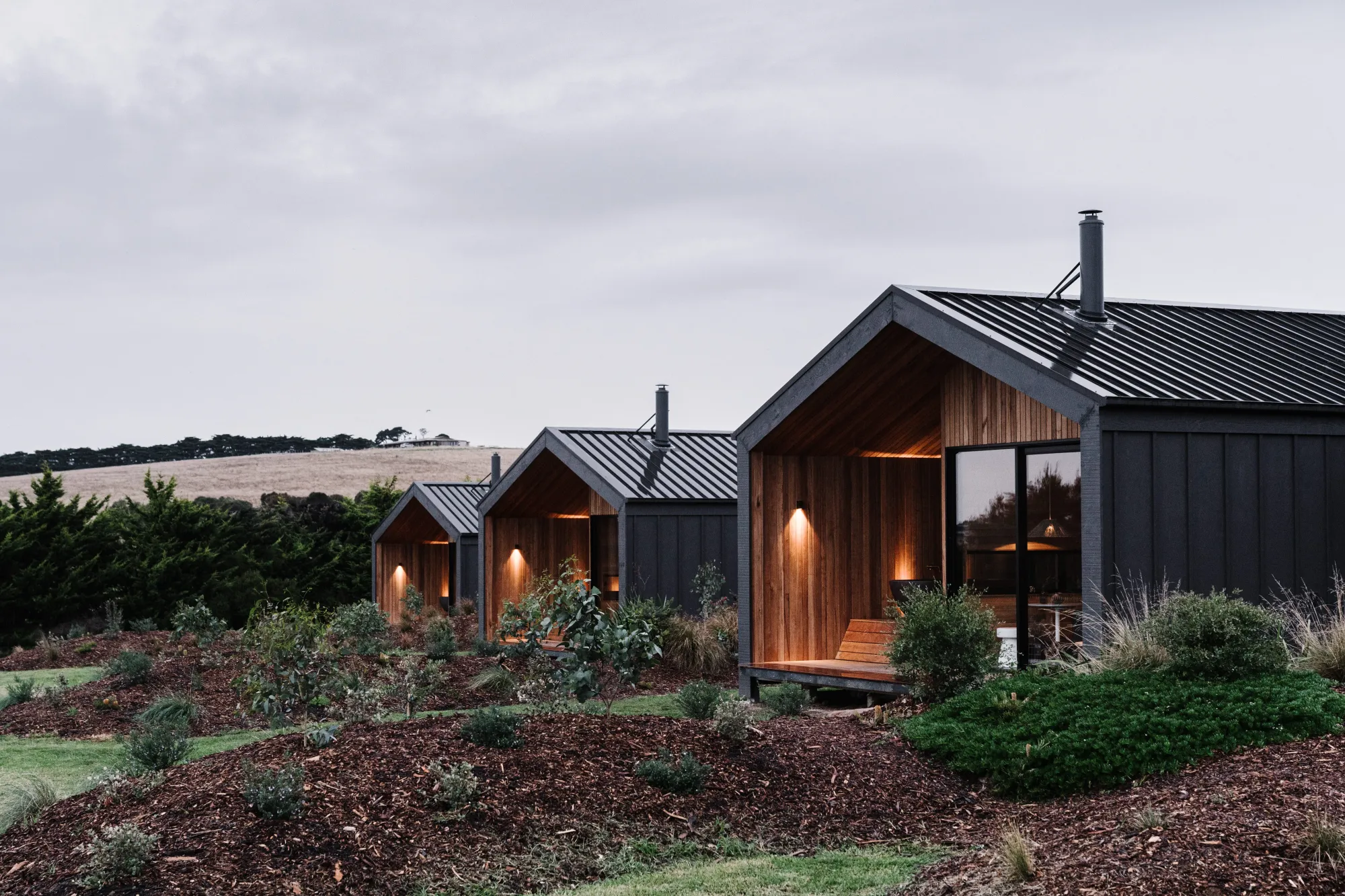 If you're a wildlife enthusiast, then you're in luck because Phillip Island is home to several unique species, including the famous Little Penguins. You can visit the recently opened, Penguin Parade Visitor Center, where you can watch these adorable creatures waddle up the beach and head to their burrows.
As well as the famous penguins, the Five Acres property have an abundance of wildlife located on site. Chickens, goats, sheep and two highland cows are the pets of the property which guests have the ability to interact with or watch from the comfort of their bed. Not only are they a favourite with guests, but they play a critical role in creating nutrient-rich compost using permaculture practices so that Katie and Rom can grow organic, nutrient-dense food for their family with future plans of offering to the local community.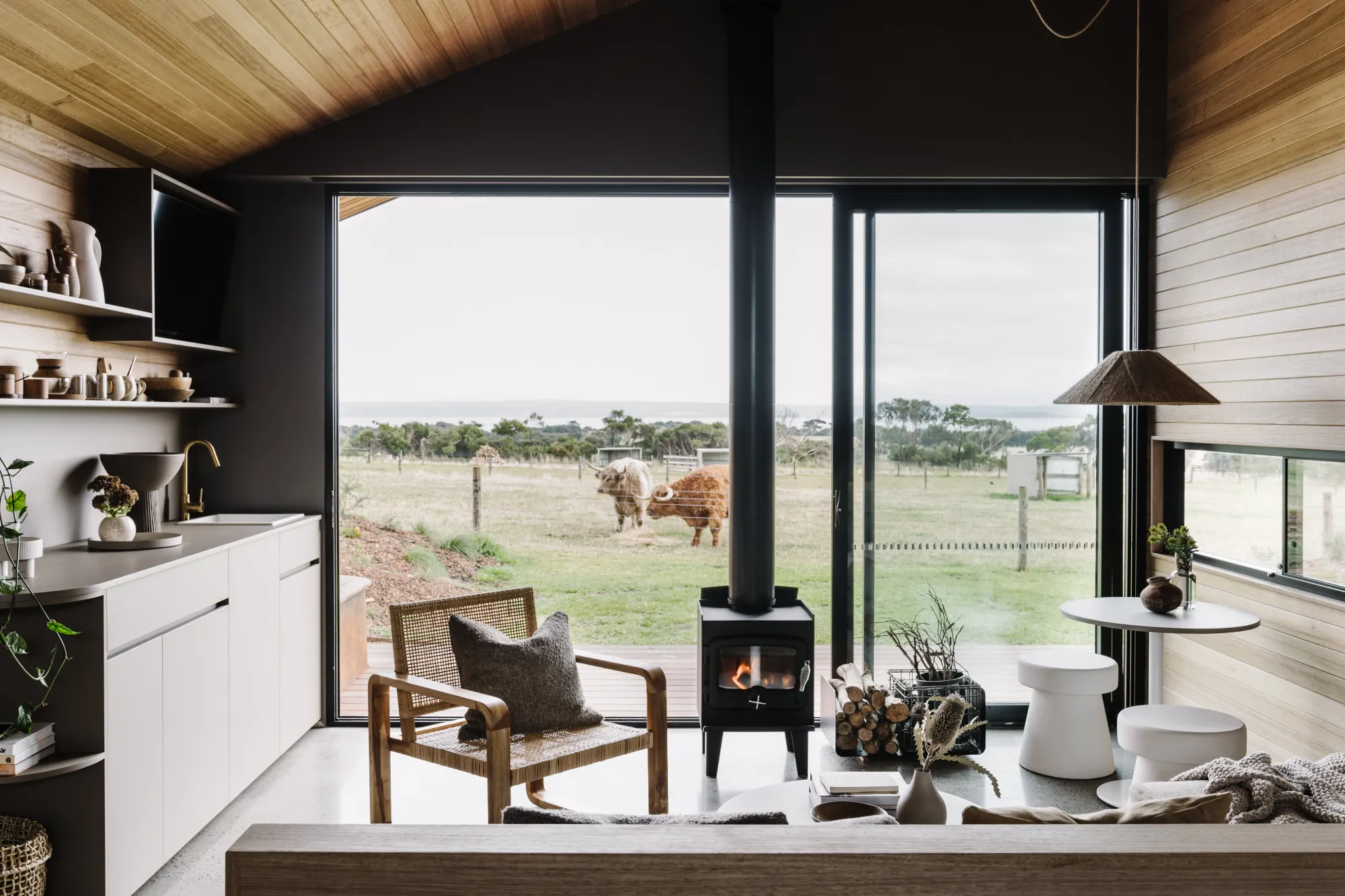 Five Acres Phillip Island is an excellent place to stay for those looking for a peaceful and relaxing getaway. With its beautiful surroundings, modern design, and proximity to the island's attractions, it's an ideal base to explore Phillip Island and its wildlife. Autumn is the perfect time too as the temperature starts to drop it is the ideal place to set yourself up with a glass of red by the crackling fire or in the outdoor bath. So pack your bags, grab your loved ones and head to Five Acres Phillip Island for a memorable Australian stay.
Project Details:
Design: Onsite Design
Builder: Lamaro Homes
Interiors: Belle Hemming Bright
Photographers: Marnie Hawson & Claire Davie