by HAMES SHARLEY
Words Sandy Anghie. Photography by Dion Robeson. This story was originally published in The Architect magazine, an official publication of the Australian Institute of Architects.
The Hames Sharley New Perth Studio in the Hay Street Mall has been designed by Hames Sharley to reflect and support its organisational culture and positively impact future business success. The new studio has also had a positive impact on our city, providing a beautiful precedent for activation of our city's forgotten upper-level spaces.
Offices represent a major business cost, but their real power is in increasing productivity in the people that occupy them, helping to reinforce positive behaviours, support specific business operations and foster engagement that will impact bottom line organisational performance. In today's environment, a great office space also serves to encourage people to go to work, with the current trend of working from home.
Hames Sharley has taken a scientific approach for the design of their new space – an approach they conducted on themselves, with all staff in all locations. "Through vision exercises we challenged who we are and what we want to be," says Hames Sharley Principal Stephen Moorcroft. "That included words like focussed, creative, empowerment, wonder, clarity and my favourite quote, 'holy shit, that's awesome'." This language and the accompanying images were referenced throughout the project.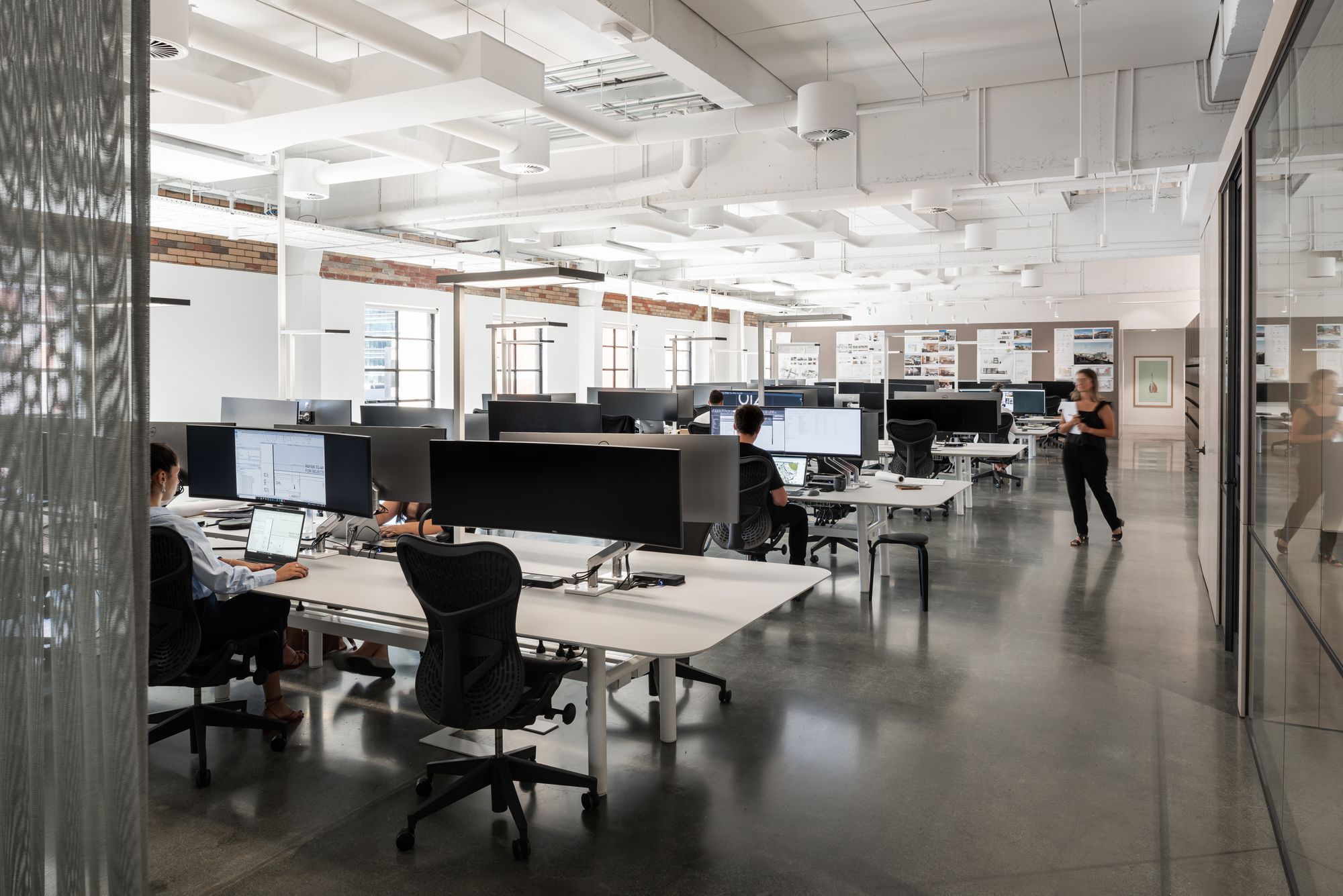 Having worked through their aspirations, and committing to some key drivers, Hames Sharley wanted to build their culture of knowledge sharing and remove any barriers between front and back of house. "We were seeking greater transparency, more collaboration, space for training and space to welcome visitors to work with us", says Stephen.
The company's utilisation studies gave them data that suggested some agile occupancy. As a result, in Perth they have adopted an activity-based working hybrid with 50% of their people assigned to workstations and 50% agile. "This hybrid approach is a work in progress,"says Stephen. "We will revisit it shortly to check that the staff response to an agile opportunity is delivering the results we hoped for. We can then fine tune the model if required."
Hames Sharley conducted workshops in every state to consider the future tasks they wanted to support, to build the range and ratio of space types that's uniquely right for them and their work. "We now have the Hames Sharley menu of settings ready to deploy for any new studio", says Stephen. "This is exactly the process and business specific outcome we offer to our clients. Here you'll see 14 different work settings and each one is here with defined purpose, supporting 26 tasks that we identified as important to our future."
The new studio space is without a doubt a great success. But even more so when you consider the context. The space now occupied by Hames Sharley was a forgotten space, vacant for some 40 years. "It was over two separated levels, with limited access, low ceilings, small windows and many, many layers of dust", says Hames Sharley Senior Associate Jessika Hames. "But the location and views are exceptional and with the support of our visionary landlord Randal Humich, and our patient builder ADCO we have been able to craft a space that genuinely represents who we are."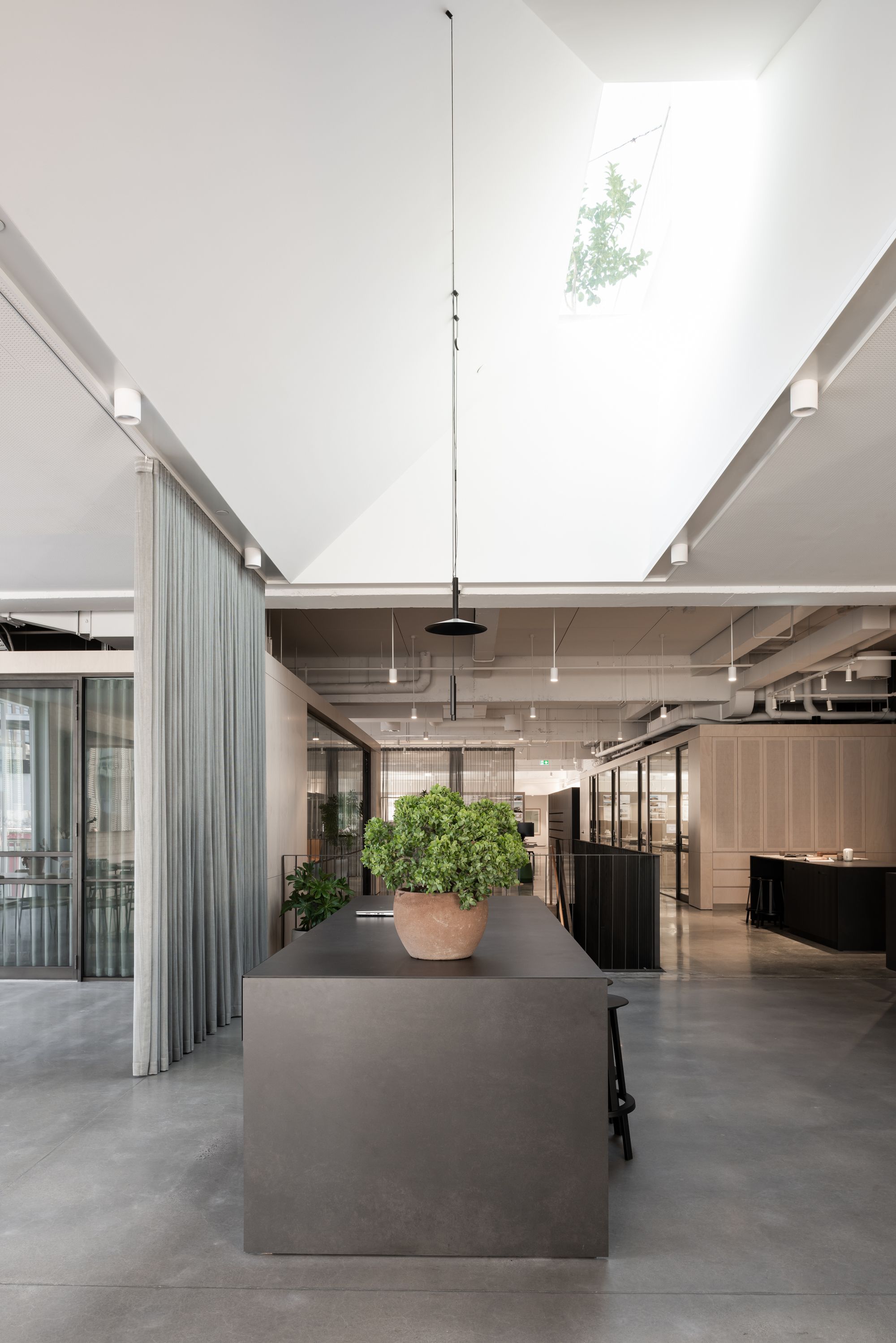 The architecture is beautiful. Intentionally gentle and timeless. The bay window folds outwards aligning with due south, announcing a new presence on the Hay Street Mall with a curved corner gesture that speaks to the curved towers of their neighbours at Gleddon, Piccadilly and Carillon. It also gives shade and protection to the terrace below and leaves a space for a tree – a native paperbark that symbolises what once was.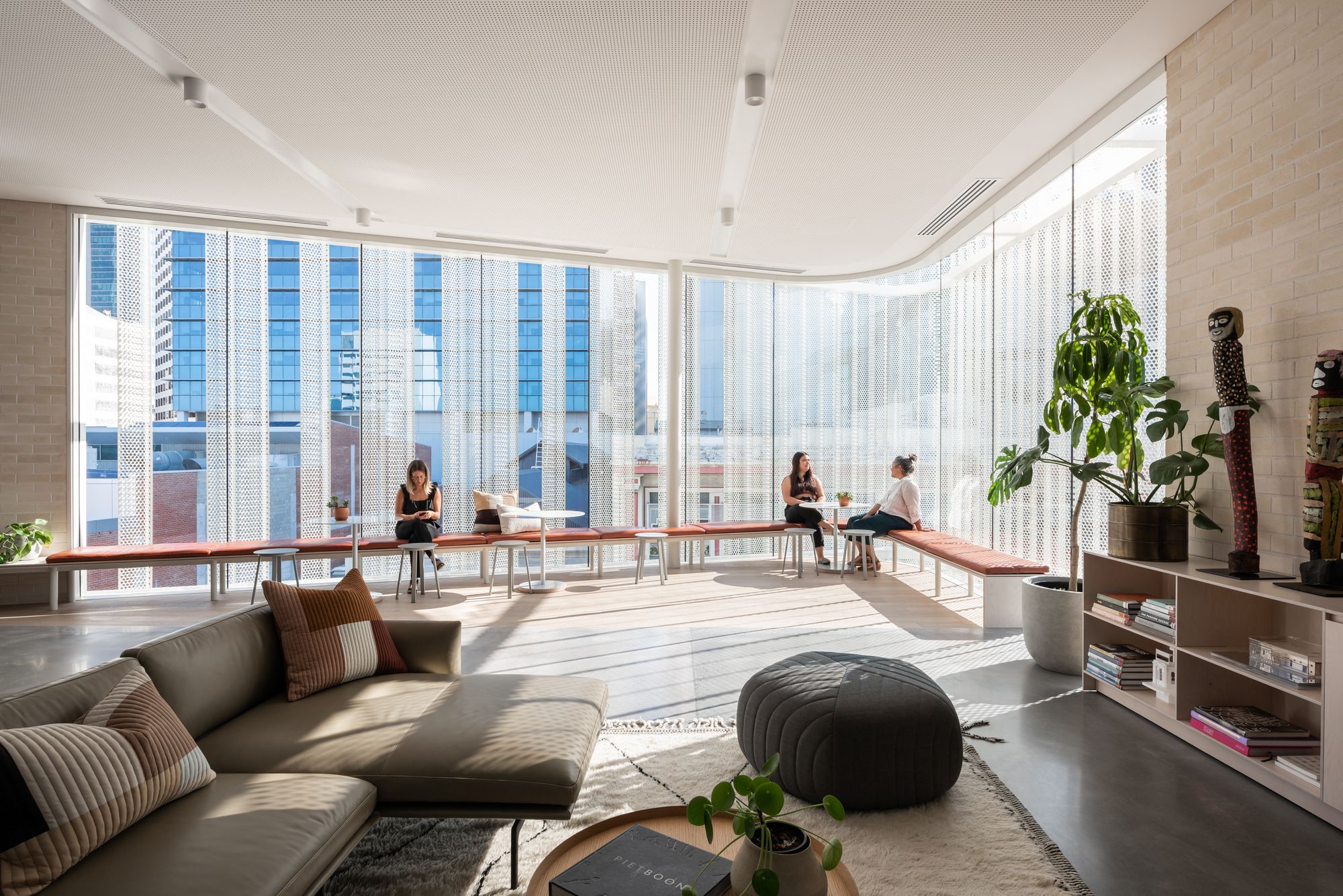 The internal spaces are zoned so that views are shared. The Juliette balcony to the west can be opened on sunny days, offering the opportunity to connect to the environment. A stair, meeting and maker space are at the centre forming a connected and active heart and intentional 'bump' space. Downstairs is more focused with a smaller floor plate and less work‐points. But it is also about fun with future proofed workspace currently providing a Friday night games area opening onto the terrace.
"Our new studio is deliberate in its effort to make us more social, enabling us to engage and facilitate better connections and to be more present within our community", says Jessika. "This studio represents our collective ideas and spirit of our people," adds Hames Sharley Senior Interior Designer Isabel Tascon-Guillaume. "It reflects the honesty and integrity of our company. It is the result of a strategic design process with a united architectural vision and above all, a place that supports human creativity."