Words: Amber Sheldon Photography: Jack Lovel
This story was originally published in The Architect magazine, an official publication of the Australian Institute of Architects.

The opportunity to undertake something different and showcase how a suburban subdivision can be designed with architectural integrity and flair, combined with sensitivity for the natural landscape, was too good to pass up for architect Meaghan White and her husband, town planner Deon White.

Describing the project as "the first of a new wave of urban infill" in the leafy, low-density suburb of Mosman Park, Meaghan and Deon knew this would be a great vehicle to demonstrate what can be accomplished when designing smaller homes. The 821 square-metre corner site, originally comprising a large house and swimming pool, was divided into two sites (one 431 square metres and the other 390 square metres). The new homes each have three bedrooms, two bathrooms and double garage. Set opposite parklands, a leisurely stroll to the river, close to local village cafes and public transport, the location promotes an easy-going lifestyle.

"The south and north homes are designed to sit beautifully together, complimenting each other with individual elements driven by two separate owners. We achieved generous private amenity, access to views from the ocean to Fremantle and the surrounding golf course and parklands, capturing of winter sun and summer breezes, while enhancing the tree canopy and open space, which is central to the garden character of Mosman Park," says Meaghan. "The homes are modernist in design but timeless, allowing the owners to bring in their personalities with bright art and furniture."

Uncomplicated interiors draw on the natural environment to create a sanctuary, with the distinction between inside and out blurred. The south home features shades of green, with Meaghan taking colour inspiration from a majestic old gumtree sitting pride of place on the eastern side of the home. Olive-hued doors echo the magnificent eucalypt. Large windows in the master bedroom covered in bronze film reflect the gumtree – a stunning feature in the changing light.

The homes feature extraordinary golden staircases, reflecting light and changing colour throughout the day. At once functional and showstopping art pieces, Meaghan says the staircases were "a labour of love, but entirely worth it. The opportunity to use a touch of brass and gold is very Mosman Park".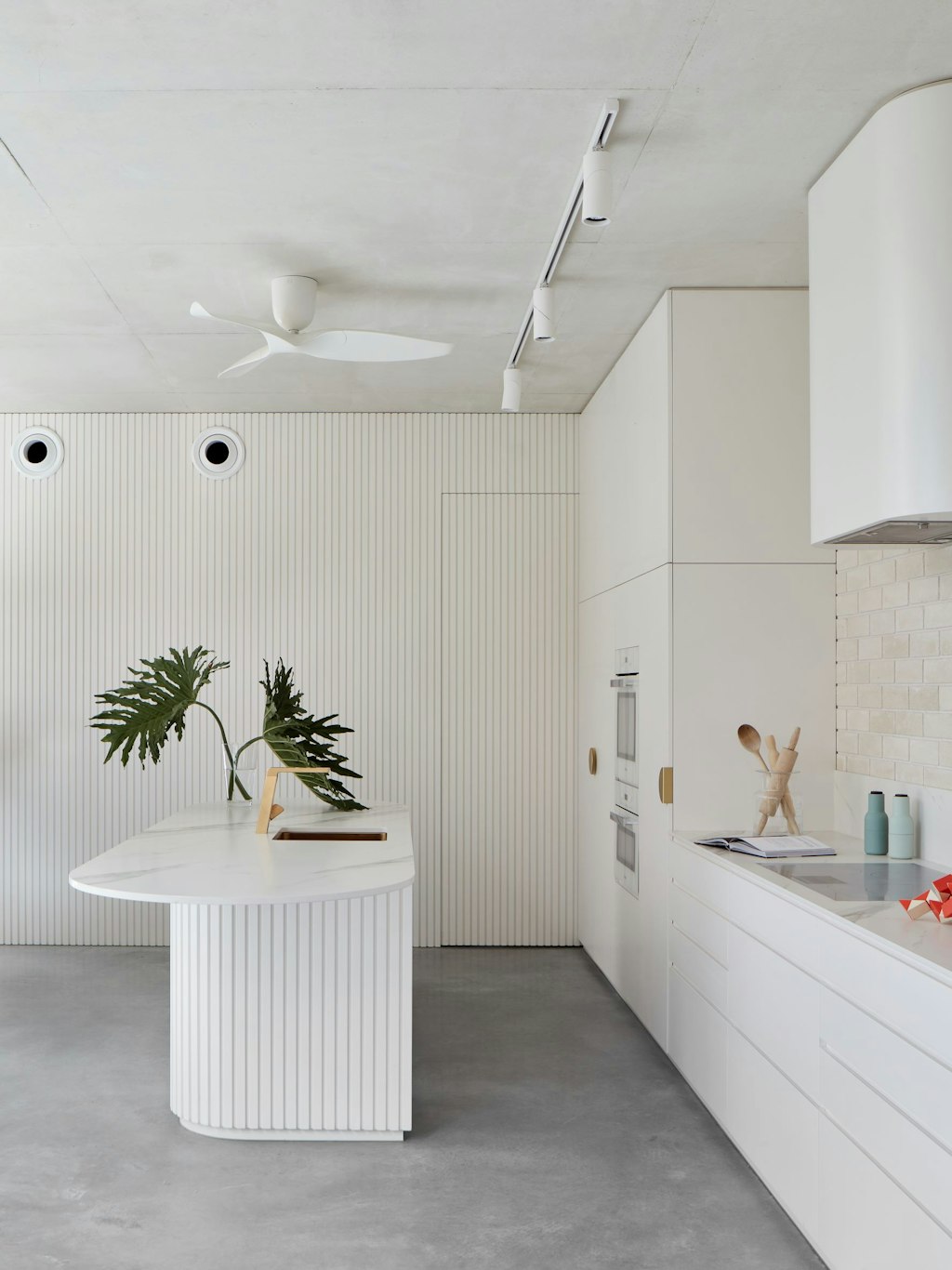 Photography: Jack Lovel
Both homes are designed to adapt to living through all phases of life. The ground floor features open plan living with kitchen, dining, lounge, butler's pantry, powder room, laundry and a den. The alfresco and pool area is accessed through floor-to-ceiling retractable glass doors. On the first floor is a rumpus room, bathroom, separate powder room, library, two bedrooms and master bedroom with ensuite and walk-in robe. Ascend the second flight of stairs to the automated glazed-roof hatch (which acts as a sky light) and through to the roof terrace where the perfect entertaining spot awaits, featuring a large outdoor kitchen, dining, and breathtaking vistas.
The use of different materials and shapes distinguish each home. "The south home is full of lots of beautiful curves," Meaghan explains. "From Brickworks, Chillingham White brick form curved walls outside and inside, opening up the space to make it feel much larger than it is. The home has lots of flow because of those curves."

In contrast, the north home features zigzags. Inspired by a platter Meaghan spotted in a magazine, this home is treated to a stunning, bespoke, gold, zigzag exterior wall. Interiors and fittings including feature pendants, compliment the modern style of the homes.

Being situated on a hill, Meaghan ensured sea breezes are captured with louvered windows, designing the homes as self-sufficient regarding temperature regulation. The triple glazed 3-metre x 1-metre hatch when opened, funnels hot air out of the home. Both homes have battery panels on the roof gardens to generate power.

The address on the front wall of the south home is handcrafted from bronzed steel rod in Meaghan's own handwriting, and is one of her favourite elements. As for words of wisdom for those thinking of building a new home, Meaghan's advice is succinct, "Engage an architect and create something that makes you smile, a sanctuary that gives you joy".