Site is a publication and blog dedicated to showcasing Australia's best design and architecture. Powered by CO-architecture.


Dear new Contributors,
Welcome to Site Integrated Publications powered by CO-architecture! Thank you for showing your interest in our journey.
As a contributor, integrated means you can easily repurpose your content across our publications, network, and collaborate with other contributors. The goal of this presentation is to welcome new contributors to our network and provide you with important information.
Site is a dynamic internet project that aims to archive, disseminate, and share content related to architecture, interior design, and urbanism. You can use the Site to publish your stories and connect with other contributors and readers.
To remain as a contributor in our publication, you must adhere to the Site. rules. Accounts that violate publication rules, such as plagiarism, are removed from our publication. This is an item that cannot be changed.
For new writers, we recommend submitting a maximum of three articles to Site. per week and a minimum of 1 article per month.
We aim to cross-pollinate all types of contributors to get the best out of this venture. Our contributors come from different professional backgrounds, skill levels, and writing goals. This unique combination of contributors sets an attractive value proposition to our subscribers because they enjoy many stories covering multiple topics.
Our publications operate with an abundance mentality. We don't compete with other publications, instead, we see them as collaborators.
We don't put any limitations on our contributing writers. As a contributor, you are not exclusive to us.



---

Getting Started (Staff Profile)
You will be sent an invitation to our platform via email. Your invitation will expire after 7 days.
To edit/create your staff profile, follow the steps. Editing/creating your staff profile allows readers to gain a sense of each author's personality and recognise the individuals who have written the posts.
Get familiar with your role. A role will automatically be assigned to your account - Contributor, author, editor and administrator. As you advance and build a portfolio of contributions, you may be asked to take on new responsibilities. The table below illustrates each users capabilities;



2. Simply click on the individual staff user profile and depending on your user capabilities, you may edit your staff profile. You'll see a URL link under 'slug'. if you input this into the search bar, you will get all the posts written by that author.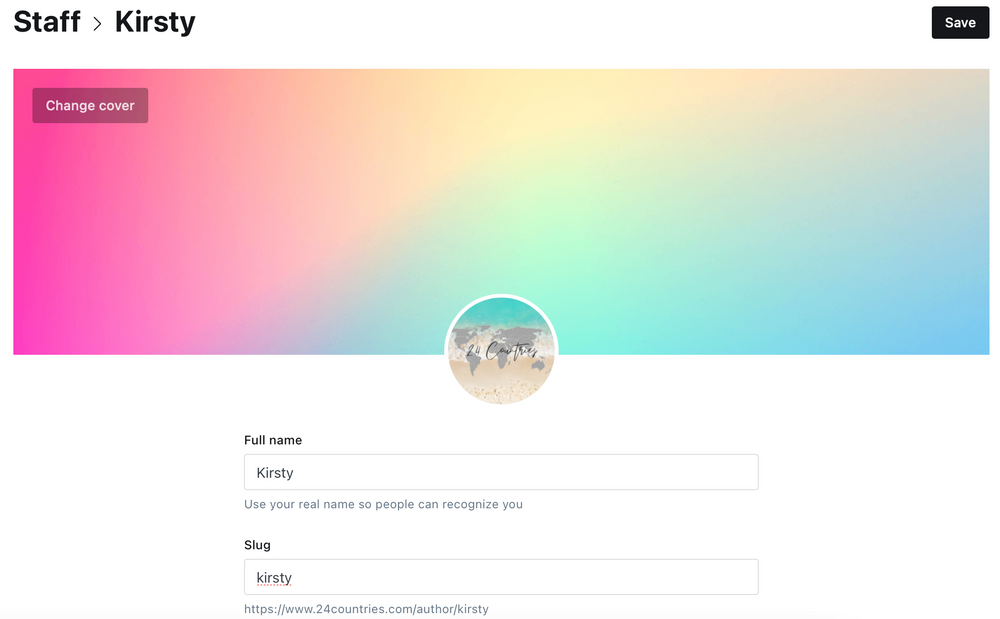 3. Details you can add to your staff profile include; full name, email, location, website, Facebook and Twitter links, a bio. You can even change passwords. Then, simply click 'save' up the top right-hand corner once you're done editing.
You're now ready to start posting!
---

Creating Content
The writing experience in Site will be very familiar to most people who have spent time with web-based authoring tools. It generally takes after the Medium-like experience which writers want.
Writing simple content is a breeze - but there are tons of powerful shortcuts, too. For those of you who are familiar with writing blog content, you can write plaintext, activating formatting options using either the mouse or keyboard shortcuts. But you can also write in Markdown, if you prefer, and the editor will convert it as you type - rendering an instant preview.





Additionally, the editor contains intelligent logic around pasting. You can copy and paste from most sources and it will be correctly transformed into readable content without needing any special treatment. (Go ahead, try copying the content of this page straight into the editor!) — You can also do things like pasting a URL over the top of any highlighted text to create a link.

Dynamic Cards
Having a clean writing experience is good, but nowadays great publishing means so much more than just text. Modern content contains audio, video, charts, data and interactive elements to provide an engaging experience.
Site content comes with extensible, rich media objects called Cards. The easiest way to think of them is like having Slack integrations in your content.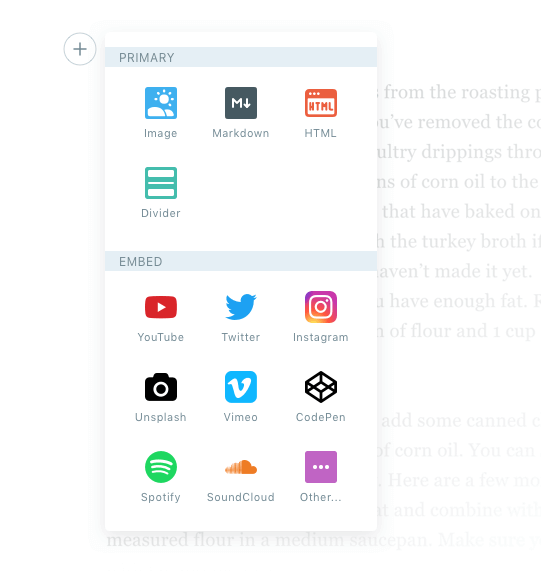 ---


Post settings

The editors will always check this and, in most cases, make changes to ensure that the post is optimised for Google search results.

The post settings menu in the editor allows you to prepare your content for publishing with tags, post access levels, meta data and more.
Below, you'll find everything you need to know to make sure your content is optimised and ready to share with your audience.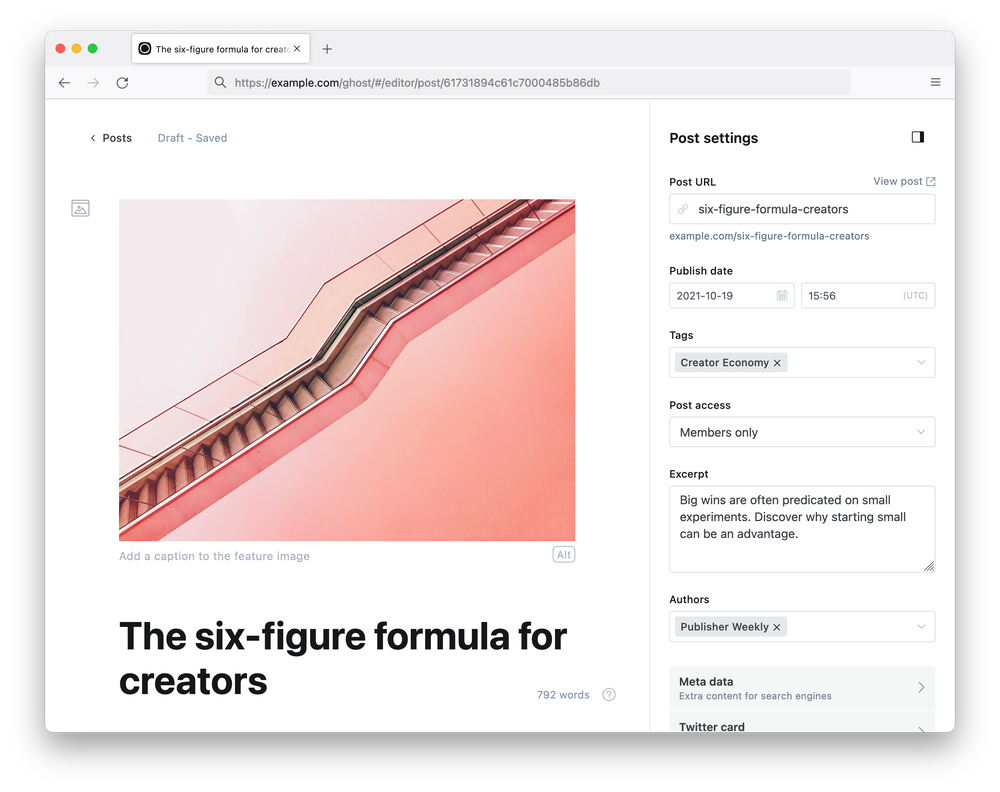 Post URL
Site uses the title of your post to generate a post URL by default, or you can customise this URL to anything you like.

Best practice: keep your URL slug on topic and make it as short as possible, using hyphens - to separate words.
Publish date
The publish date uses your publication timezone settings, and will be determined when you publish or schedule your post by default. You can change the publish date at any time after a post has been published.
Best practice: Update your publishing date when you're republishing a post with fresh content, or would like to change the order of how the post appears on site.
Tags
To add tags to your post, click inside the tag field and begin typing. If a tag already exists, it will populate the drop-down, or you can add new tags from here.
Post access
The post access menu is where you can decide who gets to access your content, and can be determined on a per-post basis.


We only use public - Posts are available to all visitors


Meta data
This section allows you to enter custom meta data which can be accessed by search engines and used to populate dynamic links when your content is shared across the web.
Best practice: Keep the meta title and description within the recommended character limit and write it for humans. Your meta data is what helps people decide whether to click on your article or not.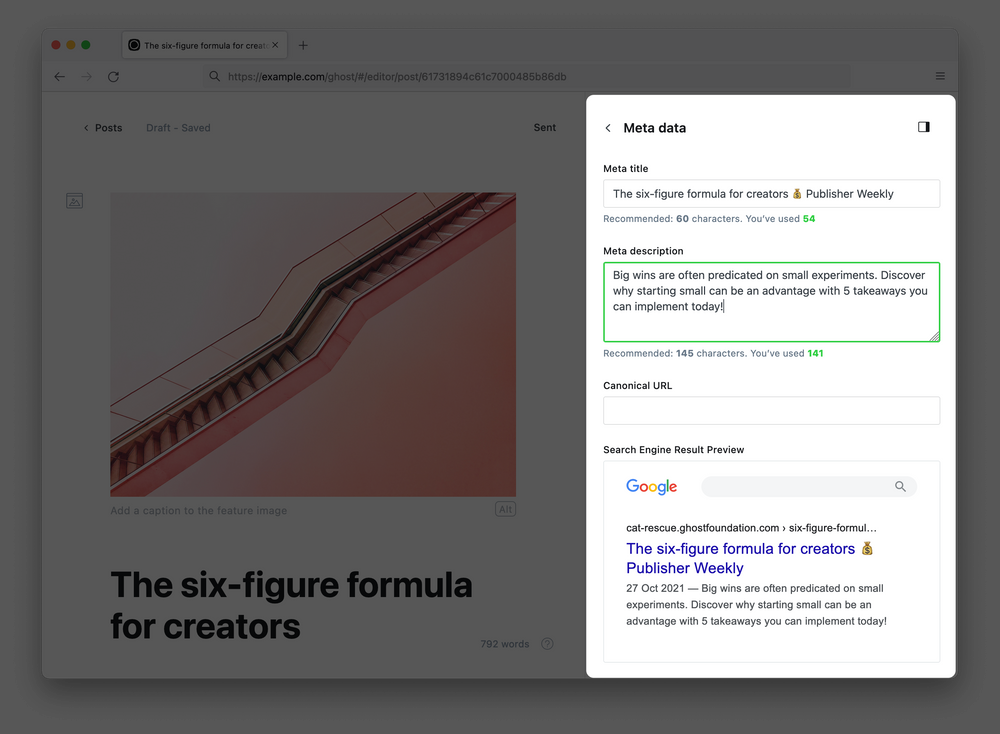 Twitter Card
It's possible to set customised structured data for Twitter. If left Twitter data is not set, the custom meta data is used.
Tip: Use the Twitter card validator tool to check your Twitter card before sharing. When updating Twitter card information for a published post, it may take several minutes for Twitter to gather the latest data.




Facebook Card
Add custom data for Facebook Open Graph for sharing your post on the Facebook platform.
Tip: Facebook caches the Open Graph data for your post when published. To update this for a published post, use the Facebook Sharing Debugger.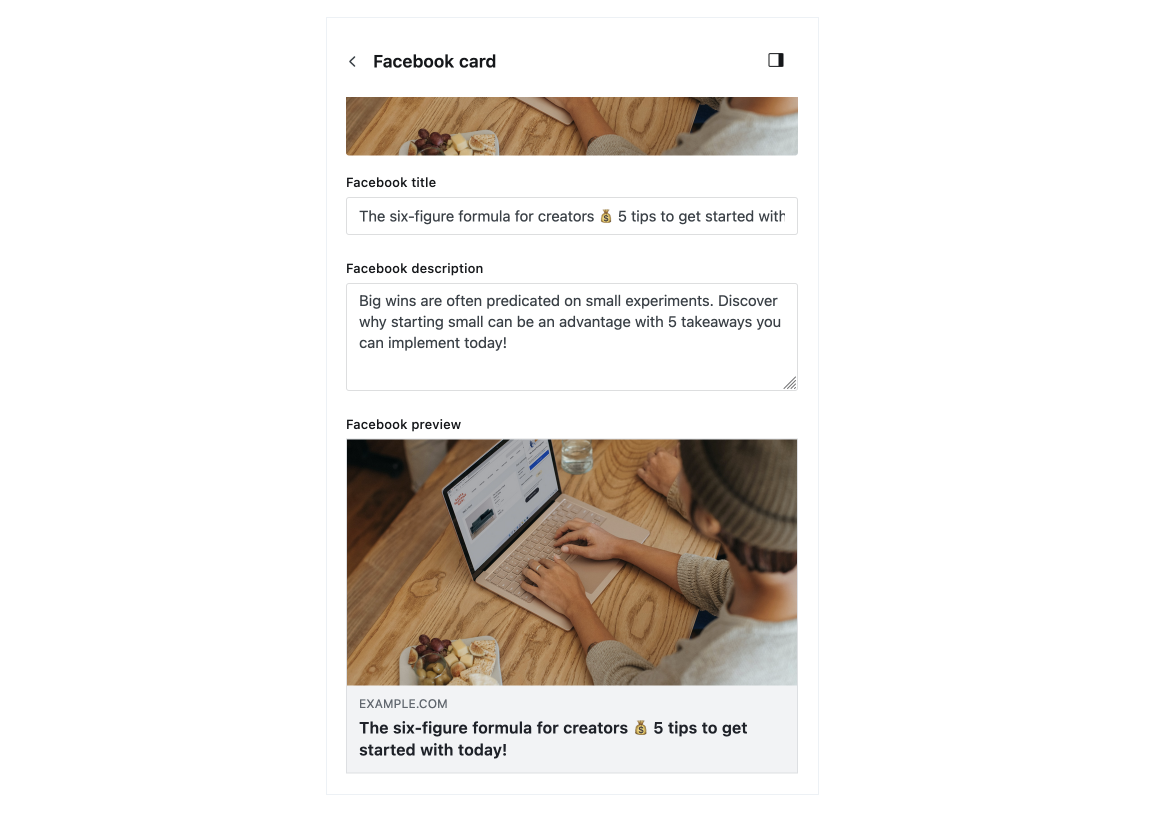 ---

Recommendations to new contributors
Quality is the primary requirement for all our publications.
Our readers expect quality content. We strive to meet readers' expectations thus we encourage our writers to submit quality content.
1. Please submit your best work for readers.
Your stories must be the type of content that you would want to read.

2. Caption [copyright-free photos] with source links.
All photos must be captioned with source links.
3. Our publications don't accept plagiarised content.
Our publication has zero tolerance for plagiarised materials. Our editors diligently monitor and detect plagiarism and duplication by using different methods and various tools. Our position is detailed in this article. In a nutshell, we will remove contributors submitting plagiarised content.
4. Review the quality checklist
This will be sent out in the coming weeks.
5. Amplify your stories
The Editor is responsible for approving and publishing your contributions and will adhere to a publication schedule that you will be provided with. Your contributions will be communicated through Site's various channels once they are published. We recommend that you do the same and post on your personal/professional social media to help build additional exposure for yourself and for Site.