With the announcement of Perth Design Week, Perth can now take its place among the great cities of the world where interest and value in good design is celebrated with a dedicated public festival. Our city's new Design Week will highlight and acknowledge local design leaders and the fruits of their labour. The public will be invited into the world of design professionals and design enthusiasts to provide a deeper understanding and awareness of their work and what they do. It will also allow plenty of opportunity for designers and the public to engage and to learn from each other.
Perth Design Week's seven day program is open to the public and will feature talks, exhibitions, tours, workshops, walks and much more - brought together by co-creators of the new event, architect Sandy Anghie and designer David Smith. The concept is based on successful Design Weeks across Australia and around the world.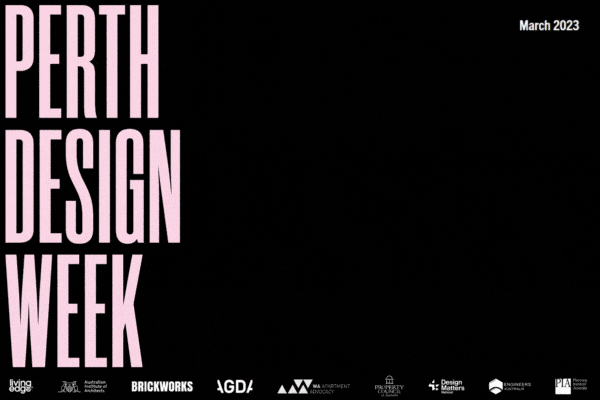 Ms Anghie said, "Perth Design Week is a 'coalition of the willing' - a group of people and organisations David and I are leading, working together to create this event - which we believe Perth will whole heartedly welcome and embrace.
"We're working with a number of businesses and institutions across Perth to create an exciting and inspiring program of events throughout the week. The list of participants is constantly growing. The West Australian branches of Design Institute of Australia, Australian Institute of Architects, Australian Institute of Landscape Architects, Planning Institute of Australia, Engineers Australia, Design Matters, Australian Graphic Design Association and the Property Council have all committed to taking part. Local groups involved include Open House Perth, WA Apartment Advocacy and FORM.
"Also onboard are the WA Museum Boola Bardip, State Buildings, Brookfield Place, Living Edge, Brickworks and other venues hosting talks and exhibitions. While architecture, planning and design studios based in the city are set to open their doors to welcome the public in," Ms Anghie said.
Mr Smith said, "It's an opportunity to recognise our design community is incredibly diverse and comprises people working across all disciplines – architecture, interiors, landscape, planning, fashion, graphic design, service design and product design. It's about design at all scales but all working to a common goal - to improve how we all live and work.
"We've engaged some wonderful designers and organisations for our inaugural program and we're confident there's scope to grow and expand Perth Design Week each year. My hope is that having seen the possibilities and the culture of endless capacity for creation, the public will increasingly demand better projects, outcomes and more human-centred design as we look to the future," Mr Smith said.
The branding for the event is being developed by Block Branding pro bono, with the idea of what is to come being revealed at a launch celebration in the city tonight.
Perth's new Design Week is to be held from Thursday 23 March to Wednesday 29 March 2023 at venues across Perth city. Anyone interested in being involved can contact Sandy Anghie and David Smith via hello@designweekperth.com