We saw some inspirational kitchen trends in 2022 by Australian architects and interior designers giving daily inspiration to the CO-architecture community. Here are a selection of the most loved spaces on Australian Architecture in 2022.
The Church by Michiru Higginbotham
Sydney, NSW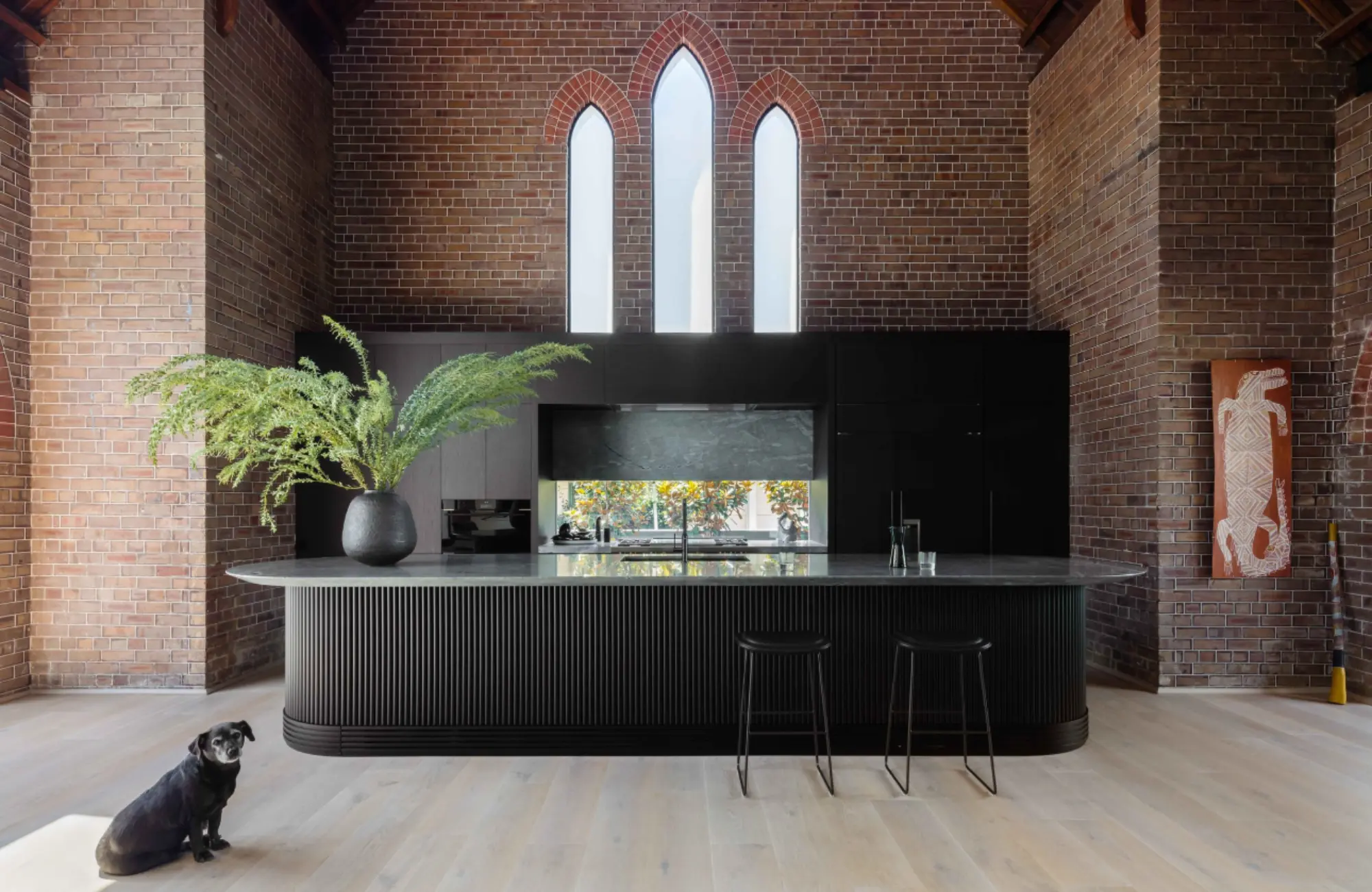 From the Architect: The heart of any home, the kitchen, is positioned in the most prominent location, just as an alter is within a church. Centrally aligned within the space, the kitchen island commands attention. The volume of space is emphasised by the consistent materials and immense height of the exposed ridge overhead. The curved corners of the island pay homage to the arched windows and accentuate the tessellation of the brick bonds behind. ⁠
.⁠⁠
www.michiruhigginbotham.com.au⁠
@michiru.higginbotham⁠
#michiruhigginbotham⁠
.⁠⁠
Photographer: @_katlu⁠
Builder: @straight_up_built_⁠
Styling: @hollyirvinestudio⁠
Rose Park House by Studio Gram
Rose Park, SA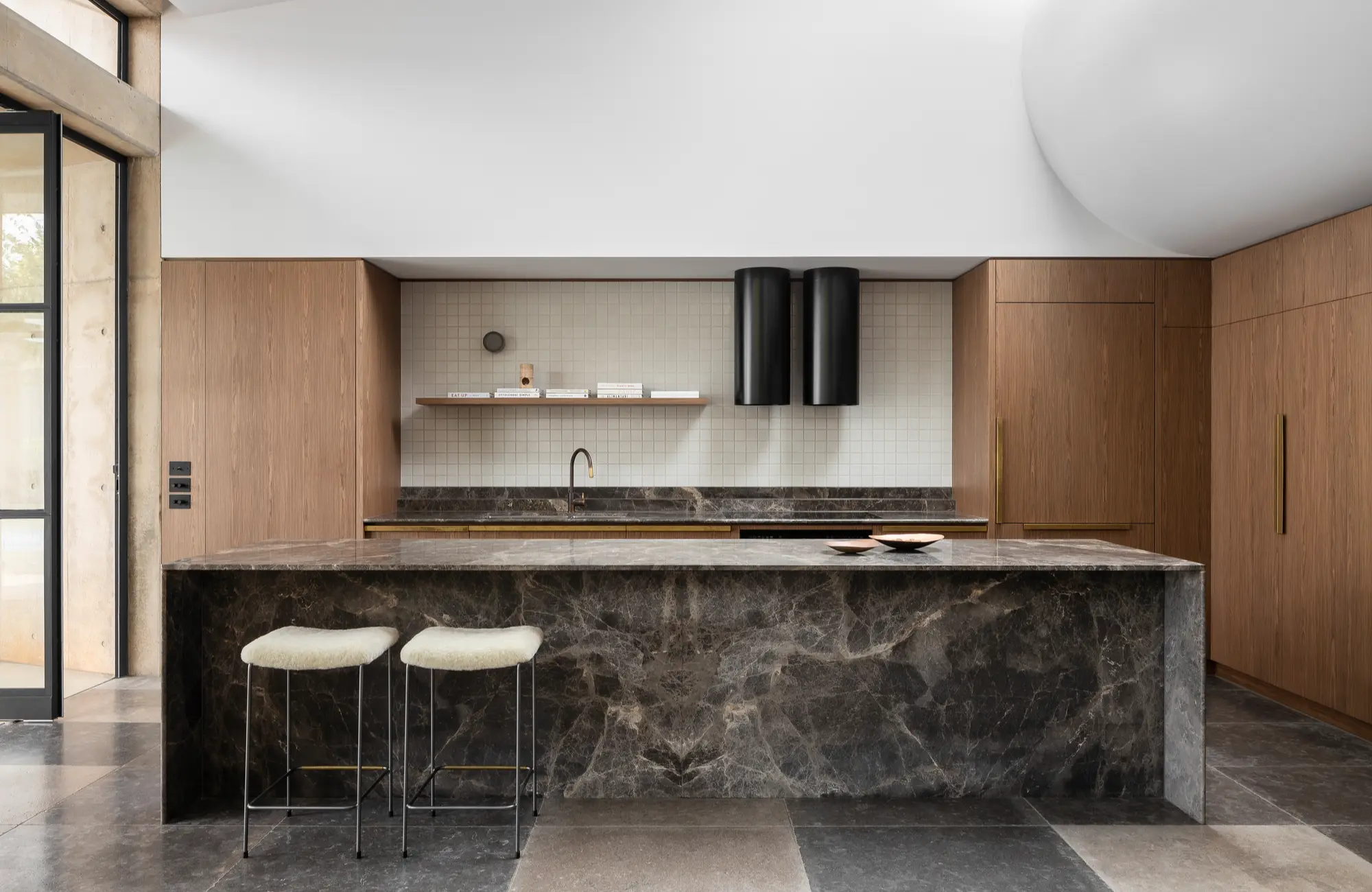 The extension, and final room in the sequence of discovery, is a moment of revelation. A billowing form becomes the transition between the original dwelling and the extension, celebrating the coming together of old and new. The curved bulkhead feels weighty yet soft and is an example of compression and release in action. Apertures in the walls and ceiling creates a connection between the sky and the garden, allowing a moment for its occupants to witness the ephemerality of the garden and its seasonal change. ⁠
.⁠
www.studio-gram.com.au⁠
@studio_gram⁠
#studiogram⁠
.⁠
Photographer: @timothykaye ⁠
Builder: @buildinc ⁠
Landscape Design: @joconnellydesign

Rosso Verde by Carter Williamson Architects
Camperdown, NSW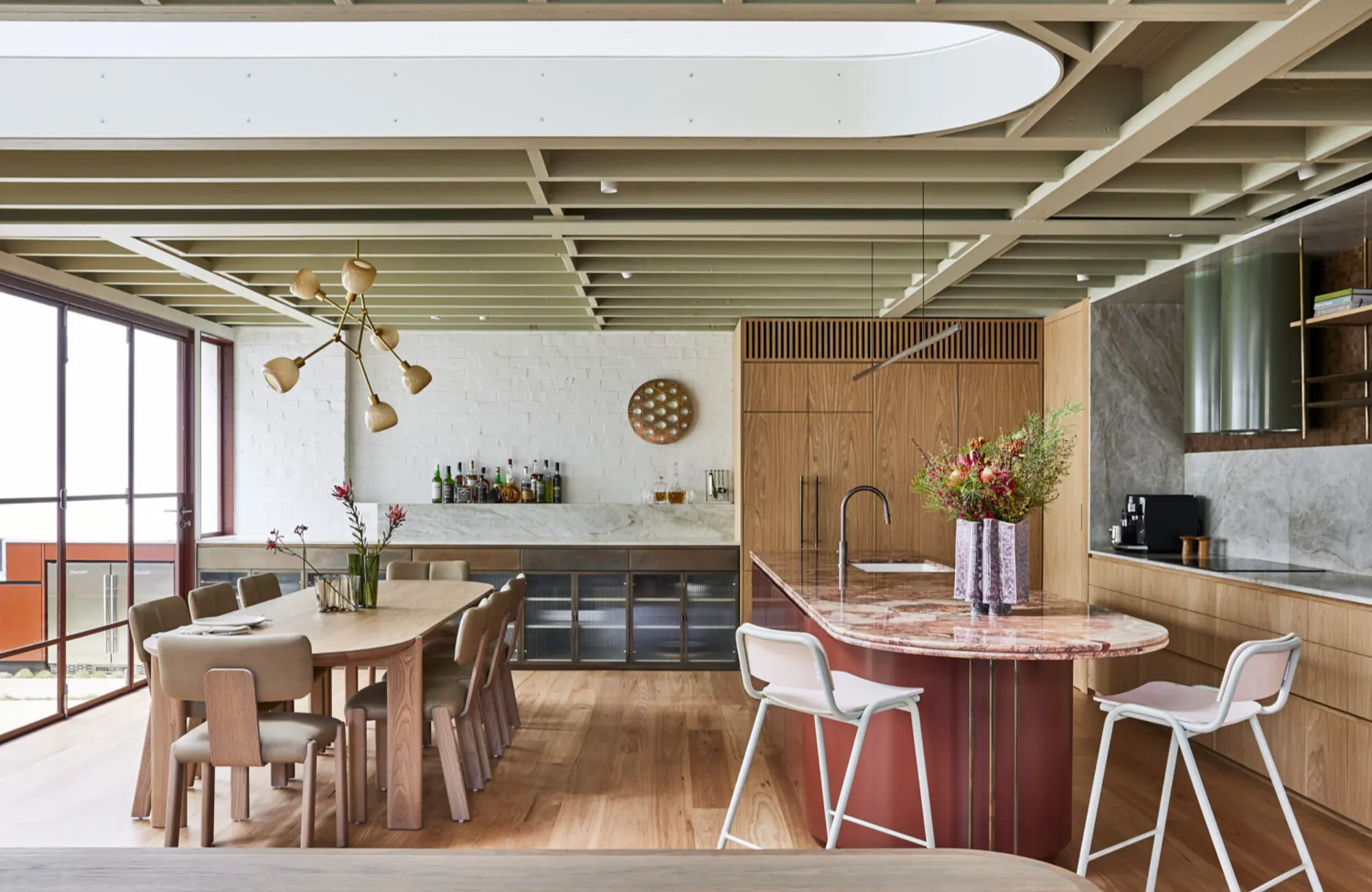 From the Architect: Burgundy and dusty pink Breccia Rosso marble makes a bold statement in the kitchen, the arched counter in perpendicular conversation with the void. The rich, earthy tones pair delicately with brass-hued curtains and the thriving greenery that provides the courtyard with its own sub-tropical canopy. It's a material, light, and colour palette of warmth, sophistication, and comfort that gives each space a true sense of calm. In particular, the mild green of the living space ceiling complements the deep reds of the windows and kitchen counter, a contemporary softening and celebration of the existing warehouse fabric.
.⁠
www.carterwilliamson.com
@carterwilliamson_architects
#carterwilliamson
.⁠
Photographer: @_pabloveiga
Builder: David Fletcher Constructions
Landscape: @dangarbarinsmith
Riley's Terrace by Adele McNab Architects
Redfern, NSW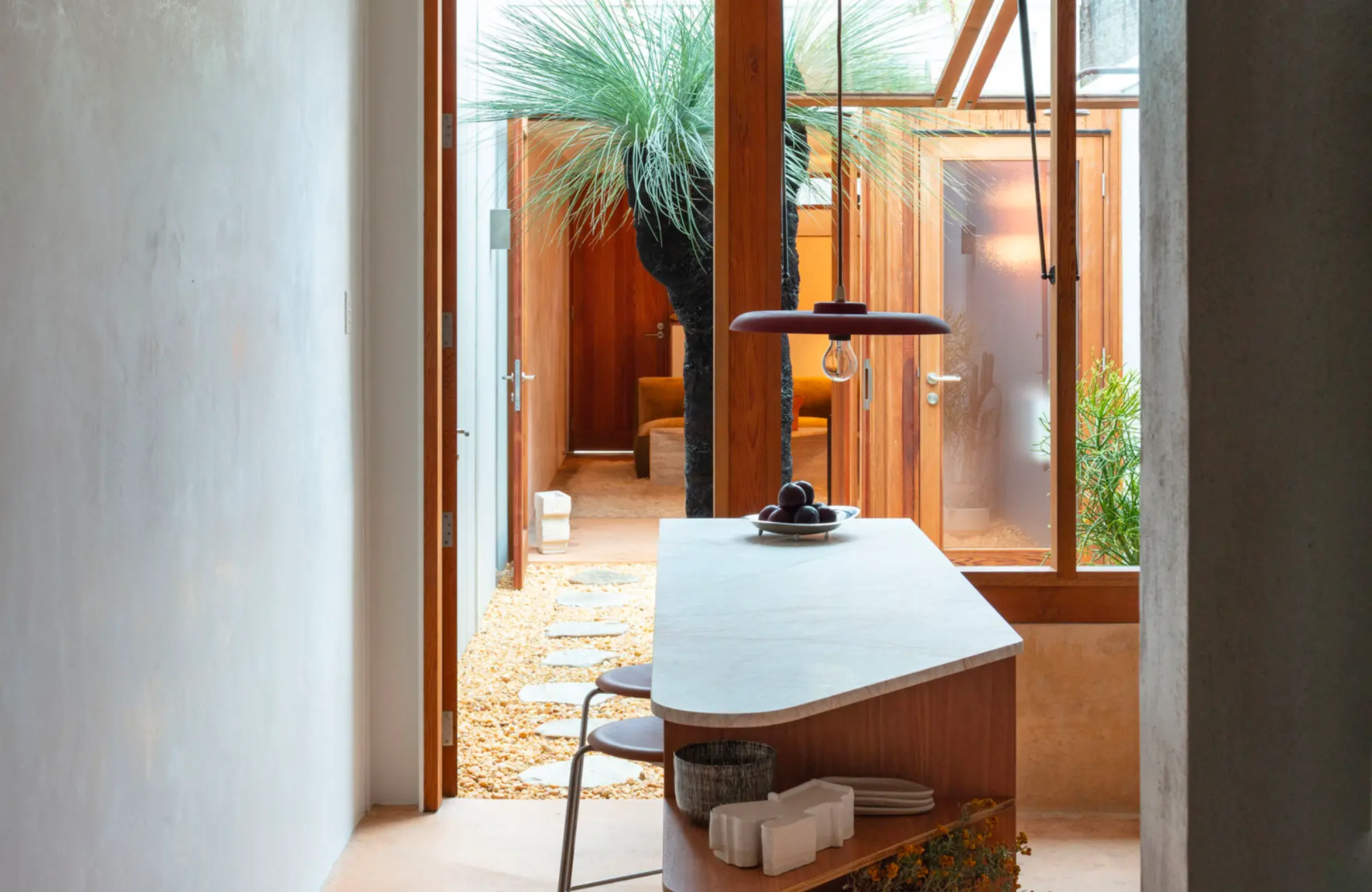 From the Architect: The design focuses primarily on the delivery of natural light, maximising the physical space on a small-scale project and establishing a connection back to the land and the fabric of Redfern. The courtyard creates a central hub and the established Grass Tree within stands tall and anchors the space. Having a flexible living/working space on the laneway provides a breakout area for the occupants and offers relief from the main residence.  Joinery is concentrated within the main residence to offer ample storage. The use of simple materials in their raw form grounds the project. The structure is exposed where possible, and the earth-coloured concrete offers warmth and comfort.
www.adelemcnab.com⁠
@adelemcnabarchitect⁠
#adelemcnabarchitect⁠
.⁠⁠
Photographer: @_clintonweaver⁠
Builder: Owner Build
Carpentry: @mapledesignandconstruct
Engineer: Alba & Associates⁠
House Bean by LINTEL
Clovelly, NSW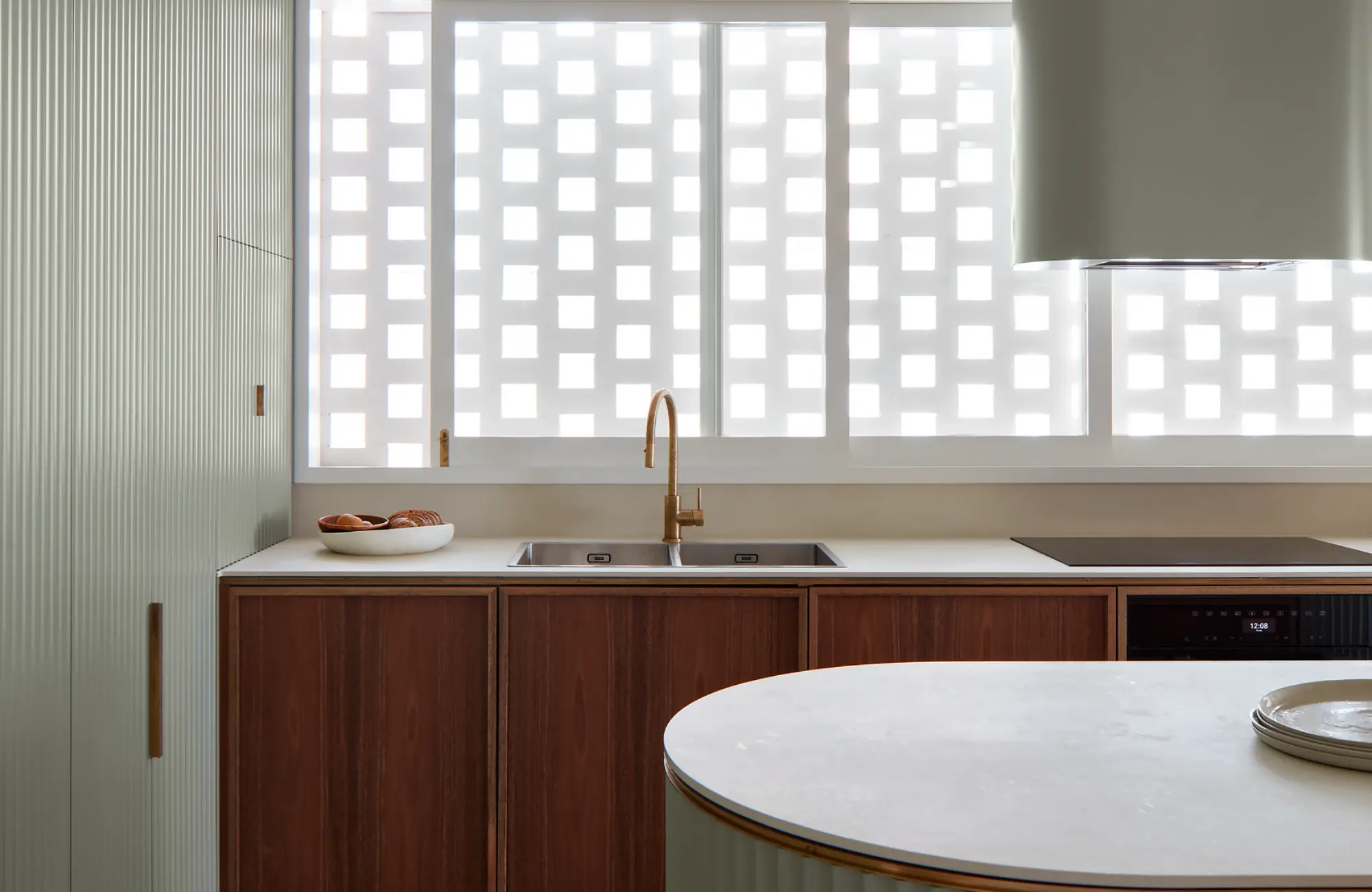 From the Architect: Inside, warm and robust finishes of porcelain, spotted gum and brass welcome your touch. Scalloped timber panels are painted in fog green to echo the grassy landscaping, conjuring a close relationship between indoors and out. Our responsible approach to these specifications upholds effortless performance, candour and playfulness in equal measure.⁠
.⁠
www.lintelstudio.com.au⁠
@lintelstudio⁠
#lintel⁠
#lintelstudio⁠
.⁠
Photographer: @lucremond⁠
Builder: @planbuildprojects⁠
Joinery: @winchesterinteriors⁠
Artworks: @threeweeksofcheese@a.jones_2019@stephenormandy@olsen_gallery
Pacific House by Alexander & Co
Sydney, NSW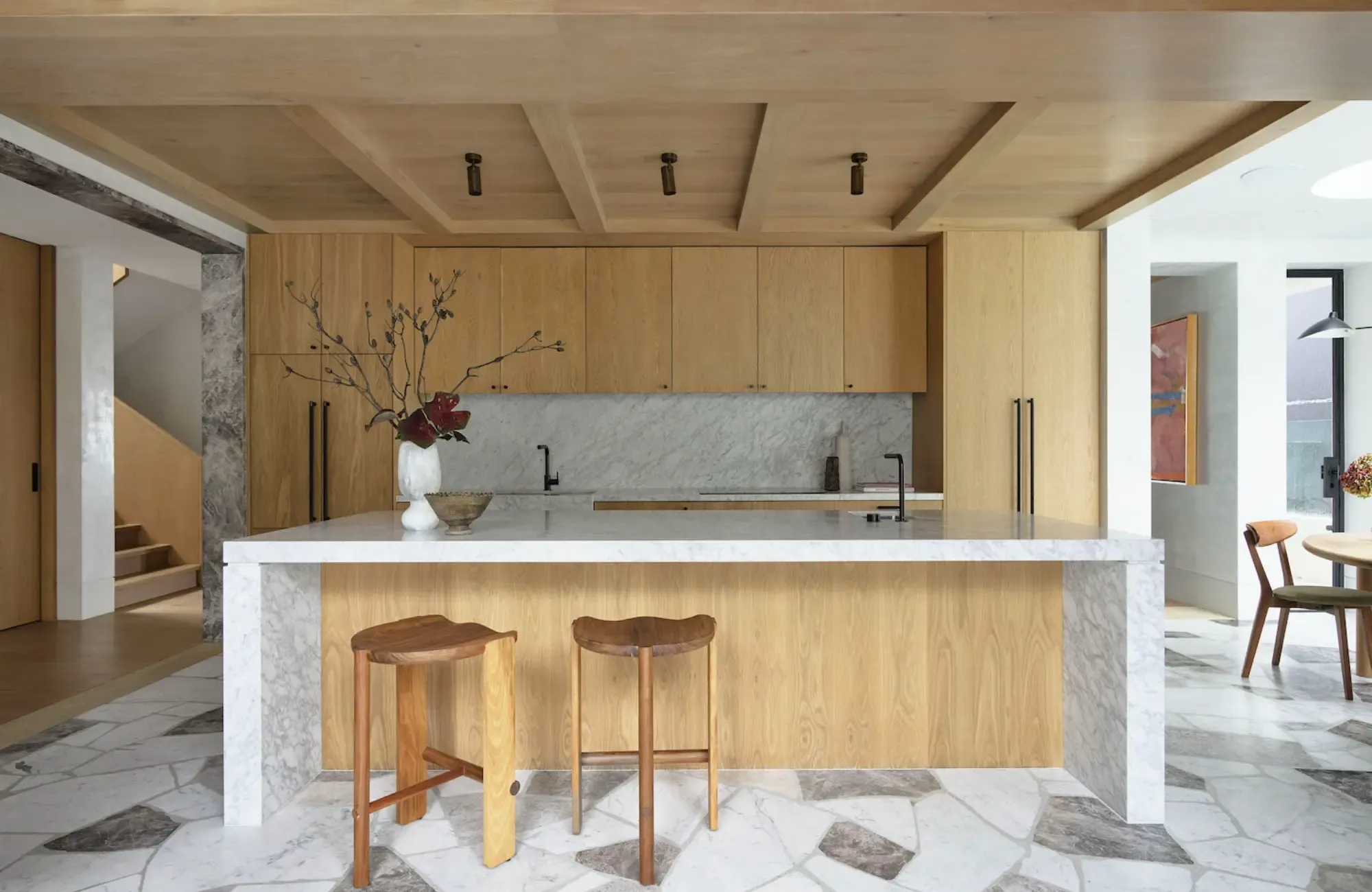 From the Architect: Inside, ceiling height constraints lead us to ensure that the finishes and ceiling details are focal. New steel beams support larger concrete openings within the plan and are dressed in timber to make them purposeful. Existing masonry walls required us to play within structural constraints, with room dimensions taking on careful geometries. The exterior facades of the building contain terraces, gardens, balconies and planted edges. The building is conceived to become lost in gardens, the pool conceived as a moment of P&O interaction with a curving dining niche. The palette is richly textured but leans monochromatic. ⁠
.⁠⁠
www.alexanderand.co⁠
@alexander_andco⁠
#alexanderandco⁠
.⁠⁠
Photographer: @smartanson⁠
Builder: @built.by.dezign⁠
Stylist: @clairedelmar
Garden House by Arent&Pyke with Polly Harbison Design
Linfield, NSW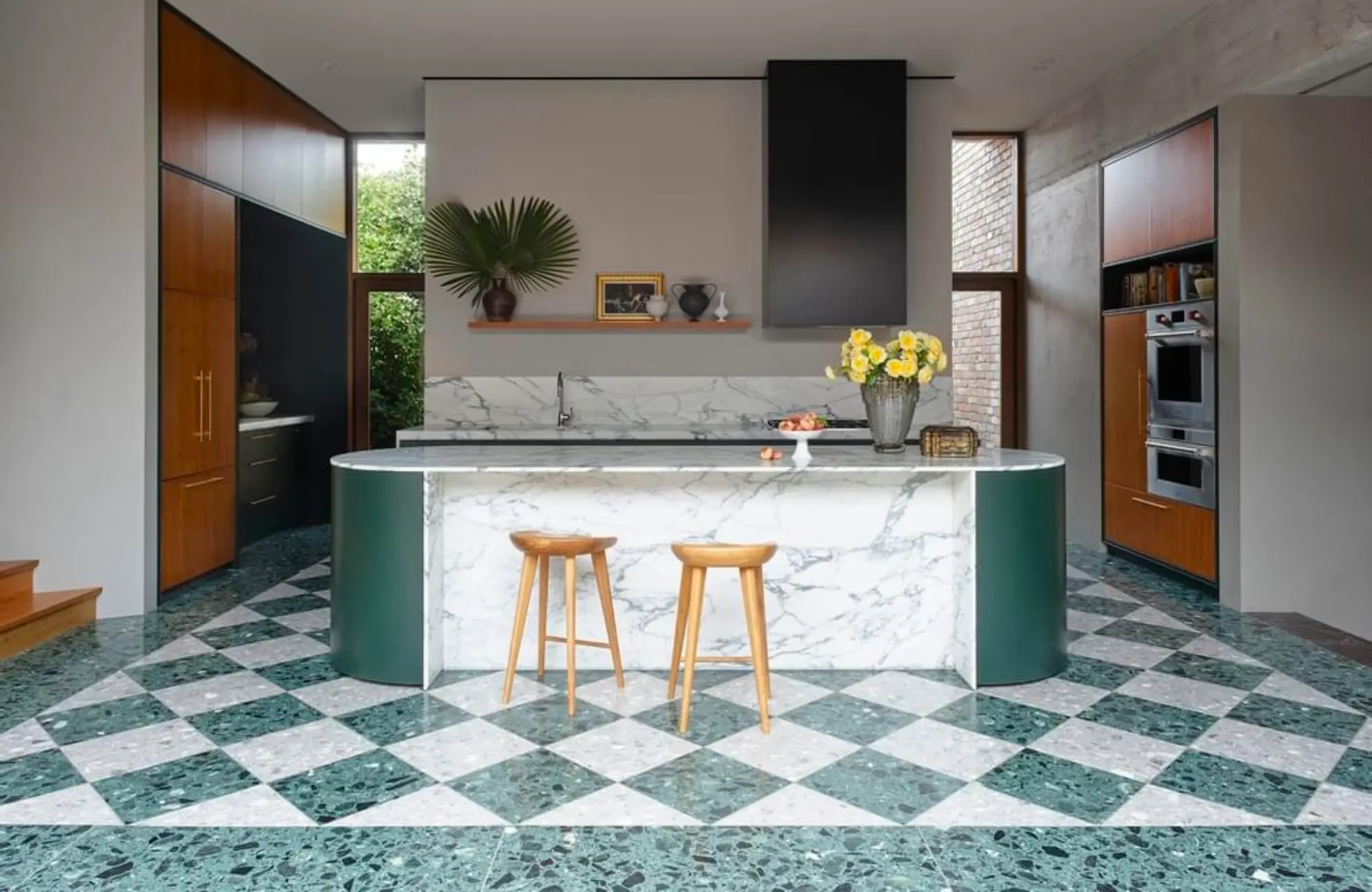 From the Designer: Our clients came with an armful of world of interiors magazines, a shared a love of art and the colours of their garden in full bloom, so we had a mandate to create something very unique. The unexpected paring of Polly's brutalist architectural language and our interior design ethos, which brings colour, pattern and materiality to the fore, was both liberating and inspiring. We were determined to capture a particular serene atmosphere and sense of timelessness and we were delighted to land somewhere we describe as a delightful mash up of monastic and 'Milanese Villa'. Garden House is an impressive home, yet casual, relaxed and welcoming.⁠
.⁠
www.arentpyke.com⁠
@arentpykestudio⁠
#arentandpyke⁠
.⁠
Interiors: @arentpykestudio
Architecture: @pollyharbisondesign⁠
Photographer: @smartanson⁠
Builder: @zandtbuilding⁠
Landscape Designer : @conceptgreensydney
Stylist: @stevecordony
Parkside Residence by Ashley Halliday Architects
Adelaide, SA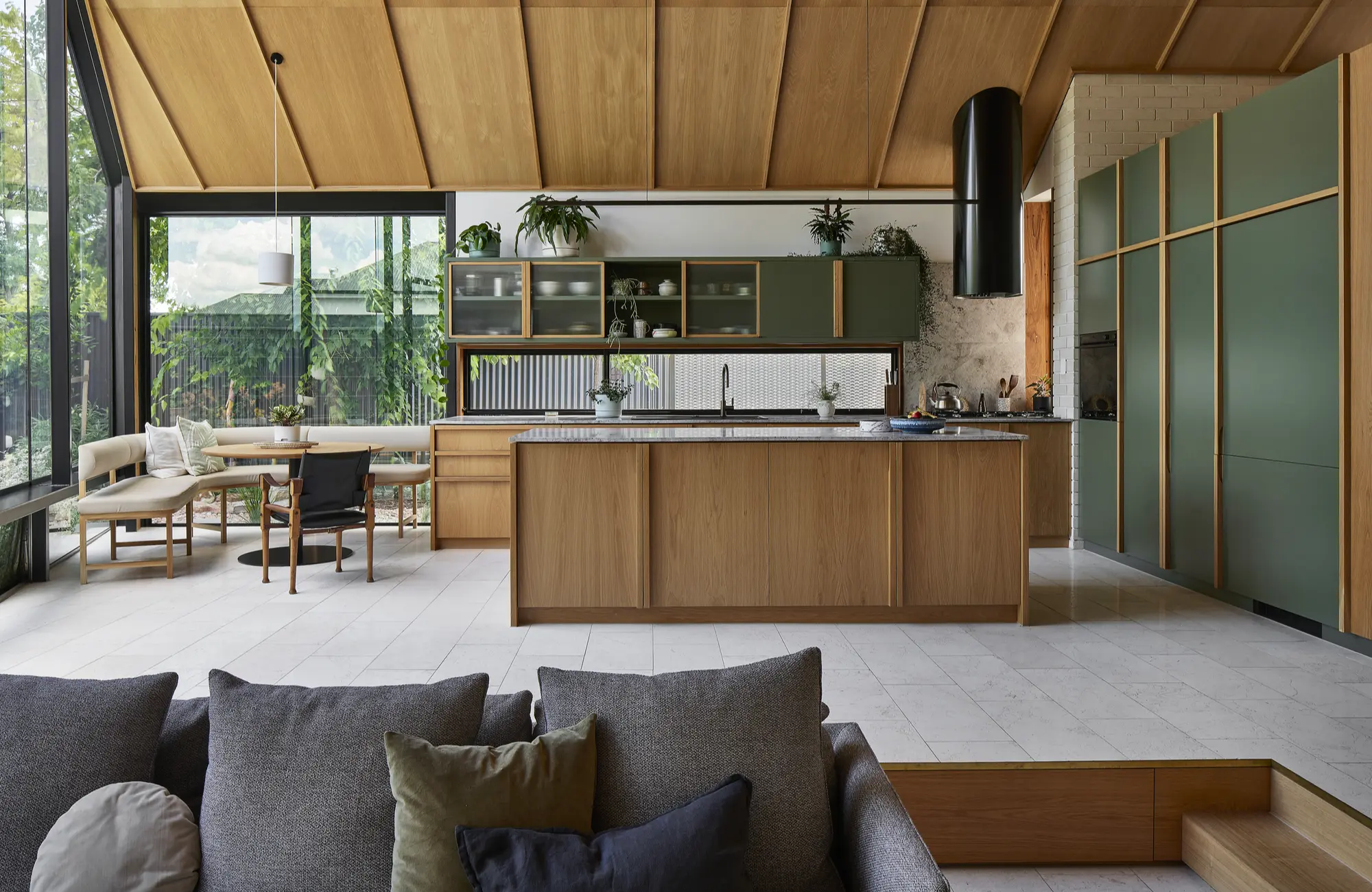 From the Architect: Taking cues from the adjacent 1880's Villas – form, scale, set-backs, roof profiles – a simple, contemporary palette of complimentary materials and finishes was introduced. House and garden were orchestrated to reflect the owner's generosity of spirit, modern taste, dynamic family lifestyle and desire to engage with their suburban community.
.
www.ashleyhalliday.com
@ashleyhallidayarchitects
#ashleyhallidayarchitects
#publishedwithbowerbird
.
Photographer: @anthonybasheer
Builder: @ikon_projects
West Bend House by MRTN Architects
Northcote, VIC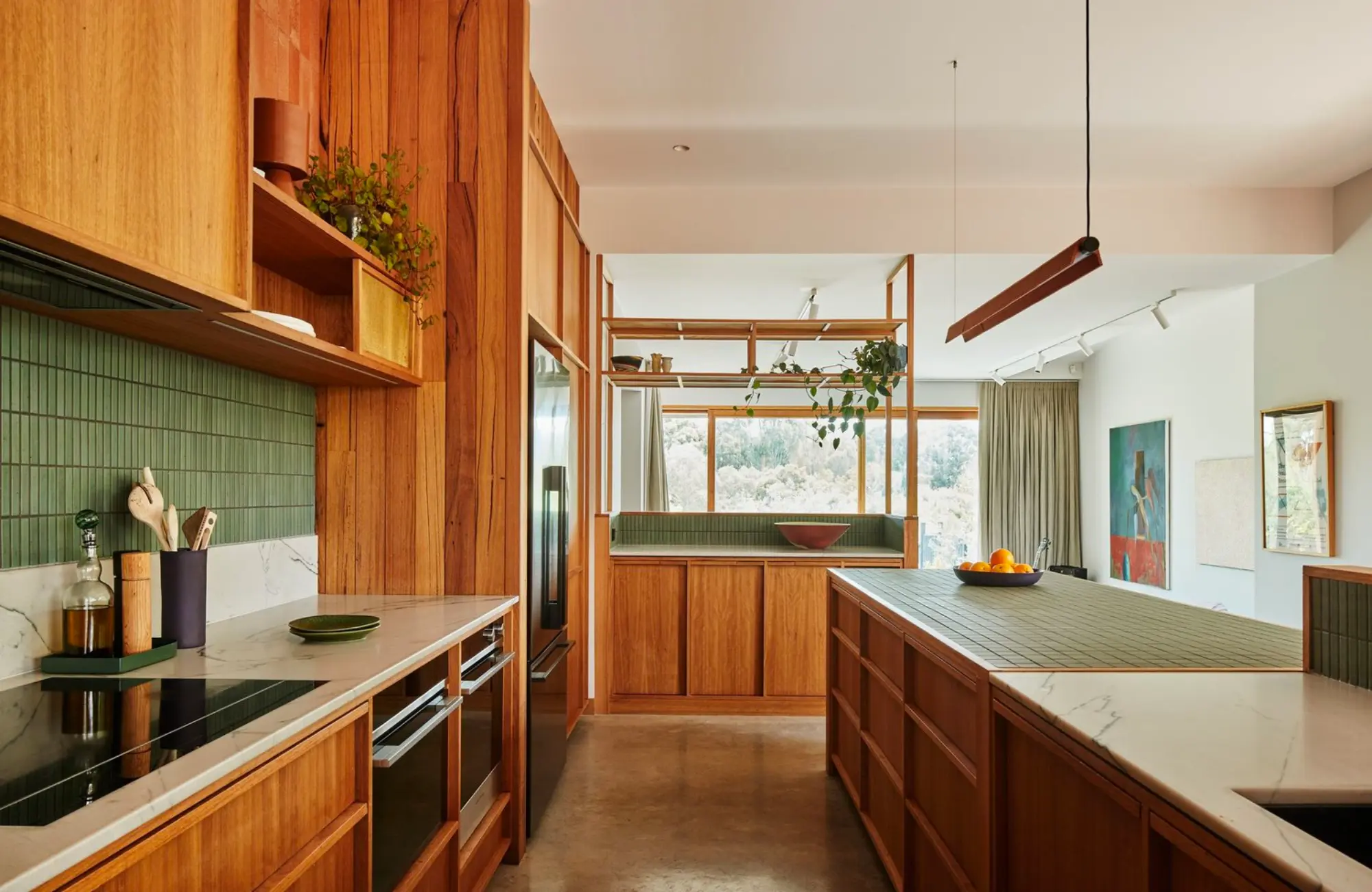 From the Architect:  A home needs possess two almost diametrically opposite traits. They need to be the Shelter and the Stage for the families that live in them. This was the key concern of West Bend House, how to nurture the very independent lives of the individuals that live there but also provide a variety of ways and means that they could come together with each other and friends. This was achieved by large range of social spaces that vary in scale and connections to each other social spaces or with more private zones of the house.⁠
.⁠
www.mrtn.com.au⁠
@mrtn_architects⁠
#mrtnarchitects⁠
.⁠
Photographer: @peterbbennetts⁠
Builder: @lew_building⁠
Interiors: with @braveneweco⁠
Styling: @studiogeorg