Introduction

In late 2022 to early 2023, changes to the Australian Fair Work Act, titled the "Secure Jobs, Better Pay Bill 2022," signalled a significant change with new workplace laws regarding pay secrecy. From January 7th 2023 it is now prohibited to advertise jobs that breach the Fair Work Act, or Fair Work instrument (Award or enterprise agreement). Furthermore, employment contracts are no longer allowed to restrict employees rights to share pay information. At the same time, the EU parliament passed "The Pay Transparency Directive," the UK government rolled out new gender/ethnicity pay gap reporting schemes, and 17 US states wrote laws about pay transparency. Marking the 2020s as the era of Pay Transparency globally.
This years precarious economic status is not new news and with the prospects of an economic downturn ahead of us, the more information and data we can arm ourselves with, the better. Many economists and studies agree that salary transparency is key de-risking business. Not to mention the significant impact it has towards closing the gender pay gap. Knowledge is strength, and businesses benefit as well.

While some employers are heading in to 2023 with open arms and embracing change, many employers are still hesitant and weighing the risks which is understandable in this roller coaster post-pandemic world. Many parts of the economy, demand, supply, inflation, and employment, have not yet found a new balance.
If companies fully embrace wage transparency, we might be able to see a clear path to a more fair and balanced future. The following is an overview or salary data collected in 2022.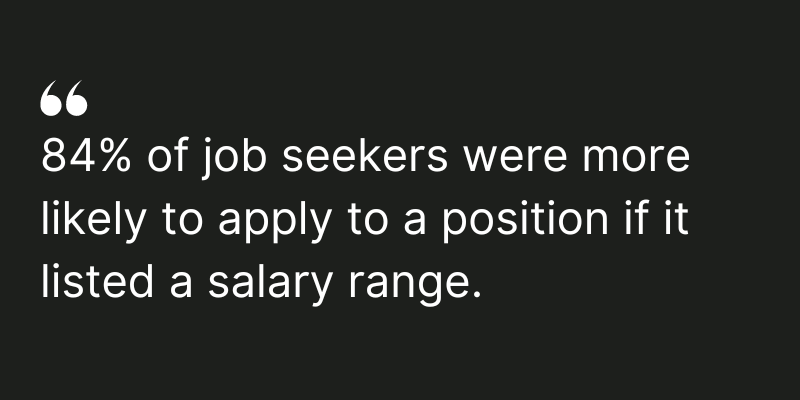 Salary table based on real-time data

The salary data displayed is based on real-time data and extracted from CO-architectures platform. A total of 682 salaries were analysed on 31st January 2023 in order to report the most accurate statistical data for our salary guide. Salaries provided are base salary only and do not include superannuation or bonuses. Salaries reported for a given role may vary according to differences in a candidate's skills and level of experience, geography, demand for the role, and the size and complexity of the hiring company.

Minimum Wage
How much should I be paid? Architects and Designers play a crucial role in shaping the built environment and are highly valued for their creativity, technical expertise, and attention to detail. However, many aspiring design professionals wonder what they can expect to earn in this profession.
When it comes to your salary range, there are so many factors that can impact how much money you should be asking for. How long you've worked in the industry, your qualifications, your achievements, where you live, the demand for your skills, the company hiring and industry trends can all play a part.

"If you don't value your time, neither will others. Stop giving away your time and talents. Value what you know and start charging for it." – Kim Garst
The award rates below incorporate the minimum wage decision handed down by the Fair Work Commission in late June 2022. These are minimum rates required by practice's under the relevant Award and the National Employment Standards.
Graduates of Architecture & Registered Architects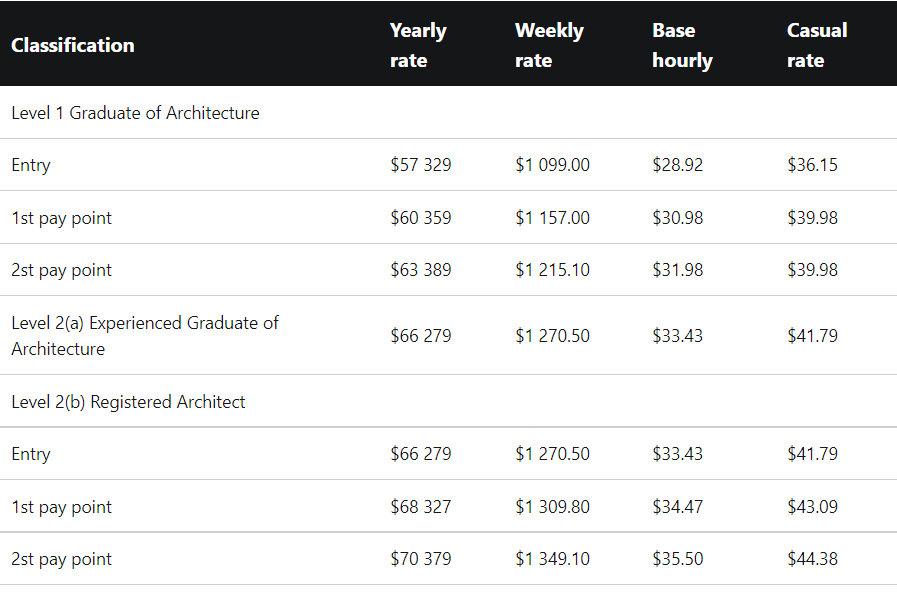 Students of Architecture - 21 years and over

Students of Architecture - Below 21 years old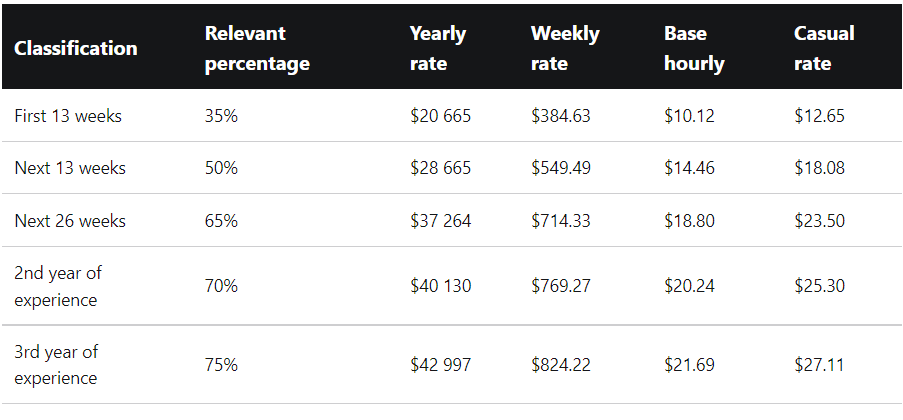 Bachelor's degree with pathway to a master of architecture


The Future of work
The future of work in architecture and design is largely going to be shaped by advancements in technology, sustainability, and a shift in employee sentiment with regard to work priorities. The increasing use of technology, such as cloud platforms for BIM, virtual and augmented reality, AI and data driven design will streamline processes and enhance design visualisation and project procurment. Sustainability and resilience will be a growing emphasis in design and construction, and remote work will become more common, leveraging technology for collaboration and communication to support better work life balance or flexible careers. Architects, engineers, and construction professionals will collaborate more closely, and new areas of expertise will emerge, such as biophilic design, virtual communities and high-performance building systems. Data analytics and machine learning will inform design decisions and optimise building performance, while innovation will continue to be in demand to meet changing societal needs, such as accessibility, health, and well-being.
CO-architecture
CO-architecture is a platform to serve as a tool for promotion and social networking for designers and creatives. To act as a design portfolio, job board, and recruiting site for designers all over Australia who want to share their work online.
For more, visit co-architecture.com